(WLFI) – Good Friday morning! A few light spurts were noted on the radars this morning in our southern departments. Most of the day will be dry, but scattered or isolated rain cannot be ruled out, especially as we enter evening and night.
Today's highs will reach the upper 60s to lower 70s with SE winds of 10-15 mph and gusts up to 20-25 mph.
Patchy rain and even a few rumbles of thunder could occur late this evening through Saturday morning. Overnight lows will only be in the lower 50s to the upper 40s.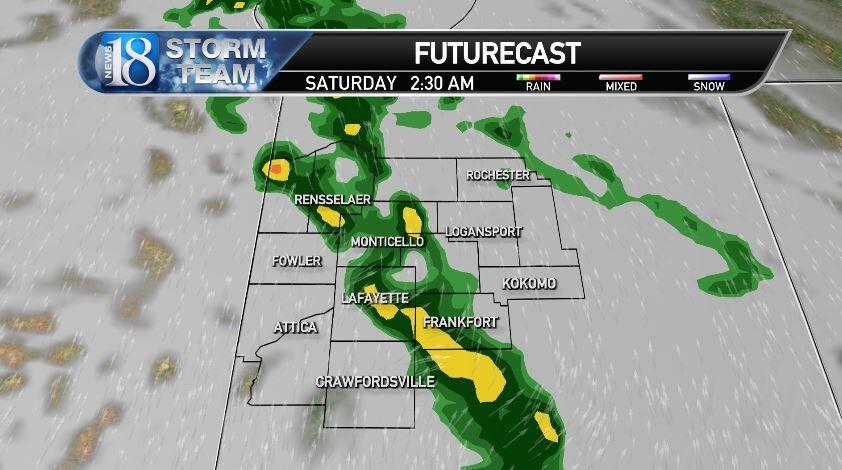 Saturday
Scattered showers may be possible in the morning and early afternoon. Temperatures will rise during the day into the mid 70s with strong southerly winds blowing up to 25-30 mph at times.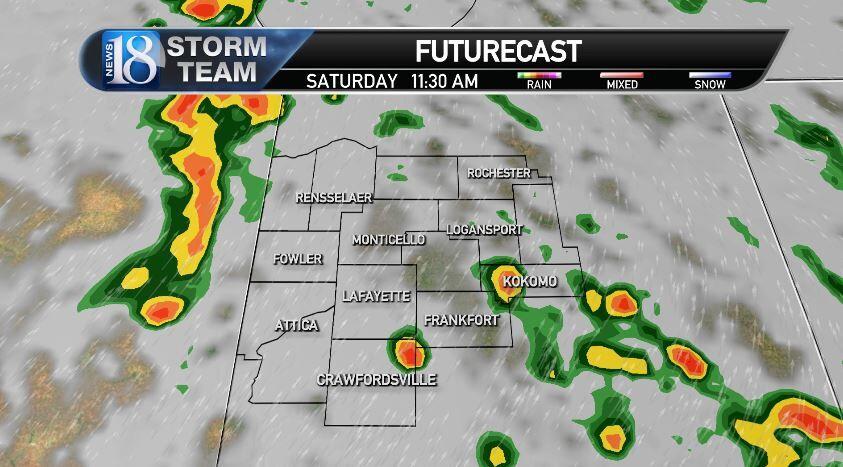 Most of the activity is expected to subside in the afternoon before the main line of storms occurs later. This will help set up an active, sheared environment to allow stronger storms to work later.
There is a caveat as always. The evolution of storms overnight from Friday to Saturday in the east could have an impact on the severity. If we get more precipitation/clouds here in the WLFI viewing area during the day, it might mitigate the risk of severe weather in the evening. Either way, stay on top of the weather.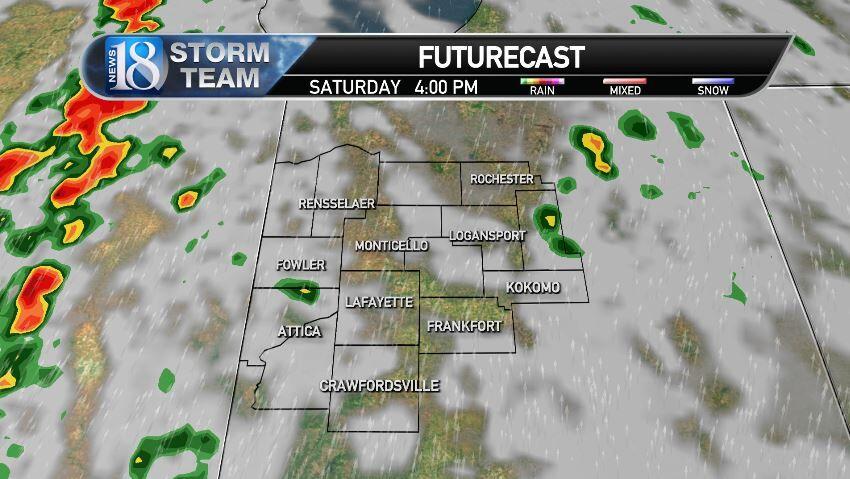 As we head into 4-6 p.m. Saturday, storms may remain clustered in Illinois, but as they move eastward a stronger line of convection will operate.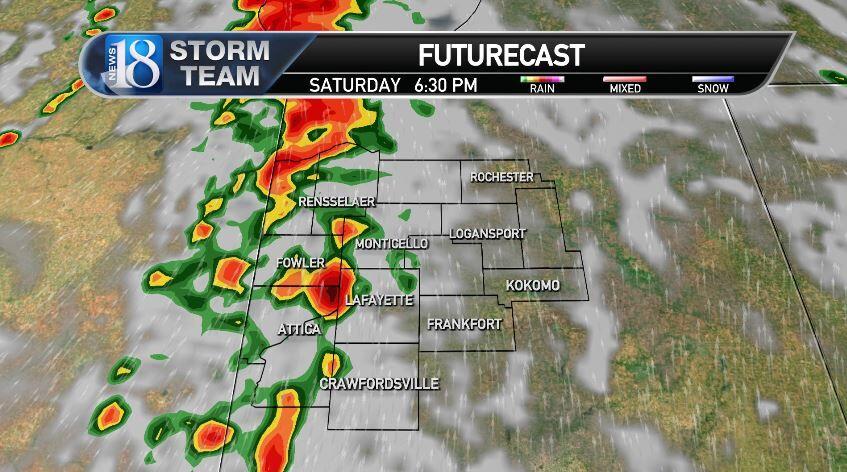 The main timeline for the strongest storms appears to be after 5:00 p.m. Saturday and last until 11:00 p.m. in the evening as the threat moves east.
Impacts of extreme weather conditions
The Storm Prediction Center as of 5:00 a.m. Friday morning extended the risk to Slight (Level 2) to most of the WLFI viewing area.
Damaging winds, isolated large hail and isolated tornadoes cannot be ruled out with some of these storms. The hail threat will remain low in the mainline, but discrete individual cells ahead of the front may see slightly larger hailstones.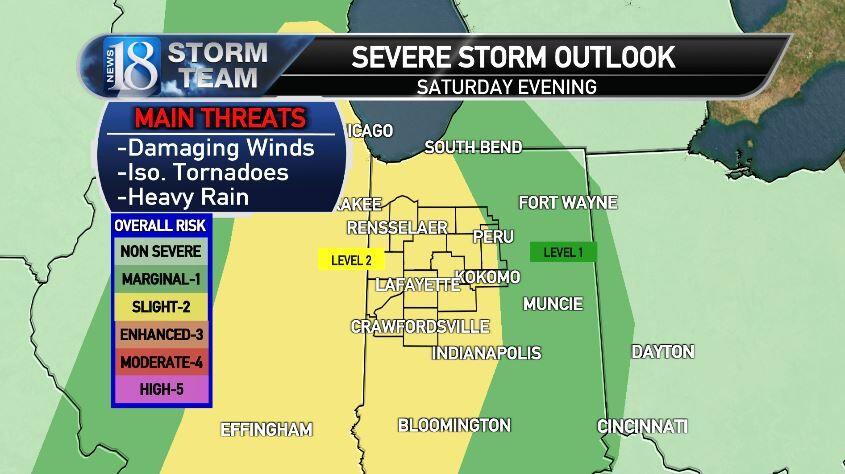 As always, you can download our free WLFI app on Android and Apple phones for watch and warning alerts, rain and lightning.
Stay tuned for the weather forecast for Saturday night!
Precipitation accumulation for next week
Periods of heavy precipitation over the next 7 days will begin to accumulate. Most ensemble data and computer analysis showed up to 2 to 3 inches of rain for many areas by Friday morning next week.
This will include rain from the systems this Saturday evening, Monday evening through Tuesday, then again Thursday through Friday.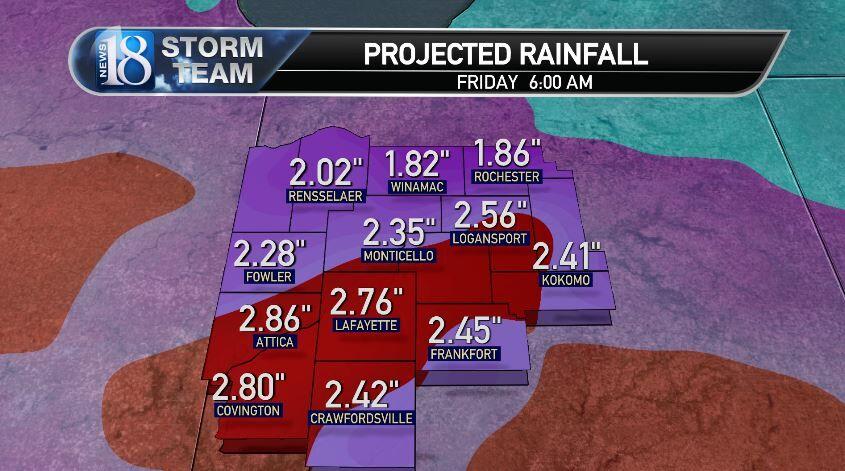 7 Day Outlook
As stated above, we will have a few rainy days which will start to accumulate. Temperatures will remain at or slightly above normal for the next 7 days.