This map and data from Purdue's Midwest Climate Center really puts the overall precipitation patterns since late June into perspective.
Keep in mind that most of this pink or purple area was under drought before the +12″ rainfall in 24 hours at the end of July.
The southern 2/3 of the observation area are still considered abnormally dry (D0 over D4).
I would consider the southern 2/3 in moderate to severe long term hydrological drought, but abnormally dry in terms of short term drought.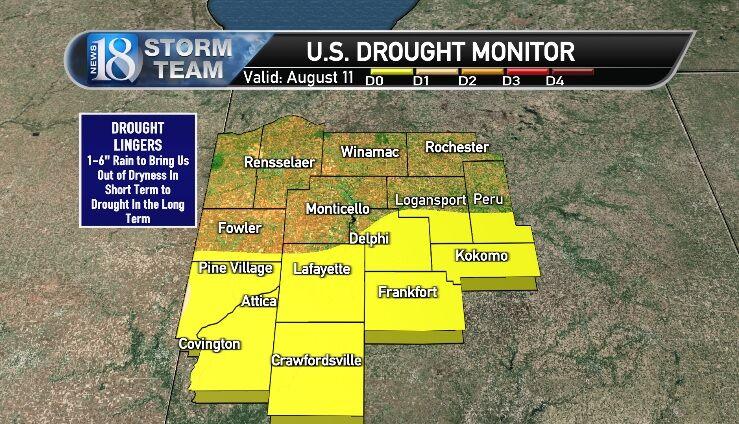 It's still the third driest summer on record at Purdue as of Aug. 18.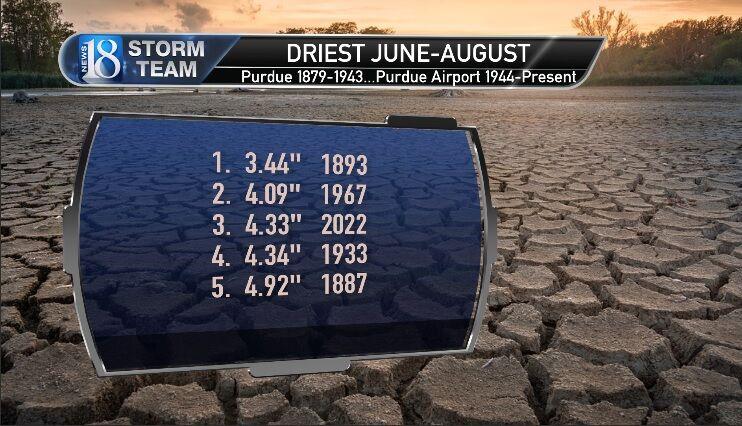 Note the unusually low creeks and streams in the area (and ponds). Gold to orange and brown dots indicate below normal to well below normal stream levels, with some in the lower 10 percentiles.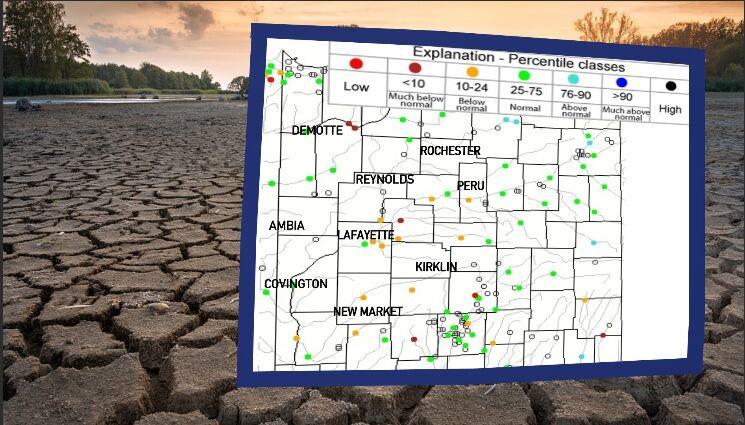 ______________________________________________
Lows this morning were 55 to 60 with some patchy fog. This fog tended to be thickest and most prevalent in our northwest regions where visibility from the Rensselaer-Jasper County Airport fell below 0.25 miles. Kankakee Airport visibility was less than 0.25 mile from 5:01 a.m. to 7:21 a.m.
From 1:55 a.m. to 8:55 a.m., each sighting saw 0.25 miles or less of visibility at Lansing, IN airport.
Between 1:56 a.m. and 6:56 a.m. every ob was 0.25 miles or less of visibility except one at Valpo.
Winamac & Kentland observers reported visibility below 0.25 miles this morning.
Highs reached 82-87 today with still low humidity, but less northeasterly wind from the previous three days.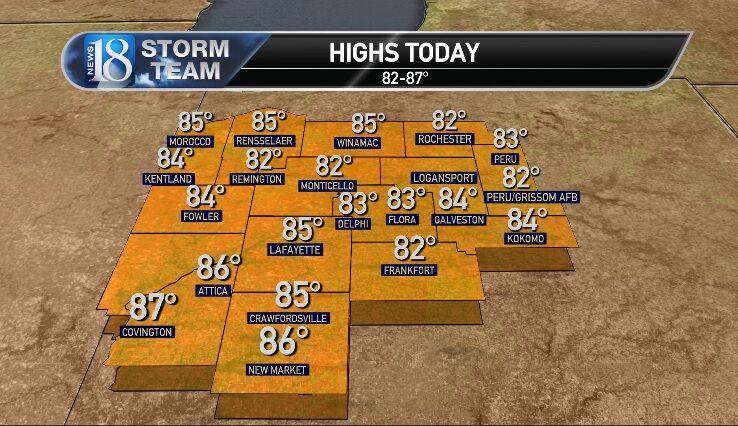 ______________________________________________
I increased the scattered showers and storms coverage to 40% on Saturday (mainly in the afternoon).
With mostly cloudy skies, highs are expected to be in the 80s with dew points reaching 66-72 (turning wet).
Winds will blow south to south-southwest at 8-13 mph.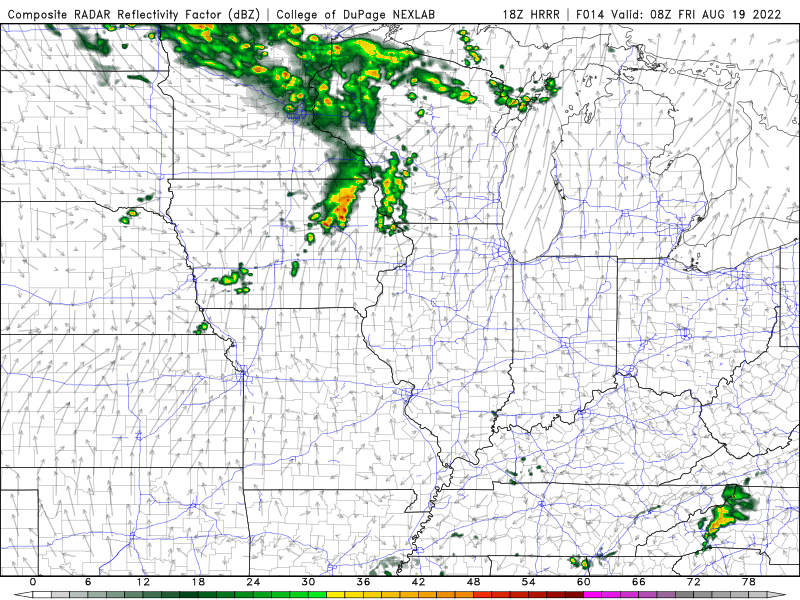 After a break with rising sun, it looks like a ray of scattered thunderstorms will rotate into Saturday evening with a chance of an isolated severe thunderstorm or two.
The lull should take place on Saturday night.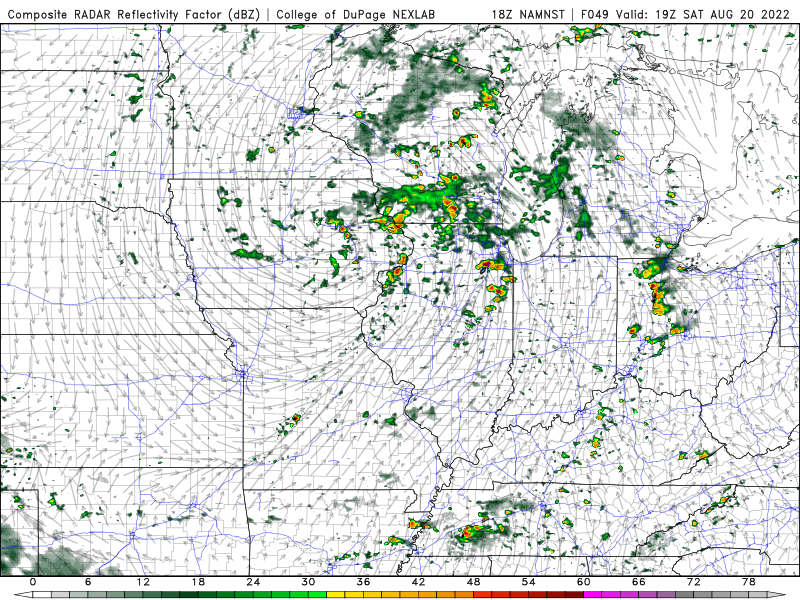 Several rays of showers and scattered thunderstorms are expected to rotate through Sunday, particularly from the afternoon into the evening.
One or two isolated severe storms cannot be ruled out.
Highs should be in the 80s with juicy dew points around 72.
Winds will blow south to southwest at 10-15 mph.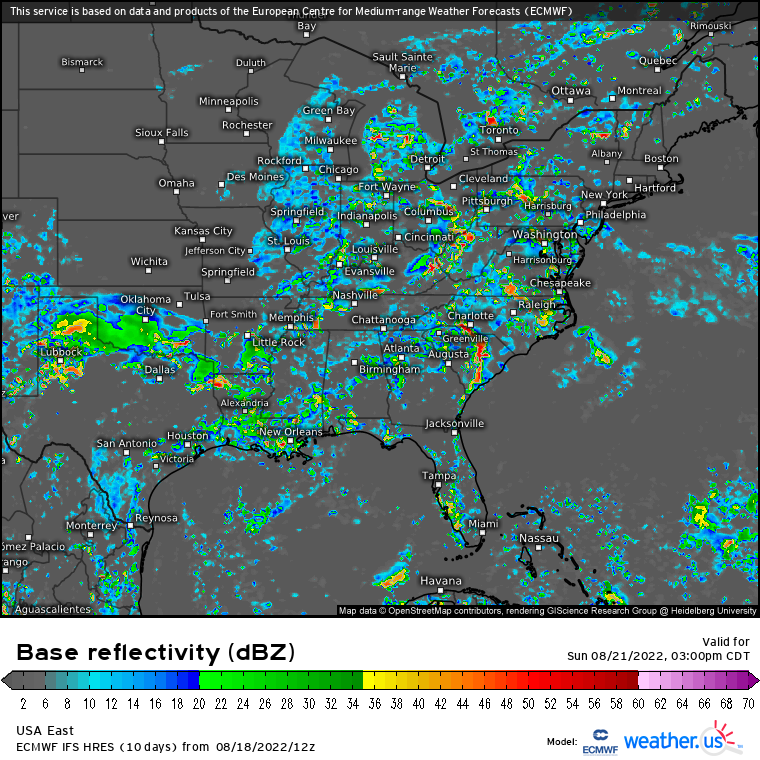 After 65-70 Sunday evening (with some patchy fog) with calm will be followed by a few showers/scattered showers Monday with clouds and sunshine. With wet weather, highs of 79-84 are expected.
Winds blow from north to northwest at 10-20 mph.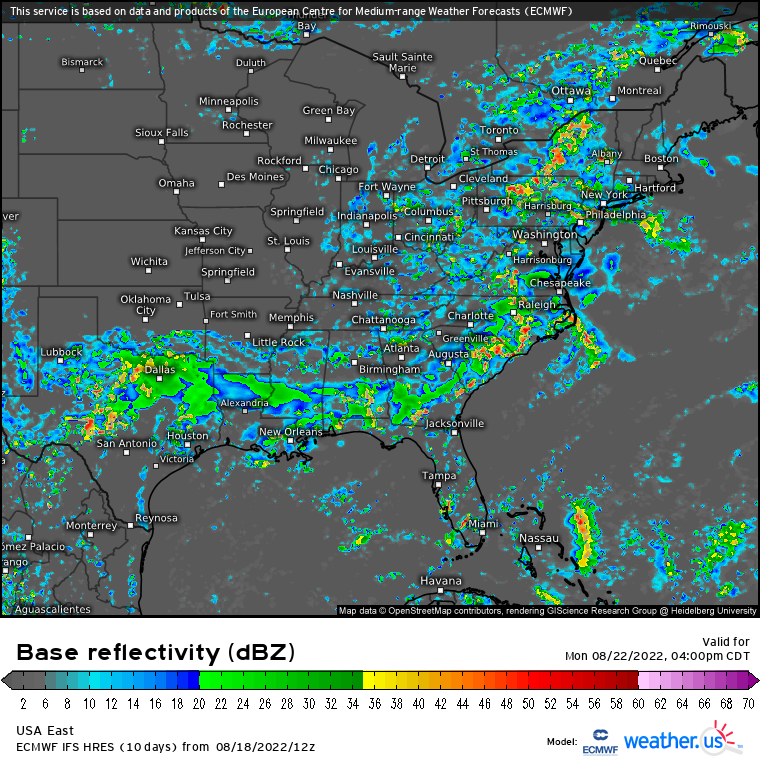 Rainfall totals of 0.40 to 1.50″ are expected. A few to isolated amounts of +1.50″ are possible in the northwest.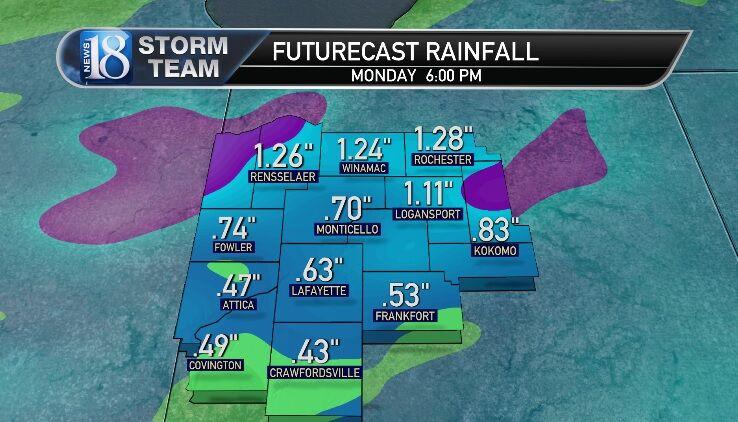 Some scattered fog is possible Monday evening with lows 62-66, followed by cumulus and sunshine Tuesday with a possible isolated shower, wind northeast at 7-12 mph and highs 80-85 (with dew points in the 60s, so still a bit damp).
Areas of fog are possible Tuesday evening.
We're warming up to 84-88 on Wednesday with dew points 64-67 (wet), followed by 86-91. With dew points of 65 to 68, heat indices should reach 89 to 94.
Winds seem southerly at 8-13 mph.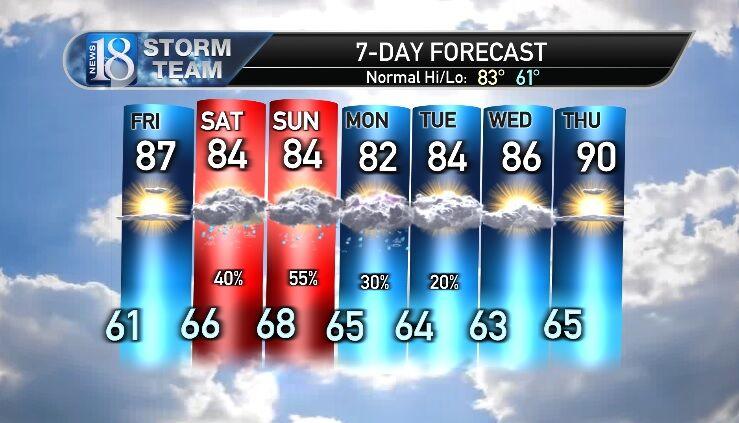 Heat builds up with high humidity!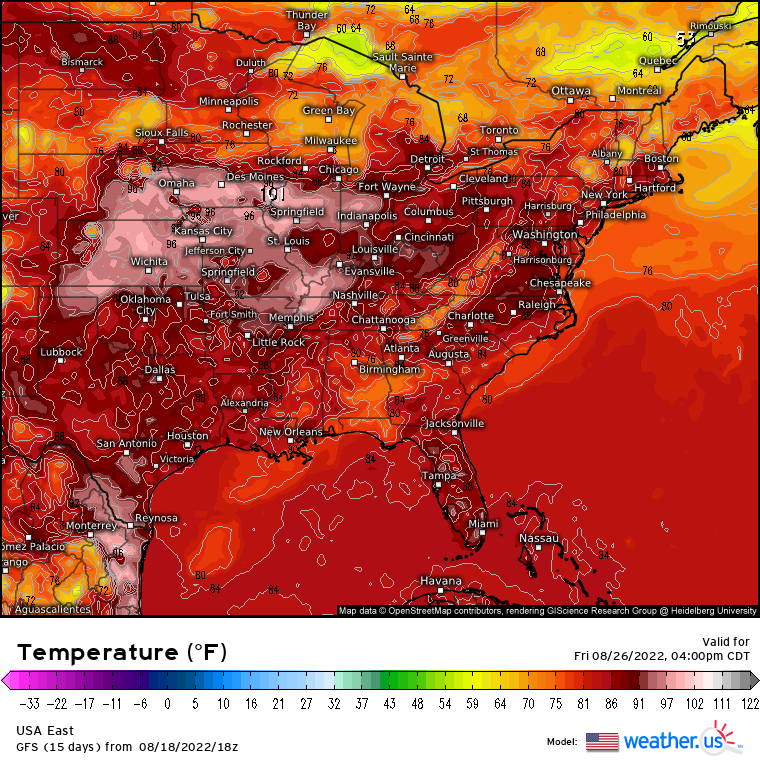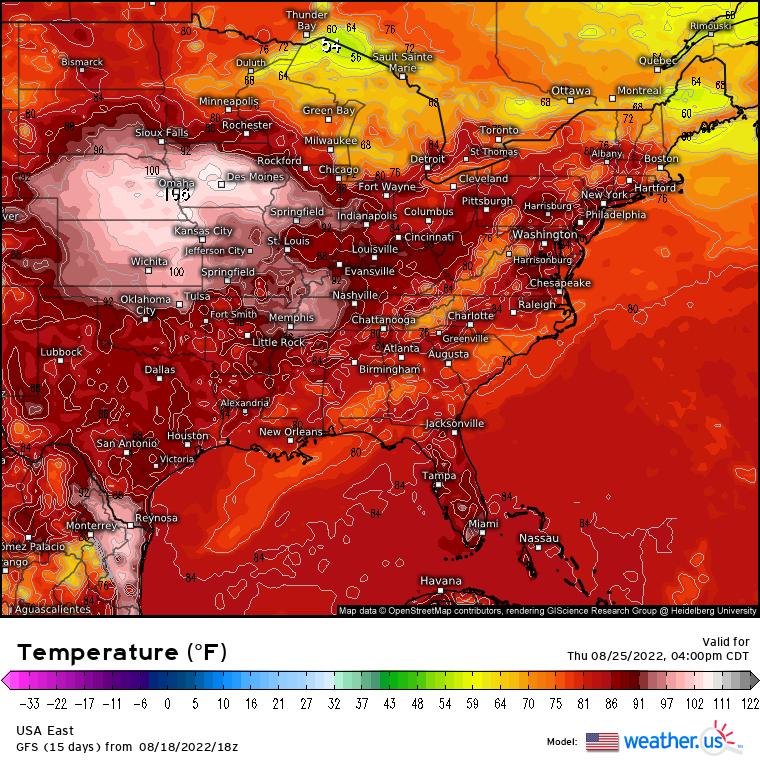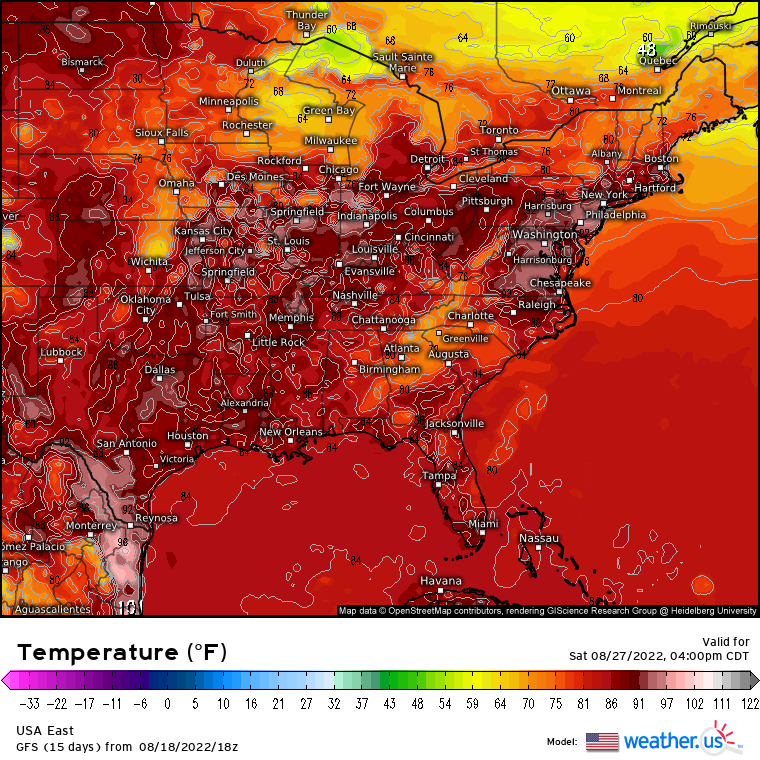 Eventually the cold front to the west will impact the area with some storms and possibly severe risk.
We will also need to monitor the Gulf and the Caribbean for a tropical system with potential to make landfall and possibly move up the Appalachians.