From the Central Plains west of the Corn Belt, from northern Illinois to Indiana, overall soil moisture drought continues due to overall below normal rainfall since May.
Soil moisture deficits were quickly erased from Texas to Arkansas.
Just before the floods in North Texas, you can see how extremely dry it was. It was the hottest summer on record so far for Texas and one of the driest, ranking with the historically dry year 2011 and the extreme droughts of the 1950s there.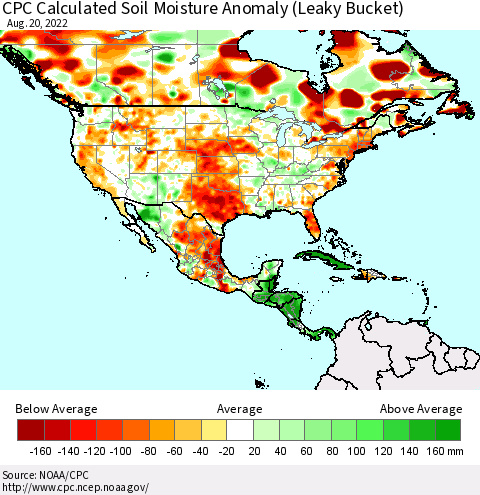 We are rapidly losing moisture again in the form of a hole over the Corn Belt, Midwest and Ohio Valley.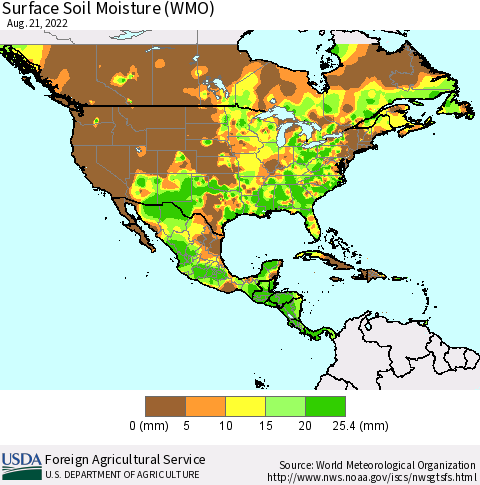 When we look at the 9-month drought severity, you can see the area of ​​drought that has occurred overall in our area.
However, just when it looks like our crops are in danger, we have seen miracle rains this summer in a general pattern of drought. Sometimes they haven't been much, but they've been enough to keep the corn and soybean crop afloat and in some areas doing very well.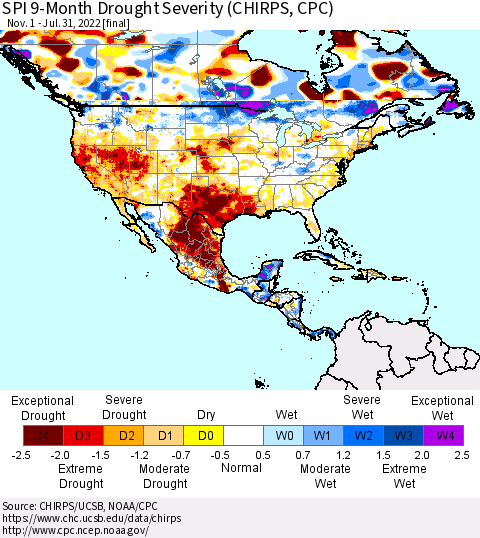 Indeed, some regions have had more precipitation than others. The wettest area for the summer is a narrow band running from near Kentland to northeast of Reynolds. This area experienced two heavy and heavy rains at the end of June and then at the beginning of July. Sacler Farms Weather Station, 4 NE Reynolds, has measured 11.37″ since June 1. That's about normal for summer, but August was dry at just 1.56″.
On Arnold Farm in Tippecanoe County's Wea Plains, just 3.81″ has been measured since June 1, with August being the wettest month yet at 1.83″ (after 0.98″ in July and 1.00″ in August). 7.56″ separates these two weather stations!
One is one of the wettest in the region, the other is one of the driest for the summer.
At our WLFI observation site, there is greener grass, but it is starting to turn brown again, and the nearby pond is still nearly 6 feet below normal, the lowest since 2018 observations. Celery Bog is also down with areas of mud seen on the marsh with receding normal water line.
______________________________________________
With areas of fog, the lows fell this morning to 55-61.
Highs of 82 to 90 occurred today with dew points still held between the upper 50s and lower 60s.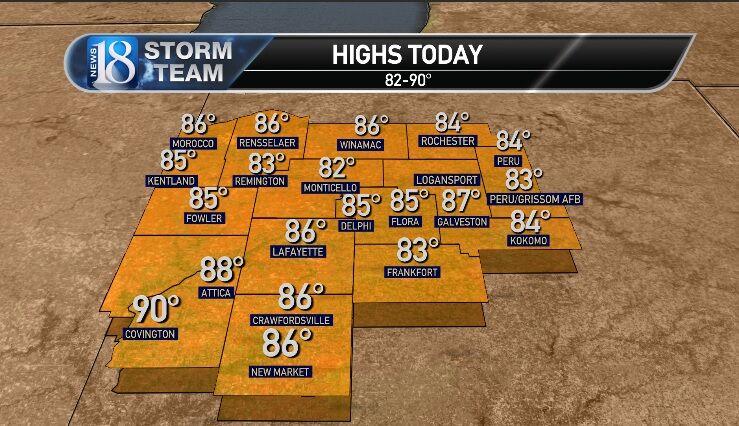 ______________________________________________
Major flooding is underway in Louisiana and Mississippi as this strange tropical disturbance pattern, combined with an unusually strong eastern Pacific monsoon, hits. At first it was the desert southwest, while areas to the east were avoided, now Texas and parts of the Deep South region included.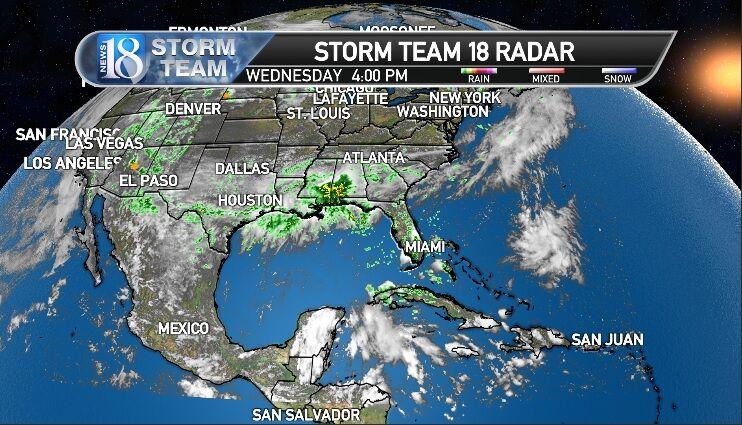 This is due to tropical disturbances from the Eastern Pacific and disturbances from the Gulf of Mexico, in addition to this extremely robust monsoon.
The intensity and abundance of flooding may be partially related to the extreme nature of surface water temperature anomalies, particularly in the northeast Pacific. Note how the water is up to 4C above normal. In the Gulf, particularly in the western and northeastern Gulf, temperatures are 2.5°C above normal.
The Pacific has been active with tropical storms and hurricanes, but the Gulf has not. It was the development of Saharan dust from the southern Gulf to the Caribbean and then across the Atlantic. In addition, a TUTT has been located in this region or an upper atmospheric trough. It enhances convection, but prevents the development of true tropical storms or hurricanes because they are associated with large amounts of wind shear.
Thus, even when there was an opportunity for tropical development with thinning Saharan dust, the TUTT was dominant.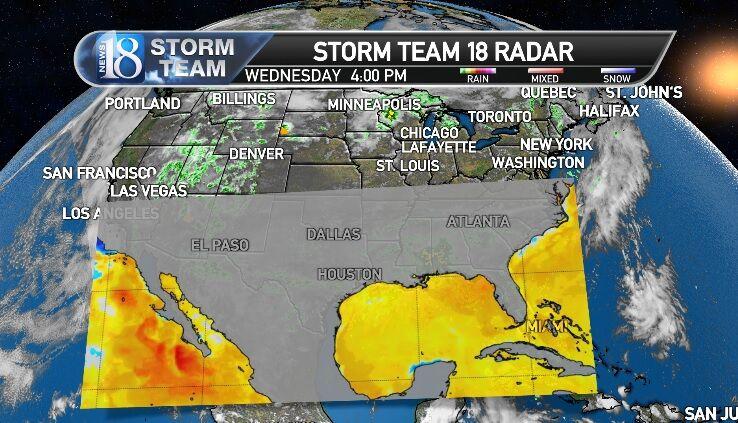 It has tended to resemble a season in which it picks up the latest and continues very late into the fall. We see this evolving now as the dust thins, the TUTT becomes non-existent, and the MJO phases move into octants 1, 2, and 3, which are very favorable for tropical development.
After some patchy fog tonight (not as much as the past few nights), lows of 59-65 and some patchy clouds, we should see 85-91 on Thursday. Heat indices should reach 87-95. A few isolated showers are possible around noon. The sky looks partly cloudy overall with a southwesterly wind at 10-20 mph.
A few scattered thunderstorms are possible late tomorrow evening through early tomorrow night (mainly from 7 p.m. to 1 a.m.). Coverage should be around 30%.
Partly to mostly cloudy skies and some scattered fog with lows of 62 to 67 will follow.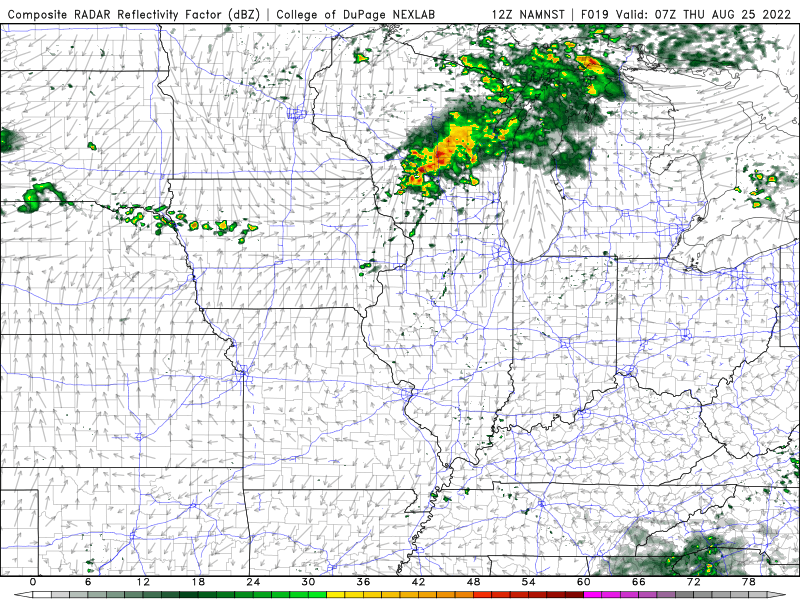 Friday looks partly cloudy with a north-northwest to north to north-northeast wind at 13-24 mph. Highs of 80-87 are expected, followed by 58-64 with scattered fog Friday night-early Saturday morning.
Saturday promises to be partly cloudy with 87-91 with heat indices at 88-94 and a southeast wind turning south.
65-70 gives way to 88-94 on Sunday with 93-99 heat indices and partly cloudy skies with southwest winds 15-25 mph.
Storms with certain MARGINAL to LIGHT HAZARD settings will ignite to the west and northwest of our region.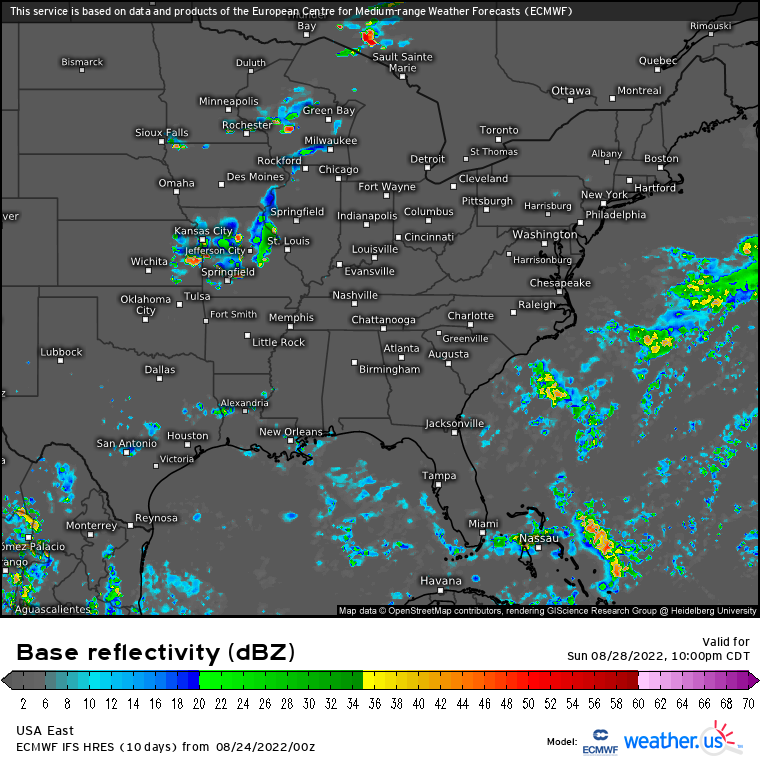 The trend is for a few thunderstorms Monday late morning-noon…..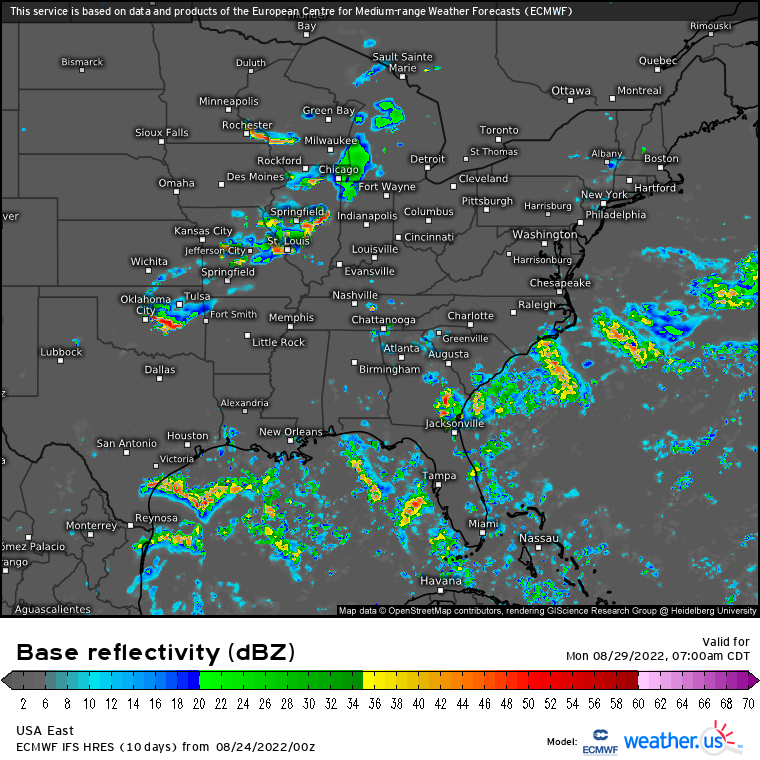 Then new thunderstorms at the end of the afternoon-evening…..
I just kept it generic with 50% POP with highs of 87-93 and heat ratings of 92-100. Winds are blowing south to southwest at 15-25 mph.
If it rains too much and we see less of a break from the sun, these numbers may be a bit cooler.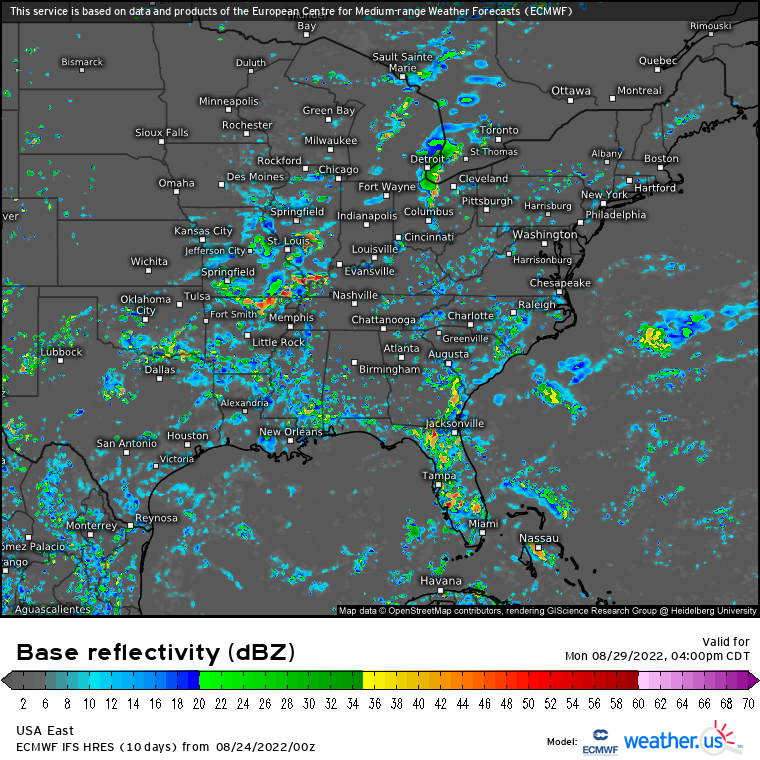 Dry weather then tends to follow with 80s.
Lows in the 60s could drop to 50 or 60 by the end of next week, followed by warming with more humid weather.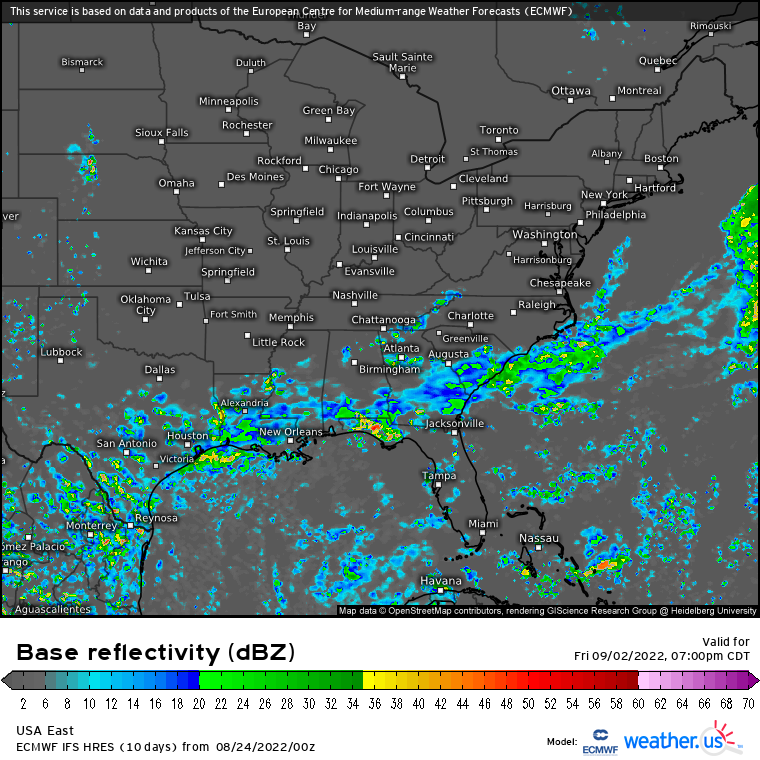 However, the tropics will be a wild card that we have to watch, even at the end of next week.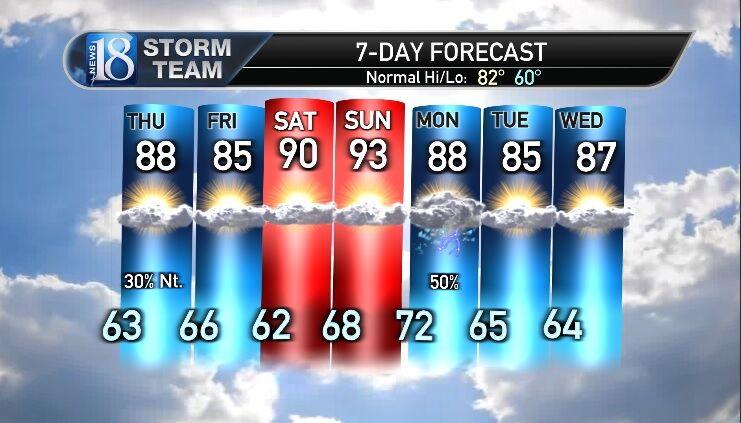 So in saying the tropics are the wild card, based on what we know, let's take the most reasonable projection. Let's look at where and when development and landing can occur.
We can make these assumptions based on where the warmest water is and where the troughs and ridges are and the MJO phase when we see tropical disturbances and systems approaching the United States.
Phases 1, 2 and 3 of the MJO show a high risk of tropical storms/hurricanes in the United States, especially in the northeast Gulf of Mexico.
Labor Day weekend would be a time to watch.

Labor Day weekend would be a time to watch.
This is related to our weather.
Overall, the trend is warmer than normal until mid-September.
Wetter ground with lusher vegetation and heavy rains will keep Southwest Texas in parts of the Deep South normal at a little below normal temperature.
Extreme heat (compared to average) will dominate Canada to the northern plains and northern Rockies.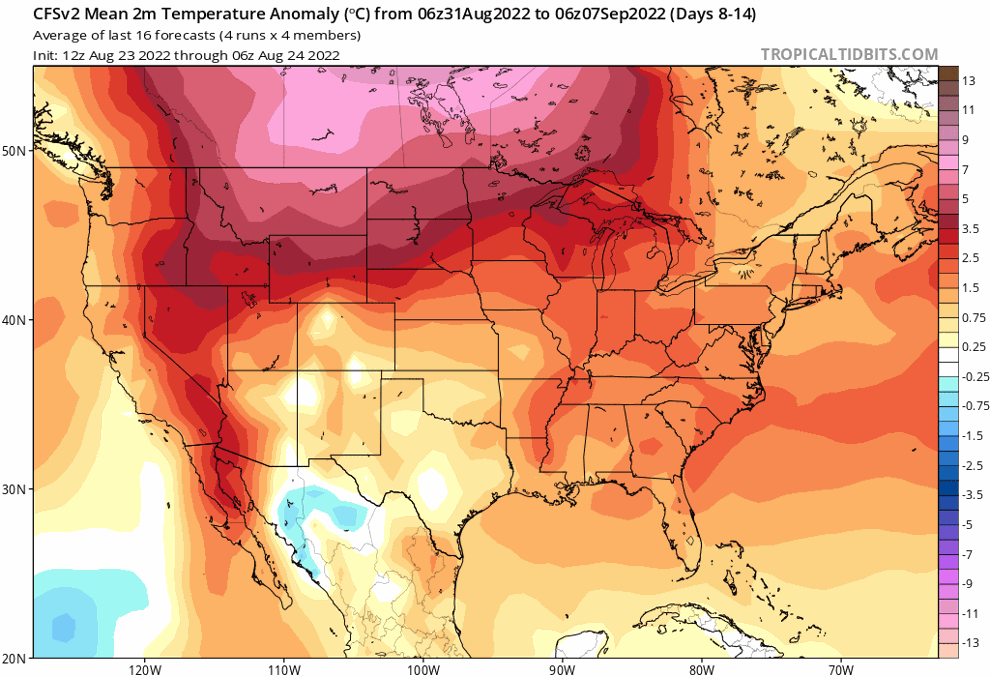 The trend is to keep it drier here and northwest into Canada, but wetter than normal from southern Indiana to the south, west, and east.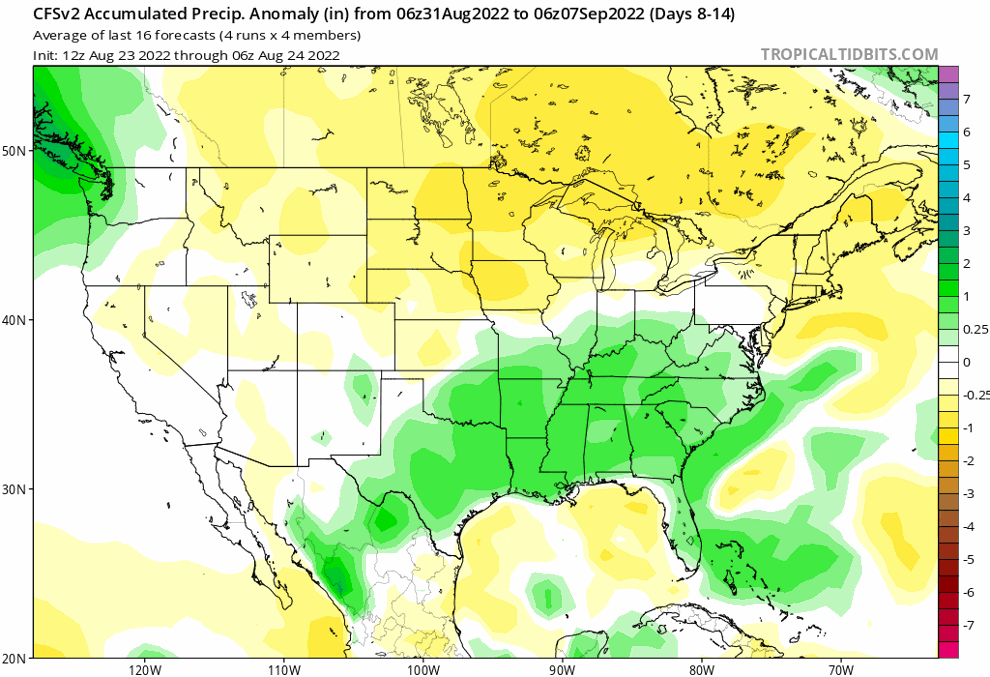 The tropics are THE WILDCARD with rainfall here. All it would take is for a tropical system to rise in our region in September to alter our synoptically drier regime.
Late and late September show swaths of above normal precipitation being set up in the plains to the southwest due to Pacific moisture and the approaching wetter October pattern. A wetter zone also appears in the southeast due to tropical development.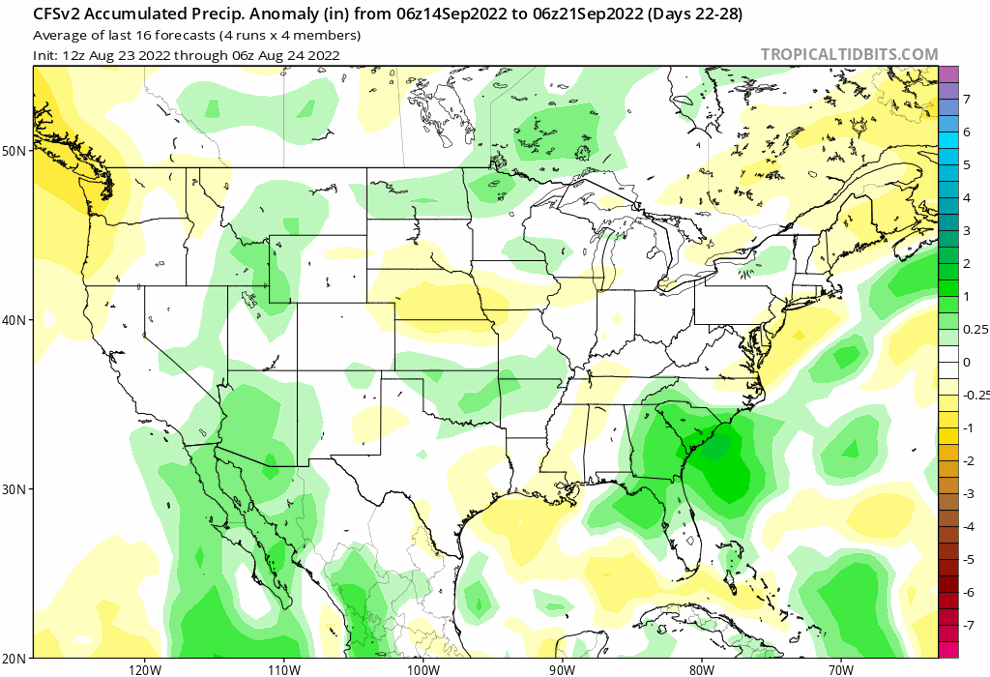 Overall rainfall anomalies from September to date: