Congratulation. You have arrived at the weekend. Take advantage of the weather today, because it won't stay this good for long.
Labor Day weekend begins with temperatures comfortable in the 80s with relatively low humidity. The start of September was refreshing, with dew points in the upper 40s and lower 50s – but the perfect weather we've had for the past few days only lasts until the start of the long weekend.
A southerly flow is pushing the humidity up throughout the day on Saturday, making Sunday feel more summery. In fact, Newark will once again be flirting with 90 degree temperatures by the end of the weekend.
The chance of rain returns Sunday, when an approaching cold front could trigger scattered thunderstorms beginning in the afternoon in northwest New York. Some could see rains heavy enough to trigger flash flooding, although no widespread severe impacts are expected and the overall risk is low. Check the latest weather alerts for your neighborhood here.
Labor Day travel forecast and 10-day outlook
The unstable pattern persists through Tuesday, although neither day is meant to be a total washout. You should still be able to fit your barbecues in despite some intermittent humidity. The Labor Day travel forecast also looks good. See the details below.
10 day forecast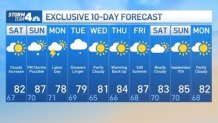 Sunday travel forecast
Monday Travel Forecast
---
The improved weather over the past week that we are now enjoying follows a sweltering, wet expanse that saw heavy storms in parts of the Tri-State area earlier in the week. Heavy downpours triggered local flood advisories, although no widespread problems were reported. Some in the Hudson Valley saw up to 5 inches of rain in six hours when the storms hit Tuesday.
While welcome, this rain was not enough to end the drought that has plagued the tri-state area this month. The latest weekly update reveals worsening conditions in New York as well as New Jersey.
The rains forecast for Sunday through Tuesday aren't ideal in terms of timing for those hoping for a perfect end to summer, but it's the kind of multi-day rain event that could ease the drought.
After the last showers have left on Tuesday, temperatures will be in the 70s with plenty of sunshine. Times roll back into the 80s again on Wednesday, and by the end of the week, we're back above average as the kids of New York return to class.
---
Track any approaching storms using our interactive radar below. Check weather alerts for your neighborhood here.
---
---