More impactful weather is ahead.
Widespread rainfall late Monday-Tuesday can bring 0.50 to 1″ of liquid to the region, causing a second lower ridge over rivers and streams.
This could end in light freezing rain, ice pellets and snow Tuesday evening through early Wednesday morning with very minor accumulation.
Then, a potential winter storm is brewing this weekend with freezing rain, ice pellets and snow Thursday afternoon through part of Friday.
Major flooding is expected from precipitation from Kentucky to Tennessee, from northeast Arkansas to northern Alabama. Up to 9″ of rainfall cannot be ruled out with the "Mayan Express" event.
With these heavy rains, as the cold air arrives, an ice storm could occur in parts of this heavy rain zone south of our region late next week.
Severe weather can also occur from southeast Indiana to the south.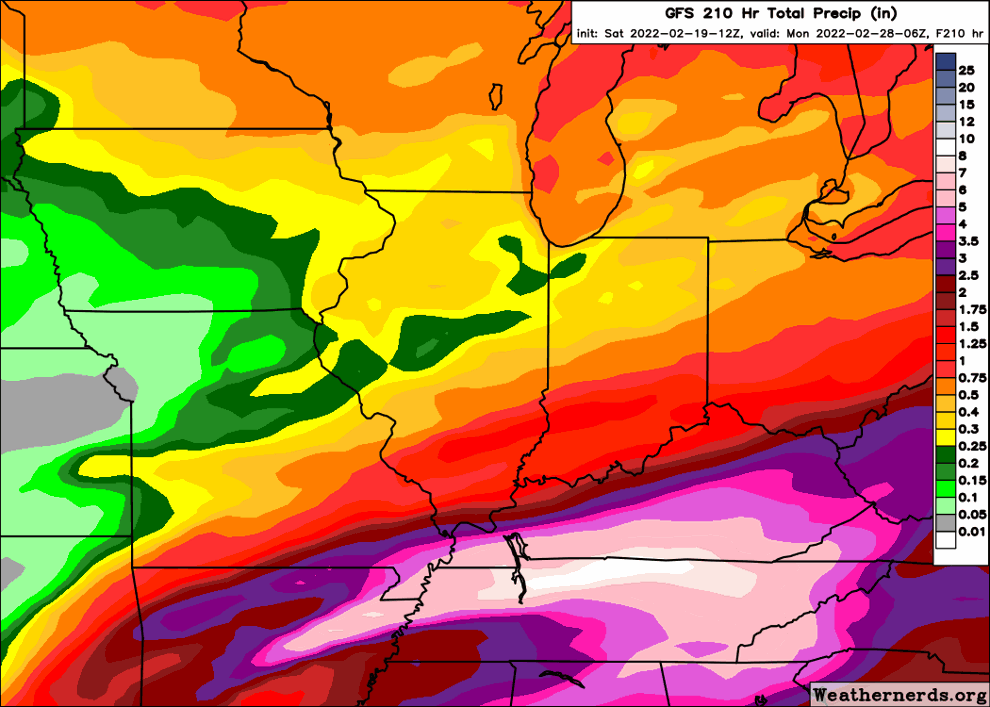 Any accumulation of ice and snow from Tuesday evening to Wednesday morning appears to be very minor with coating or dusting of snow and ice, but it can still bring slippery areas to roadways.
Then, snow and ice falls on weekends.
The latest data continues to show an accumulation of snowfall (and ice). Preliminary snowfall map below:
After that it looks like the weather will be drier and biting cold followed by a very rapid warm up with a major thaw with spring like temperatures.
With the heat (60s treble [70 southwestern areas?]), periodic rains (even a few thunderstorms) will occur from March 3 to 7 with our region dominated by southerly winds.
However, I still think we will have winter success around mid-March and again in late March with snow and ice.
The exact timing is unclear, but there is a clear analog signal of two hard-hitting winter events.
Flooding will be a chronic problem on the rivers through March in varying degrees.
DAY: MORNING HIGH/LOW…CONDITIONS
GRAND LAFAYETTE
SUNDAY: 45/10 INCREASING TO 22…SUN, WINDY
MONDAY: 52/36 RISING TO 41… CLOUDS, LATE SHOWERS, WINDY
TUESDAY: 55/47…CLOUDY WITH PERIODS OF RAIN, WINDY
WEDNESDAY: 28/22… EARLY MORNING ICE/LIGHT SNOW, FALLING CLOUDS, VENTILATION
THURSDAY: 30/14…INCREASING CLOUDINESS, LATE SNOW/ICE, BREEZY
FRIDAY: 29/24….ICE/SNOW TO SNOW BEFORE THE END, WINDY
SATURDAY: 31/14…SUN
SUNDAY: 42/14…SUN, WINDY
MONDAY (2/28): 28/25… SUN, BREEZY LATE
TUESDAY (3/1): 42/25…INCREASING CLOUDINESS, WINDY
WEDNESDAY (3/2): 53/40…PARTLY CLOUDY, WINDY
THURSDAY (3/3): 60/50…PERIODS OF RAIN, WINDY TO WINDY
FRIDAY (3/4): 55/50…PERIODIC RAIN, BREEZY
SATURDAY (3/5): 64/40…SOME PERIODIC RAINS AND THUNDERSTORMS, WINDY
SUNDAY (3/6): 67/58…AM RAIN/THUNDERSTORMS, WINDY
MONDAY (3/7): 67 FALLING TO 43/61…AM RAIN/THUNDERSTORMS, WINDY