Two waves of winter precipitation are coming. I've been confused as to whether to just combine the two into one system with snow and ice totals or keep them separate like yesterday. This is the result of the second wave increasingly catching up with the first.
That said, let's keep them separate for now.
So wave #1 runs from tonight to tomorrow morning with snow, sleet and freezing rain.
Much of the action will take place south of US 24.
1″ to 2″ of mixed snow and ice will occur in the southern part of the region.
The timing of this wave in the viewing area is from 7 p.m. to 8 a.m. with the greatest amounts of accumulation from midnight to 7 a.m.
Watch for slippery areas on the roads.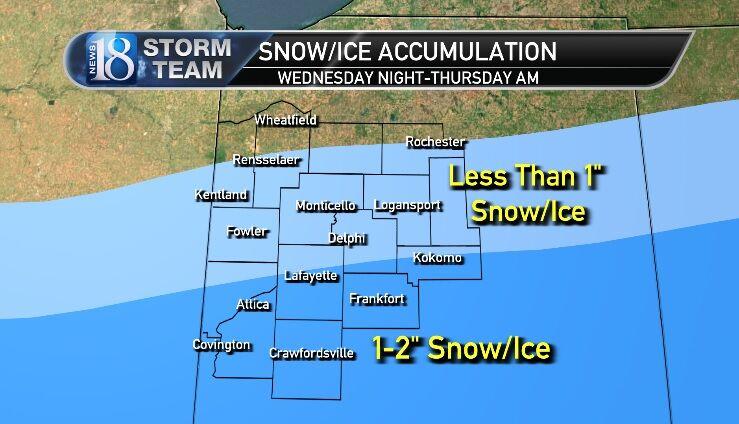 Even in the lull between 7 a.m. and noon, there can still be patchy freezing drizzle freezing things around the area, so I wondered if it was possible to combine the accumulation of two waves on one card.
Anyway, wave #2 runs from noon to 5am with the heaviest rainfall from 2:30pm to 2:30am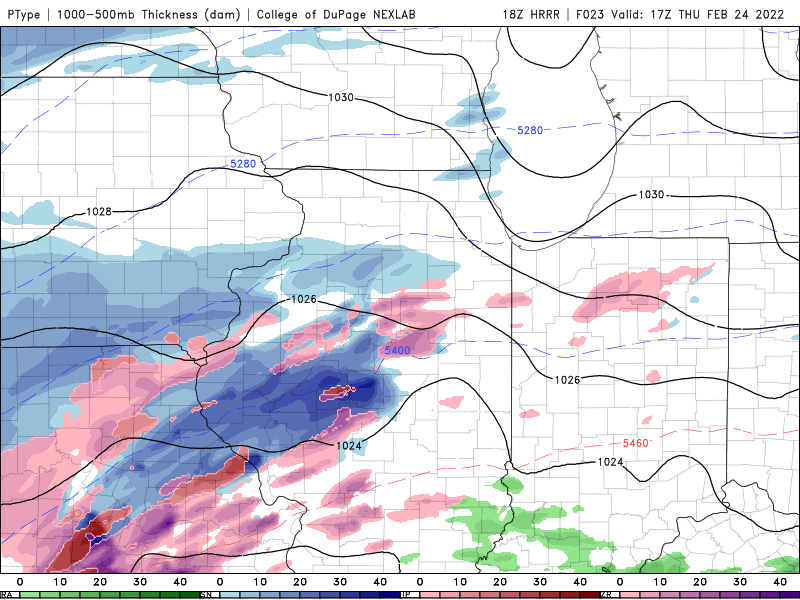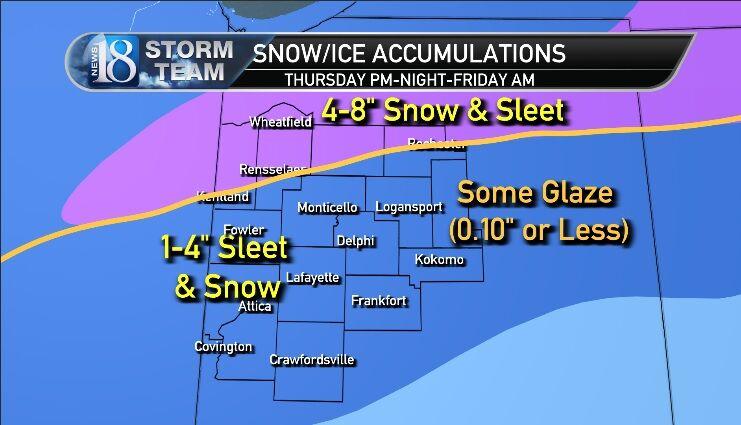 A few showers and lake effect flurries will follow on Friday with some localized dusting.
The wind will be gusting Thursday-Friday morning at 35 mph from north-northeast to northeast, then north to northwest.
Temperatures on Thursday will reach 29-32, followed by 18-24 early Friday morning, then Friday highs of 26-31.
Lows, with clear skies Friday evening, will drop to single digits.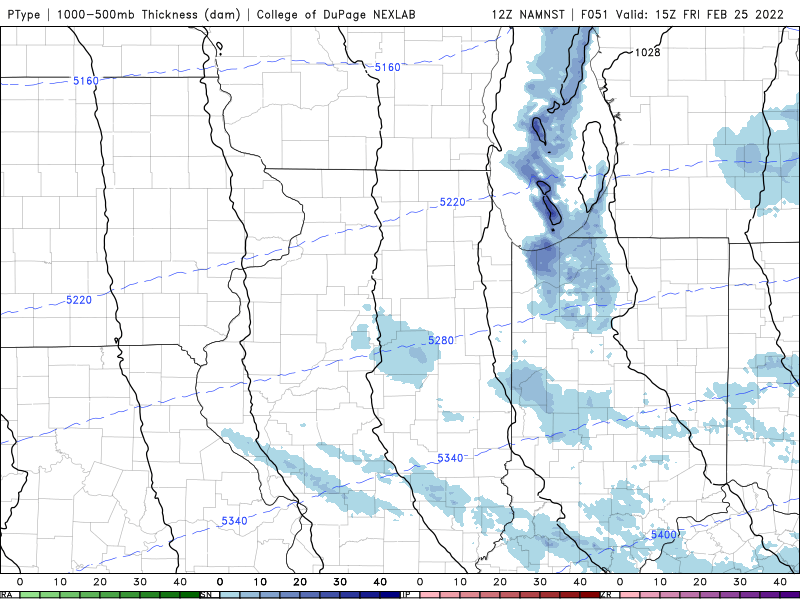 After a few snow showers on Sunday evening, it's a big spring surge mid to late next week with rivers and streams rising again as snow and ice melt.
60s or even 70s are likely any weekend into next weekend with periods of widespread rainfall from Saturday March 5 to Monday morning March 7.
2-3.5″ of precipitation looks possible with BIG increases in rivers and streams.
The parameters suggest a MARGINAL RISK (Scale of 1 to 5 for severe…this being a 1 or a chance of an isolated severe storm or two) for severe weather as far north as Crawfordsville to Frankfort to the Kokomo line.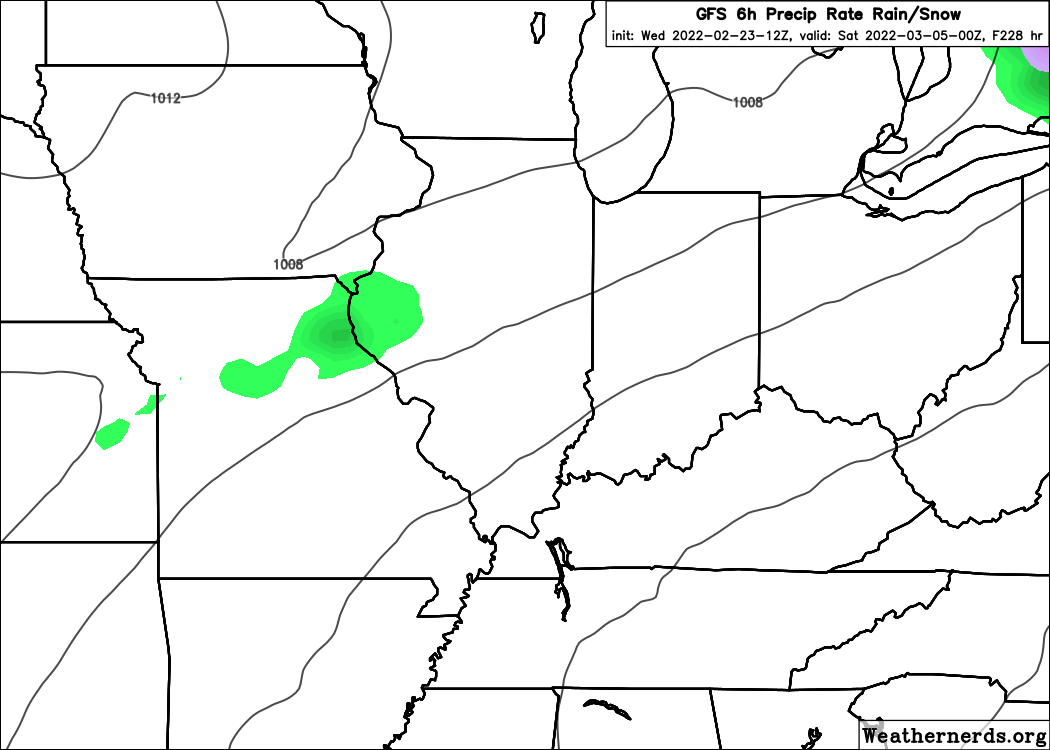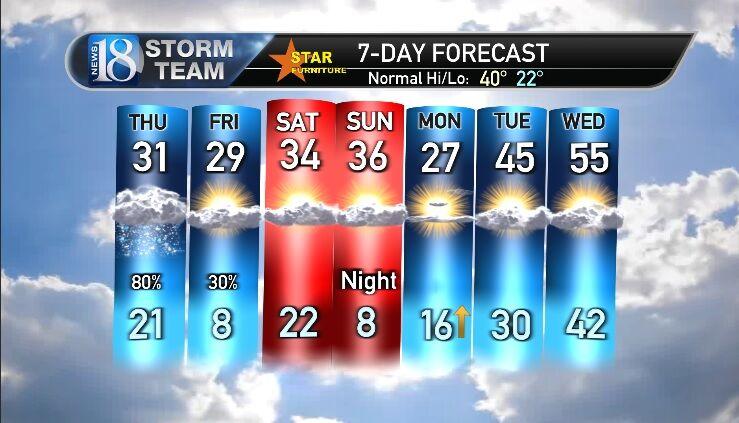 Watch for winter weather events around March 10 until March 15 when there is snow and/or ice accumulation. This will happen after the American elms, silver maples and some red maples begin to bud and flower and the daffodils grow upwards. We will have snowdrops in bloom and even crocuses approaching or reaching flowering.
We will likely hear our first Western Chorus Frogs begin to call during this great warm up as the water in marshes, swamps and ponds slowly warms up.
After more warmth and plant budding, watch for another wintry weather in late March with snow and/or ice.