Totals range from 11.6 to 17 inches from this storm. I'll take the totals and then match them with QPF or radar estimated precipitation to get a good picture and your accurate totals match just fine.
The highest totals of 15 to 17 inches tended to occur in the strip from near Fowler to Camden to Idaville in White County, then Adamsboro in Cass County to Fulton County.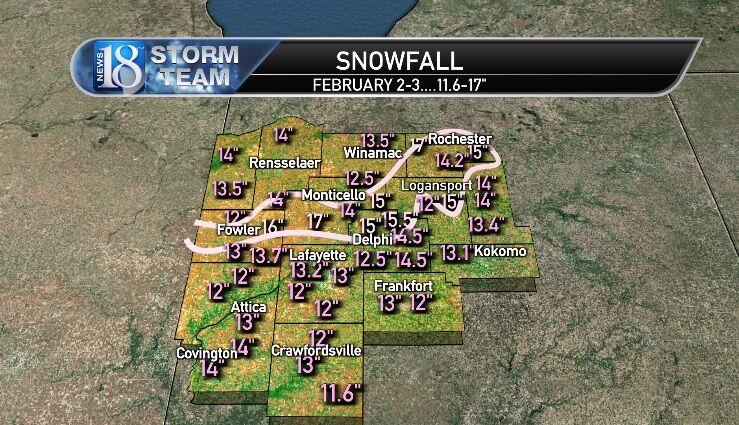 In this harsh winter, look again at the record cold that hits Texas!
Those were the HIGHS today! These peaks are much more typical of our area than South and Southeast Texas.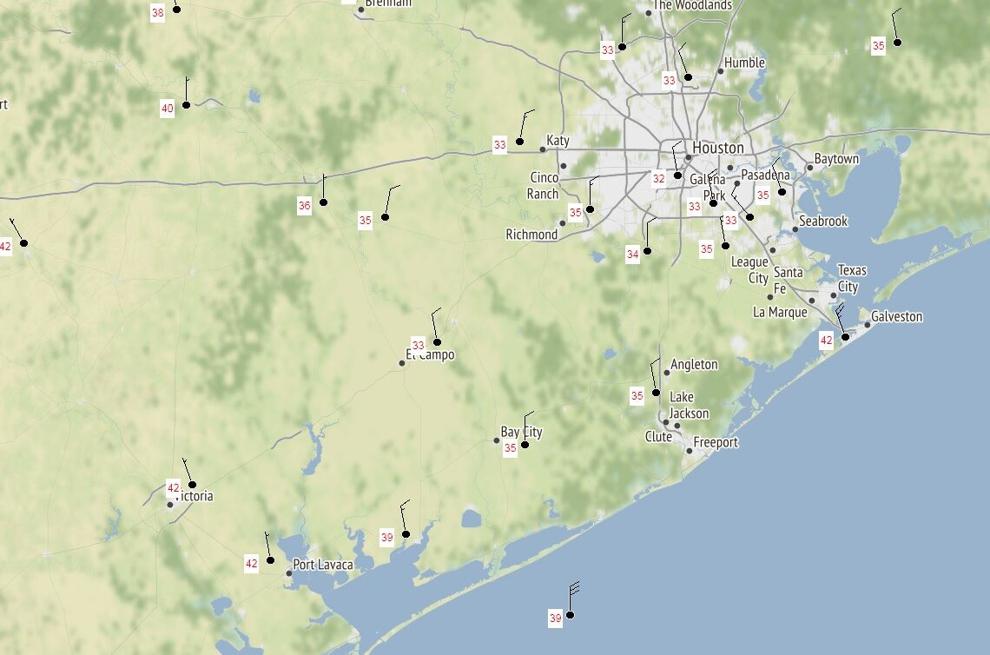 Note the peaks at the southern tip of Texas in northeast Mexico! Unusually cold weather today!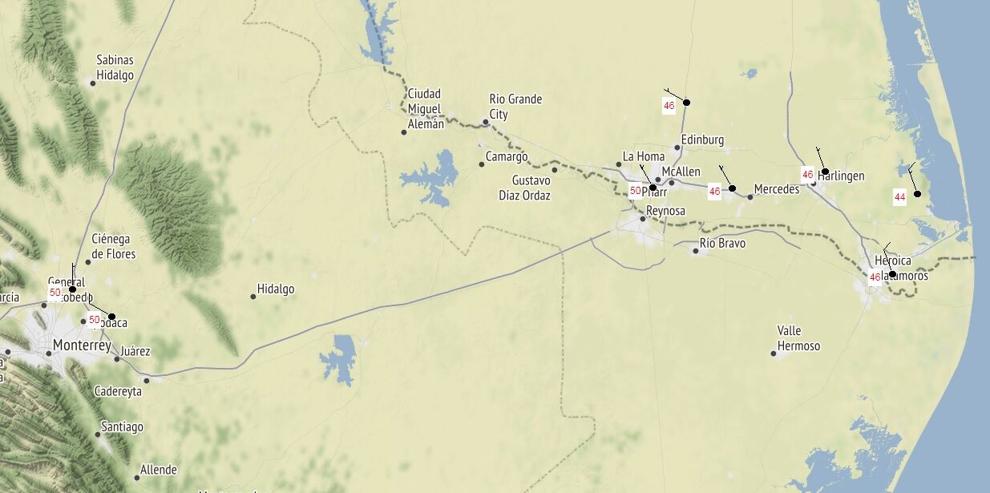 Some areas of light snow continue to cross the region with some dust and up to 1″ of snow.
He should be out by 12:30 p.m.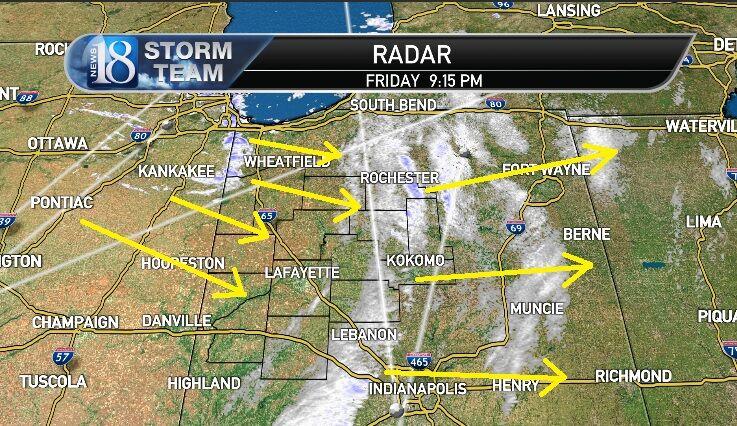 Around the end of the snow the winds can be 14 to 25 from the northwest for a while causing some blowing and drifting then the skies tend to clear and after 4am the winds range from light to calm. Brief wind chill episodes of -15 to -7 are possible.
With snowfall, temperatures are expected to rise. They look coldest in our southwestern regions closer to the surface with as low as -16. The northeast should drop to around -5 to -1.
Some scattered freezing fog is possible.
Watch for slush refreezing and snow cover deposited tonight-early tonight.
Saturday looks partly cloudy to mostly sunny with winds southwest 8-15 mph and highs 13-19 and wind chills staying just below 0 single digits.
After 6-12 then up to 10-16 tomorrow evening with a southwesterly wind, Sunday looks to be mostly sunny to partly cloudy with highs of 28-33 and wind chills of 16-24.
Southwest winds can blow 13 to 25 mph bringing blowing snow and blowing snow.
Several Alberta Clipper systems run late Sunday night through the following weekend (February 12-13).
Most snow seems very minor at 1″ or less.
The one for the very end of next week and/or the one for next weekend can produce 1 to 2″ of snow (and even ice).
The best accumulations, however, will be in the northwest, north and northeast of our region.
Temperatures will moderate given the tendency of the center of mowers to pass over or just north of our zone. After an extremely cold start to the week with -10 to 0 on Monday morning, highs are expected to reach around 30 to 30 for part of the week.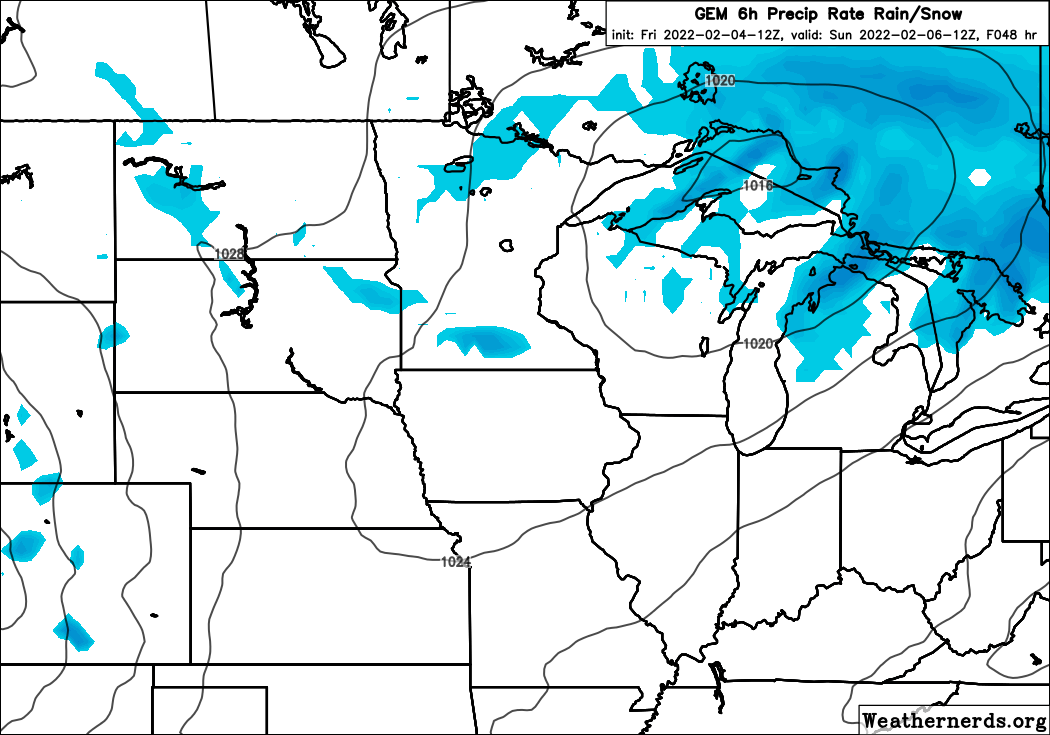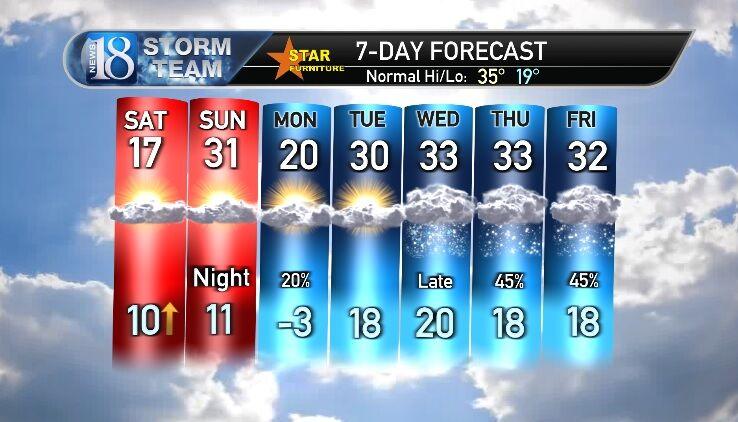 The Clipper system with some minor snowfall may pass around Valentine's Day, but the lack of phasing with the southern or southeast system will prevent stronger snowfall totals at this time.
A Colorado or Texas Panhandle low could bring a band of heavy snow to parts of the Plains and Midwest with even ice around Feb. 17-18. We will monitor.
The conditions here are favorable for winter impacts.
We will be dominated by generally below normal temperatures until February 22.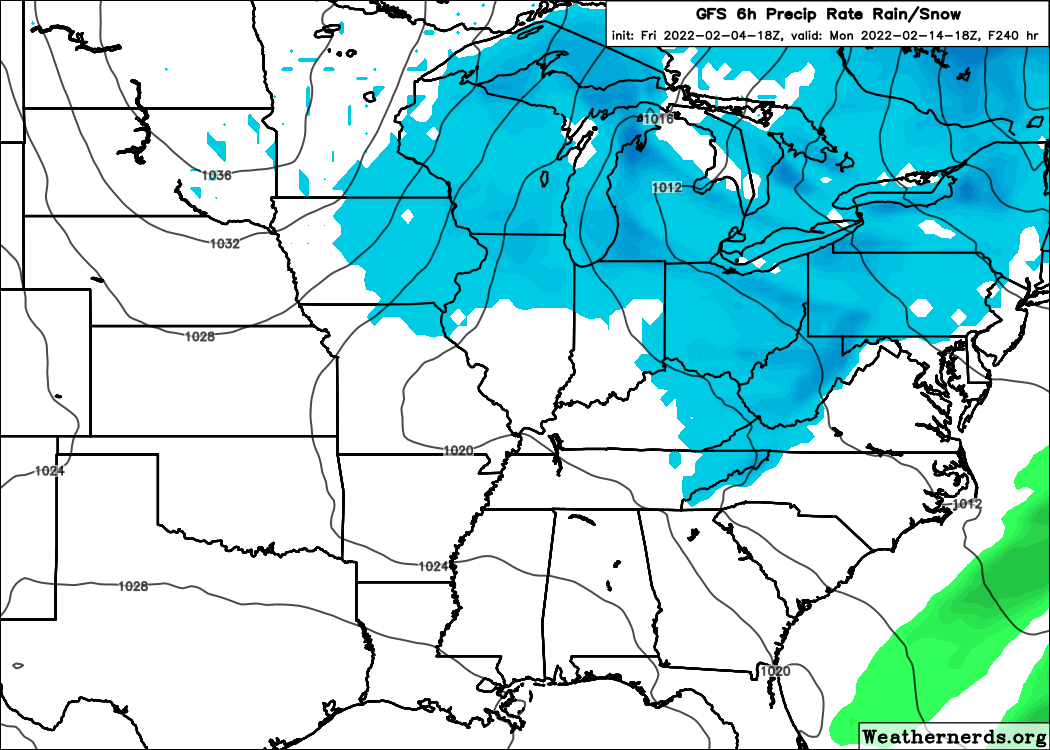 There continues to be a very consistent signal of high heat and melt from late February to early March.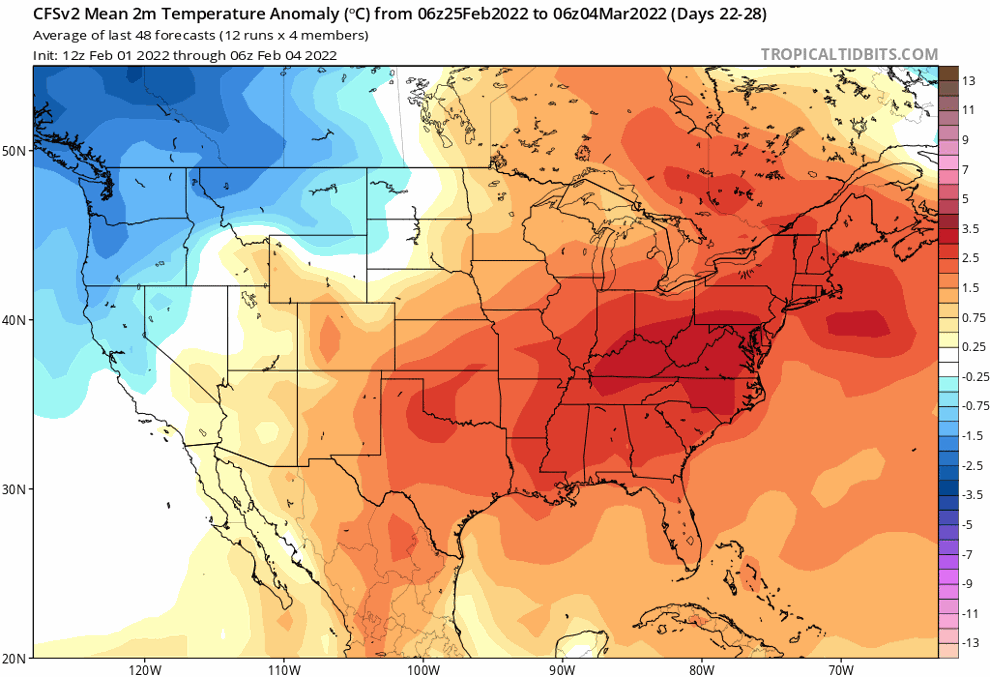 There also continues to be a very consistent signal of heavy rain from late February to early March.
I think it would only be rain here, but there could be lots of snow and ice from Wisconsin to Michigan and even as far south as northern Illinois.
Severe weather conditions can become a problem in the Lower Ohio Valley and the South.
We'll see if anyone can sneak into our area. It is possible in this model to set up for that time.
We have to watch for floods and ice jams.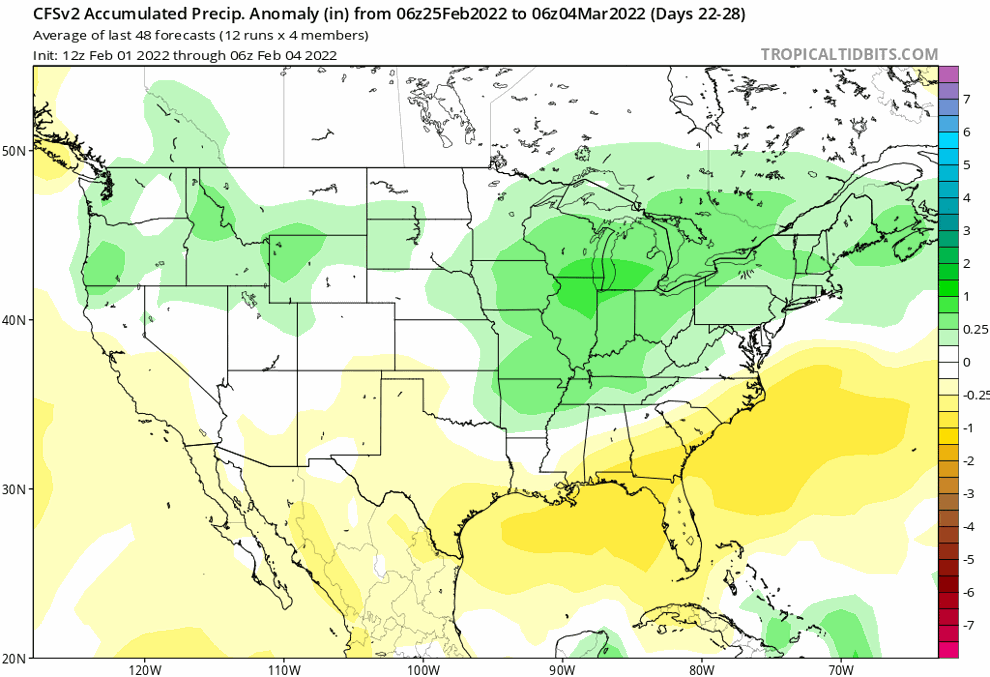 A warm signal with above normal spring temperatures continues through mid-March.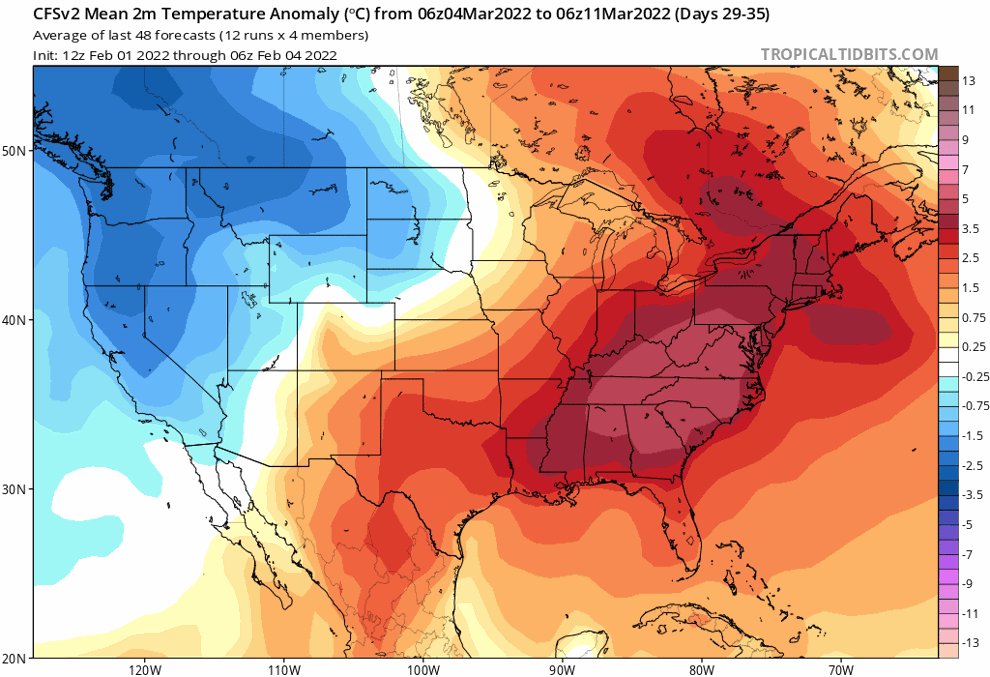 The wet regime continues until mid-March.
Flooding issues will need to be monitored from late February to mid-March.
Severe weather risk may evolve frequently in the Lower Ohio Valley to the south and potentially even the Tidewater.
Some might sneak into our area.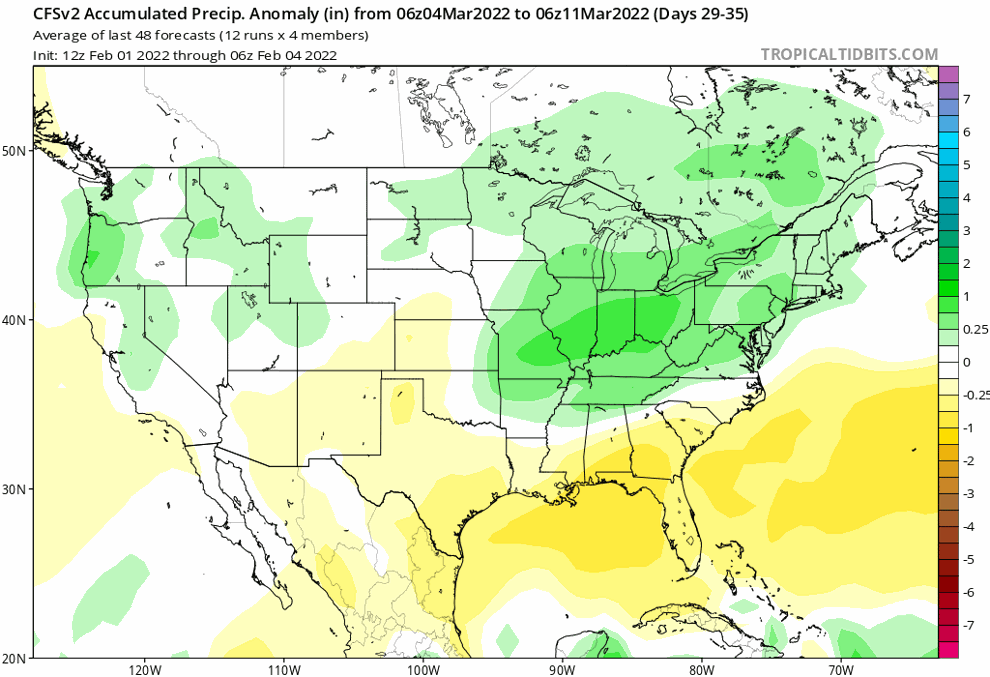 While the trend is still very much in favor of the early start of spring and all that heat, humidity, and storm, I still see a signal for a late-season hit in late March for a winter storm. We will be watching for sure!
Analogy of model data and similar real-world years shows higher risk, largely in the March 22-31 timeframe.
I'm not convinced that we will have a warmer than normal April overall, but I have a strong idea of ​​a wetter than normal April.
Given the rainfall pattern, I have some confidence that the first part may be cold and wet, but the second part gets warmer than normal for a while with severe weather and a more humid pattern.
Always tough call with Summer. I have a lot of mixed signals right now, but the feedback mechanisms seem to support the notion of warm, hot, dry upper ridges in the southern plains to parts of the south with below normal precipitation there.
I kind of have this mixed signal between cooler and wetter here for the summer overall and warmer and drier overall.
Further digging is needed over the coming week which could signal a mix of the two with one part of the summer hot and dry and the other part wetter and cooler. We will monitor. I really need a few extra hours to really dig.
I still think the active severe spring season is likely due to the strong and persistent looping upper jet with a strong temperature gradient over the plains and Midwest.