Scorching heat and humidity will be the main weather story on Monday, as high temperatures move back into the mid-90s across much of the region.
The only resistance to Monday's heat will be far northern New England, where a frontal boundary will drape, bringing showers and thunderstorms along much of the day, some of which can be strong to severe. Highs will be mostly in the 70s, 60s in far northern Maine!
As for rain for the rest of the region, like what we saw on Sunday, storms will roll out throughout the afternoon and evening, some of which could reach the strong to severe side with gusts wind, hail and heavy rain.
Overnight we will see a cold front continue to slowly subside south bringing showers with it to northern and central New England, the rest of the region will remain humid and warm. Lows in the 70s in the south, 60s in the north.
On Tuesday, the cold front will slowly move through the region, bringing much needed relief from the heat behind it, as well as showers and storms. Ahead of the border, the heat and humidity will hold for another day as we again see high temperatures jump into the 90s in southern New England, which will help set the stage for storms. strong to violent in the afternoon as the cold front passes through.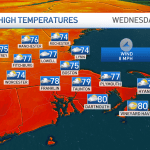 By Wednesday, the front will be offshore with more tolerable temperatures in its wake. In addition to cooler and more seasonal temperatures, we will also be on the choppy side with much needed rain in the forecast, particularly Wednesday evening through Thursday as a wave of low pressure follows the front locked south of the region.
In fact, the threat of showers remains in the forecast until Friday, as shown in our exclusive 10-day forecast.