A strong cutoff low pressure system will slowly pass over southern Colorado early in the week bringing below normal temperatures, gusty winds and occasional light snow for the region. However, little or no accumulation is expected in lower elevations. Things get sunny and warmer on Wednesday and beyond, with the weekend ahead looking particularly stunning. Read on for our full outlook for the week ahead.
Highlights from this week include:
The moderately publicized large storm system developed too far south across New Mexico on Monday, providing minimal impacts to our region
Dreary, cold and gusty Monday with the possibility of light snow in the morning and early afternoon – less than 2″ accumulation expected on grassy surfaces
Staying cool Tuesday with widely dispersed rain/snow showers late in the day – no buildup
Drying Wednesday and beyond with lots of sunshine and temperatures approaching seasonal values
A beautiful weekend is emerging with 70s expected
WARNING: This weekly forecast is created on Monday morning and covers the entire week ahead. Accuracy will decrease over the week as this post is NOT updated. To receive daily updated forecasts from our team, among many other benefits, subscribe to BoulderCAST Premium.
---
Swing and a miss
J
The powerful low pressure system, which showed potential for snowfall in our region a few days ago, eventually moved too far south of New Mexico to have significant impacts on the Front Range to start the week. We first alerted you to this interesting atmospheric pattern around the middle of last week, with a simple warning to keep an eye out for this developing storm and where it might end up as somewhere in eastern Colorado was likely to see a lot of snow. On Saturday, we were convinced it would be a "swing and a miss" for the Denver area, with the system dipping too far south. This is where we are now. Since Monday morning, the center of the intensifying mid-level low has been way in southwestern New Mexico. The Front Range is barely catching a small southeasterly flow aloft as indicated by the wind barbs below.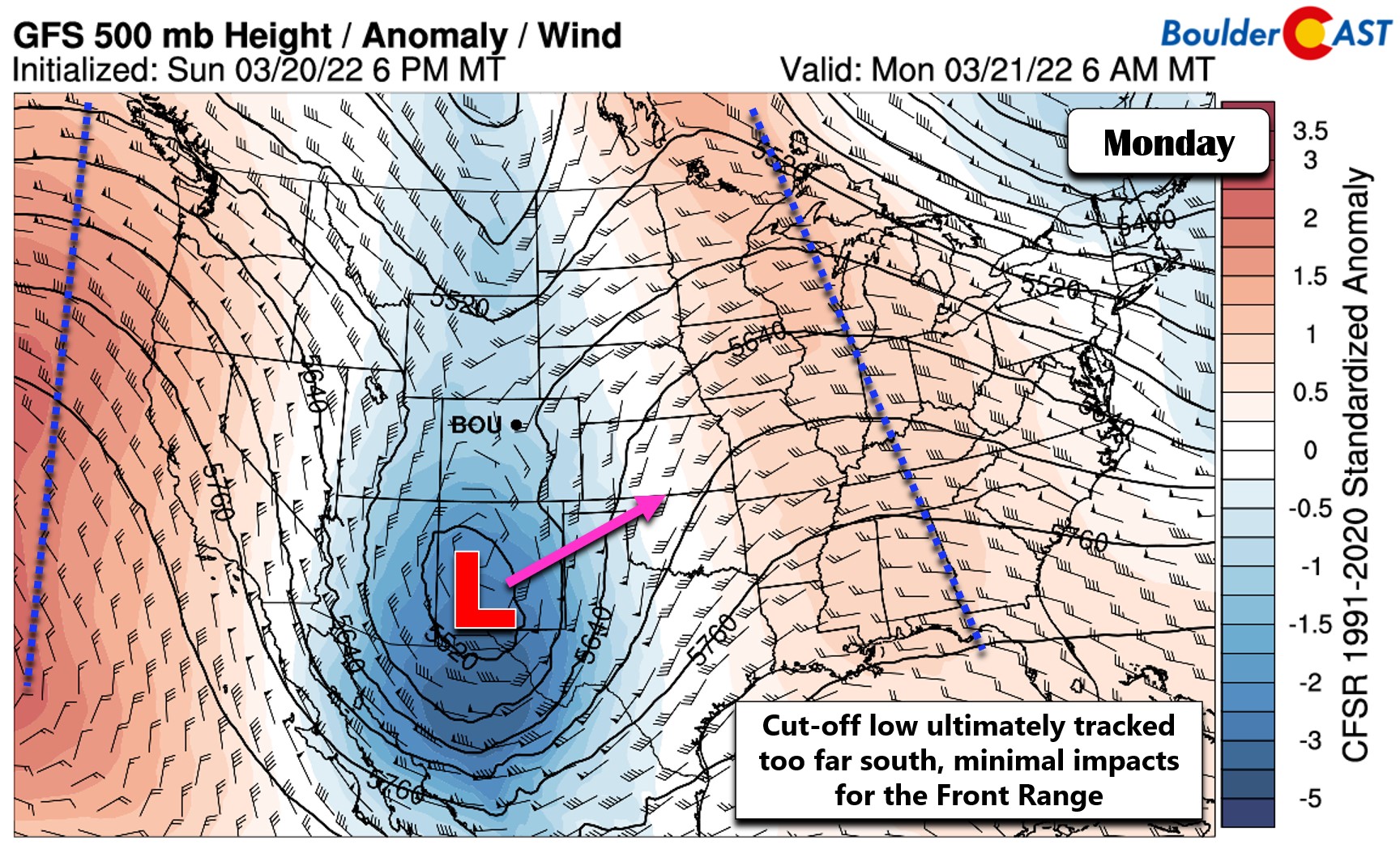 GOES-East infrared satellite imagery confirms this positioning over southwestern New Mexico. The low is expected to track slowly east and northeast over the next few days into Kansas.
The Denver metro area will see light precipitation again on Monday as the low lift and upslope combine with temperatures turning just cold enough to snow. Two short-term snowfall forecast models are shown below. It will clearly not be a major snowmaker for our region.

With low snowfall rates and "warm" temperatures above freezing on Monday, little to no accumulation is expected in lower elevations, although some spots may see an inch or two – that's most likely south or southwest of Denver. Several inches are possible through the Foothills and Palmer Divide. Our snowfall map posted over the weekend still looks good, although anything over 1-2″ over the Plains looks rather unlikely. The main window for snowflakes Monday will continue into the morning and early afternoon. Roads will just remain wet with any buildup confined to grassy and elevated surfaces.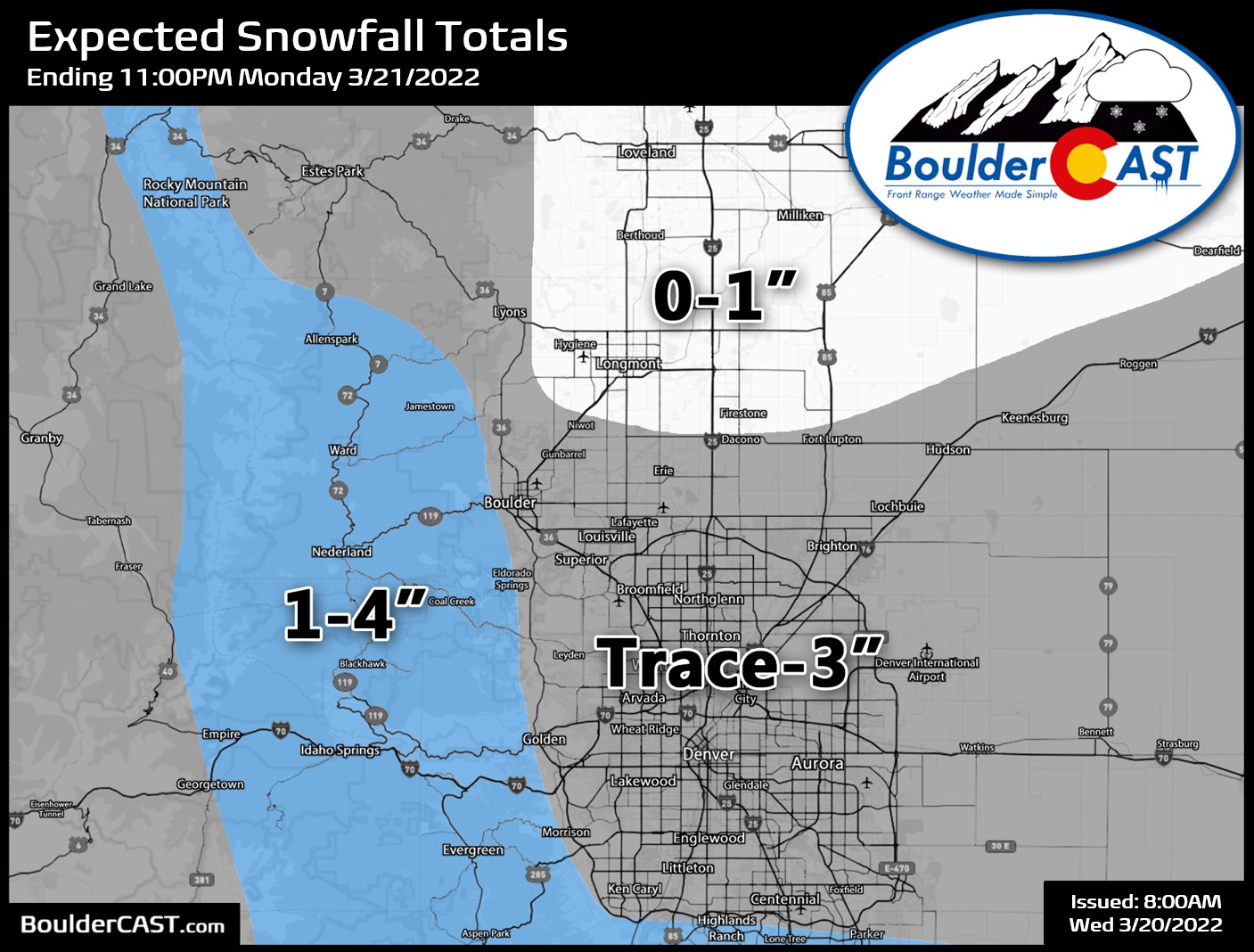 Winter weather advisories have been issued for the Jefferson County and Palmer Divide foothills, both of which will benefit from the predominantly northern flow today.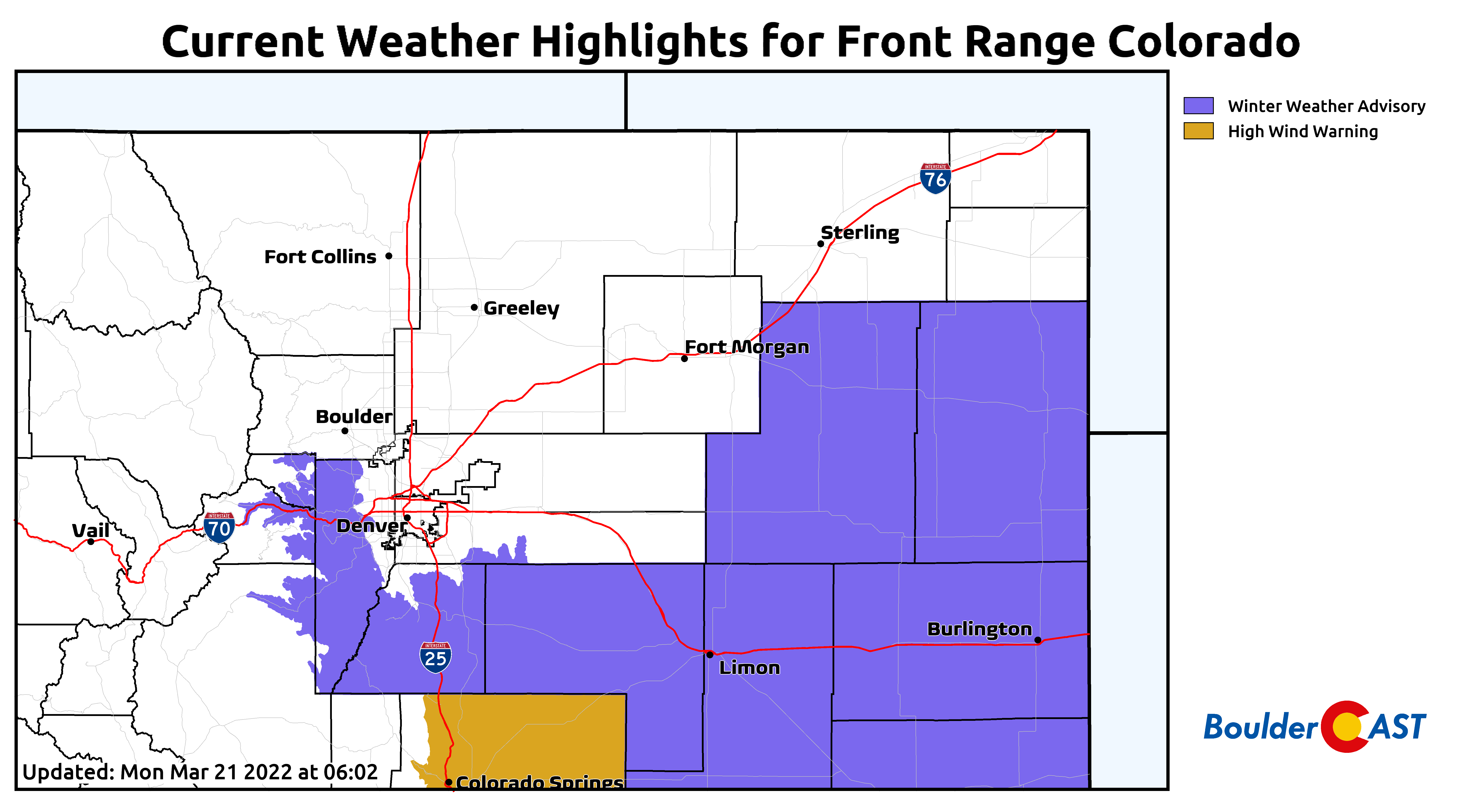 Despite the lack of snow, temperatures will be much colder on Monday compared to last weekend. Highs are expected to stay in the lower 40s instead of the 50s and 60s. The winds will also be strong from the north, so the feel will be even rougher there. Watch for gusts above 30 MPH along and east of Interstate 25 throughout the day with lighter northerly winds around Boulder.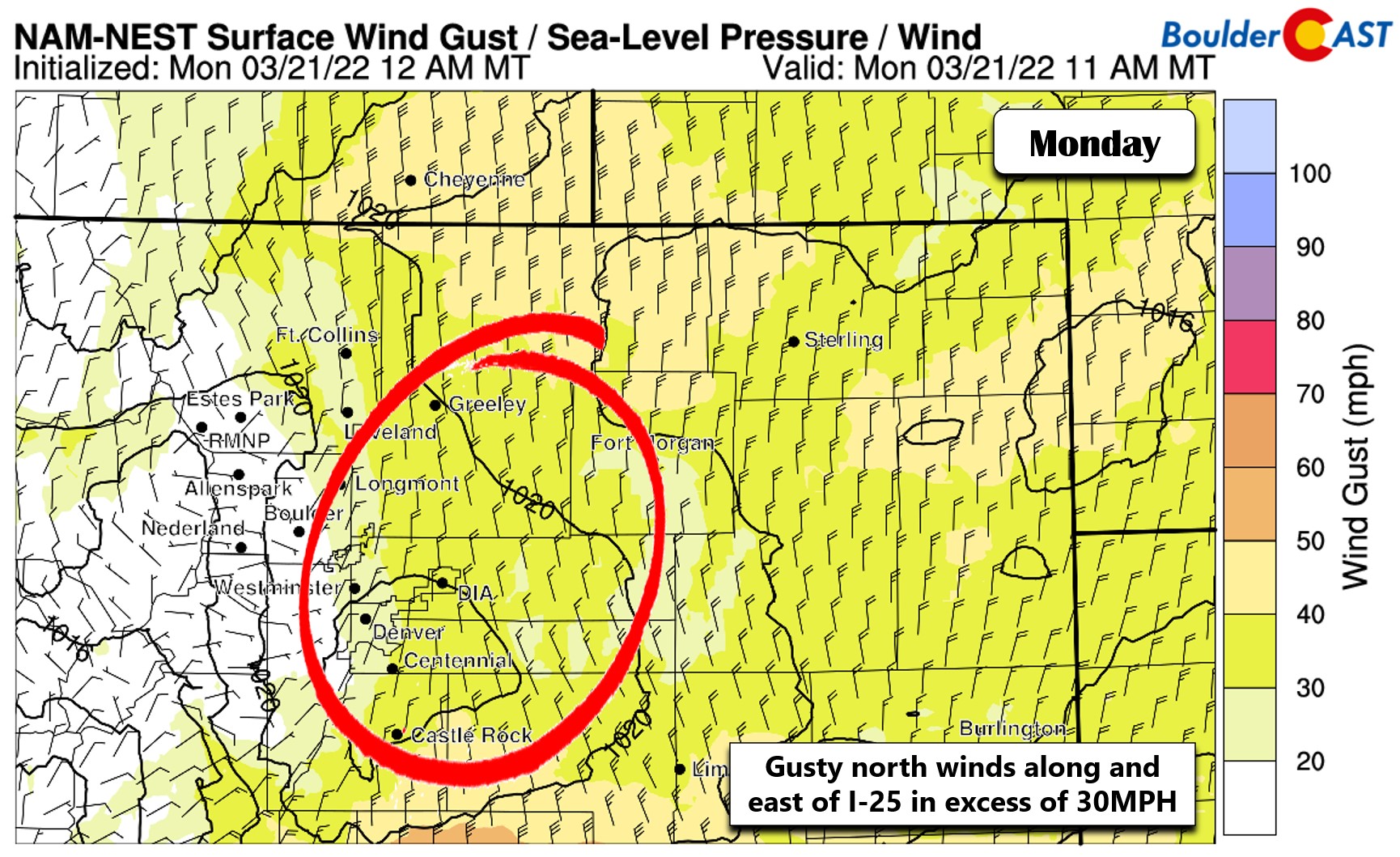 Stay cool and breezy midweek
Even if the core of the storm misses the Denver metro area entirely, the broader influence, the strong, cool flow from the north, will remain with us into midweek as the deep low slowly sinks into the southern Great Plains and a high pressure approaching from the west contribute to intensifying the pressure gradient. Temperatures will remain below normal well into the middle of the week for us, with highs in the 40s on Tuesday and highs in the 50s on Wednesday. A very light disturbance on Tuesday will trigger a few rain/snow showers in the afternoon and evening with no accumulation expected outside of higher ground.
Calmer and Sunny Thursday and Beyond
Thursday will be the first really pleasant day of the week due to a high pressure ridge coming from the west. A mild, dry flow from the northwest will grip Colorado, bringing sunny skies and decently warm temperatures. Look for highs to hit the mid to upper 60s.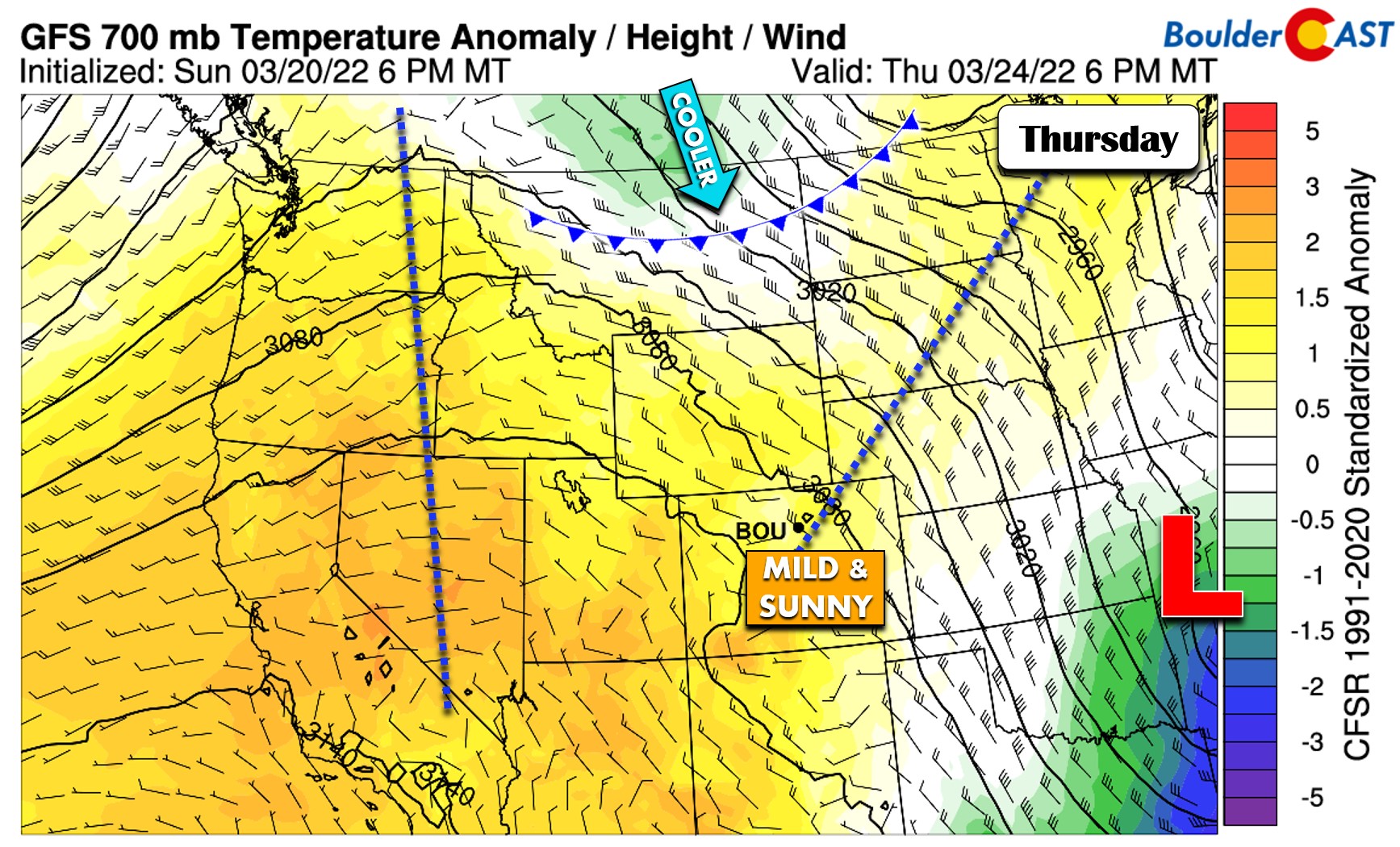 However, as you can see above, there will be a weak disturbance and a cold front descending south from central Canada into the Great Plains. Models are currently calling for a dry cold front with this system cutting across northeast Colorado. A few members of the ensemble show evidence of measurable rain behind this front (see below), but this seems unlikely. For now, expect continued sunshine on Friday with slightly cooler temperatures dropping back into the upper 50s.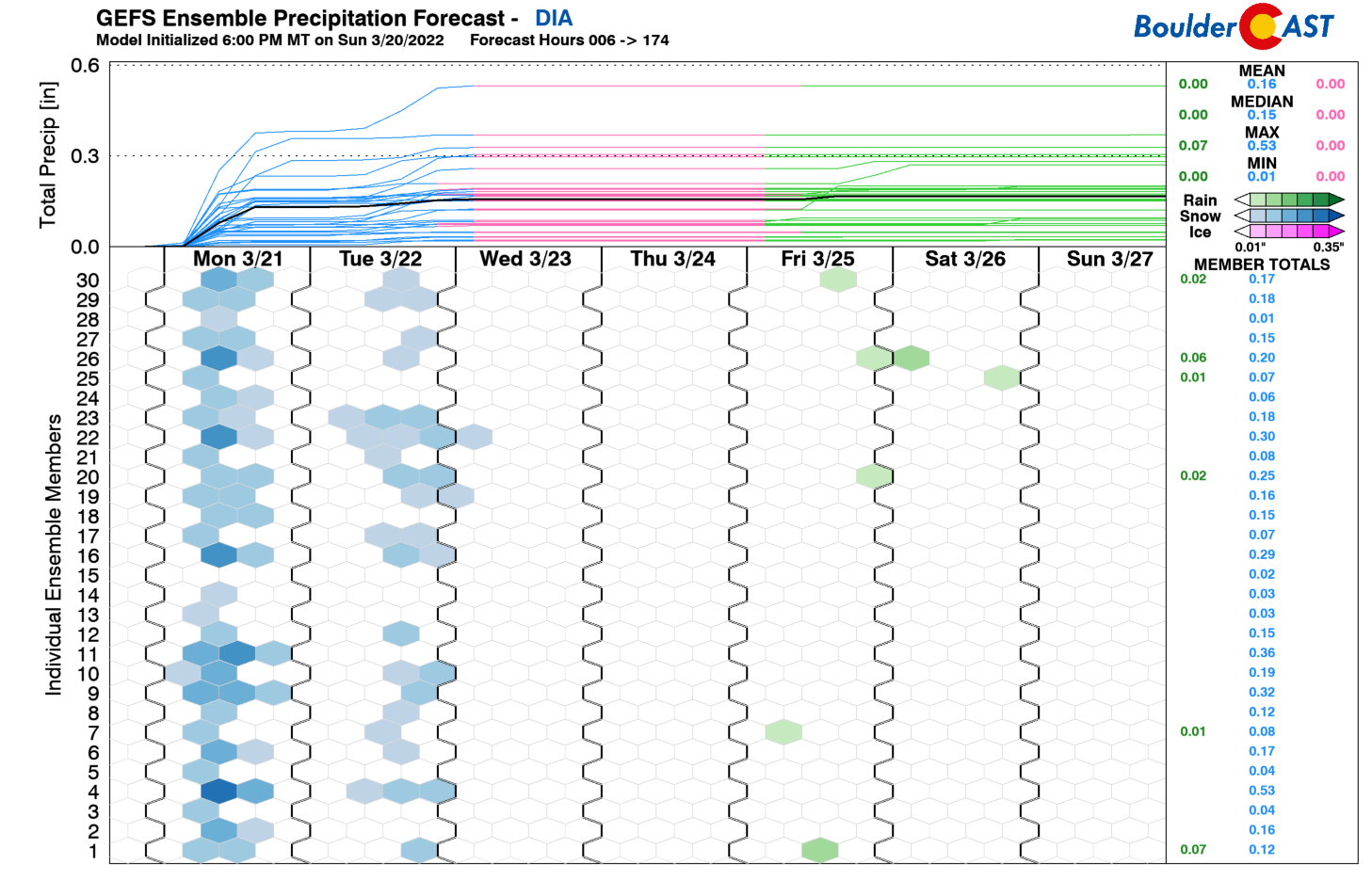 The weekend ahead is expected to be stunning across the state as the ridge of high pressure dragging over the Pacific Ocean makes a more substantial push toward Colorado. As a result of this general pattern change, the Climate Prediction Center is painting the entire West with above-normal temperatures for the weekend through early next week. Expect dry weather accompanied by temperatures warming near or above 70 degrees on Saturday and beyond.

Stay up to date with Colorado weather and get informed about our latest storm forecasts and updates:
Forecast specifics:
Monday: Dreary with light snow or mixed precipitation likely morning through early afternoon. Northerly winds gusting up to 35 MPH mostly east of Interstate 25. Less than 1″ snowfall forecast for lower elevations, with up to 4″ in foothills. Highs in the upper 30s on the plains with lower 30s in the foothills.
Tuesday: Mostly cloudy, cool and windy with widely scattered rain/snow showers in the afternoon and evening. Little to no accumulation expected except in the foothills which may see an inch or so. Highs in the lower 40s over the plains with lower 30s in the foothills.
Wednesday: Staying cool but sunny with gusty northerly winds. Highs in the lower 50s on the plains with upper 30s in the foothills.
Thusday: Generally sunny and warmer – the nicest day of the week. Look for temperatures in the mid 60s for the plains with temperatures below 50 in the foothills.
Friday: Rather sunny and pleasant. A little cooler behind a cold, dry front. Expect highs to hit the upper 50s in the plains and lower 50s in the foothills.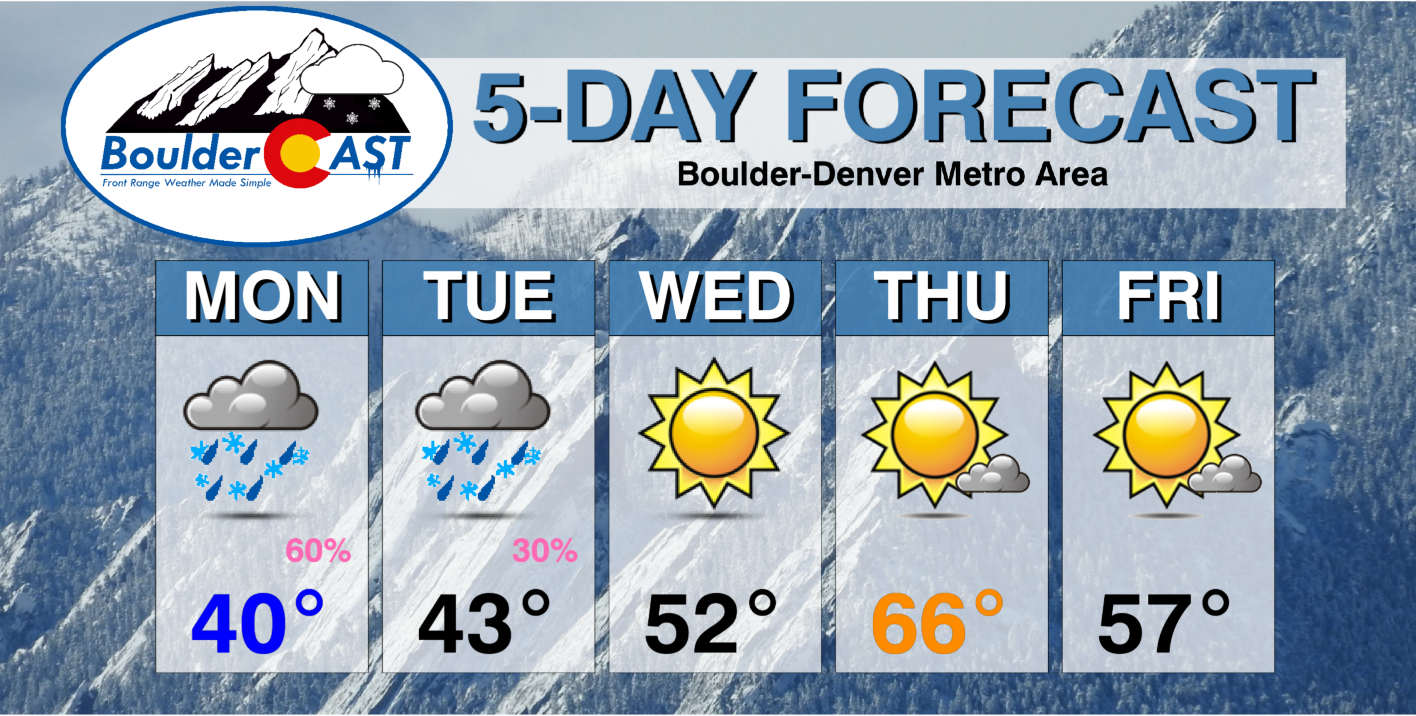 Mountains: Scattered snow showers will be possible over most mountains across the state Monday through Tuesday evening. Most ski resorts will see less than 6″, but a few resorts might end up between 6 and 12″. On Wednesday and beyond, things dry out considerably with sunshine and warmer temperatures expected through the weekend and into the weekend ahead.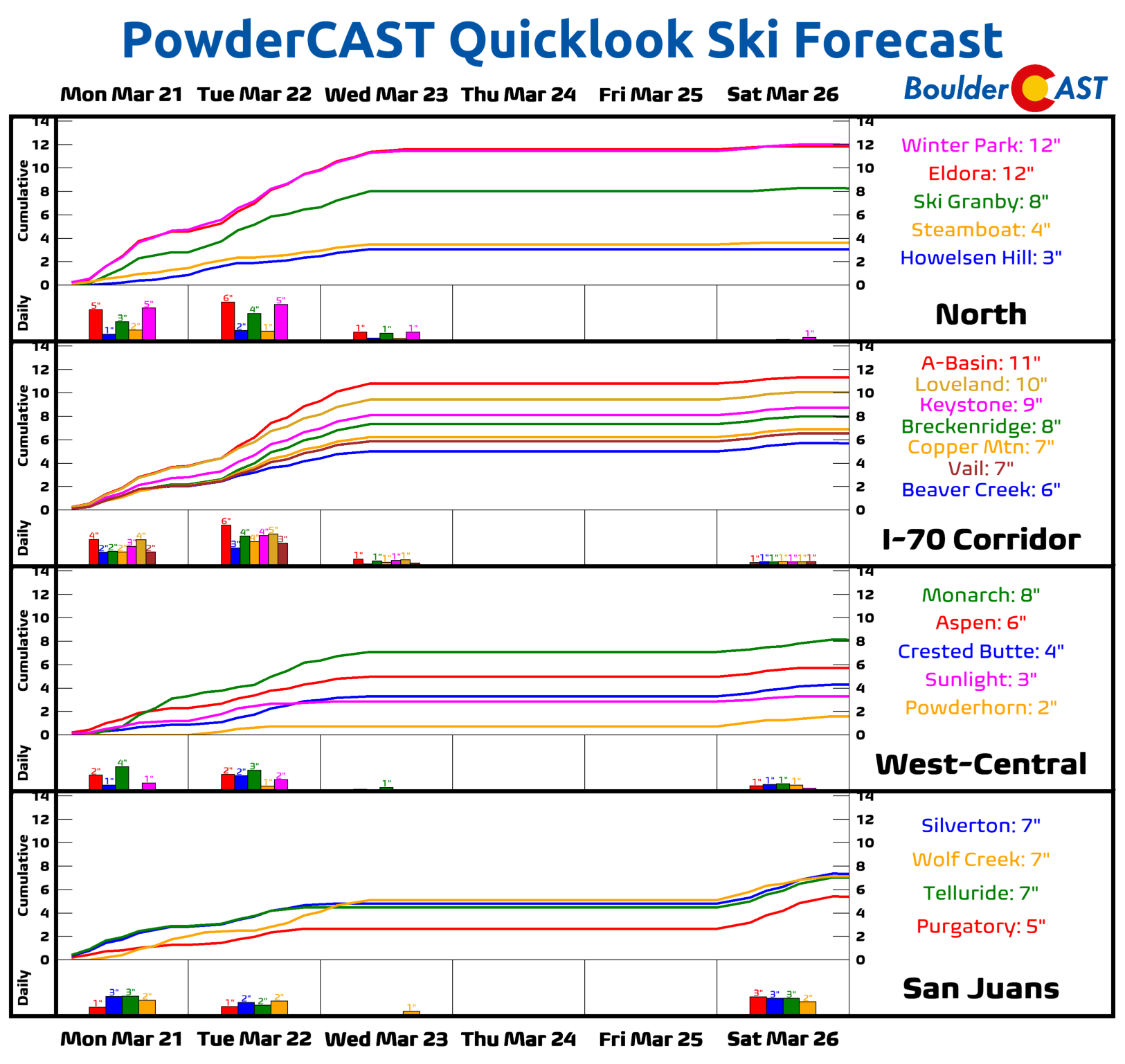 Visit PowderCAST
---
Help support our team of Front Range weather bloggers by joining BoulderCAST Premium. We talk about Boulder and Denver weather every day. Join now to access our daily forecast discussions every morning, a comprehensive six-day ski and hiking forecast powered by machine learning, first-class access to all of our high-resolution Colorado-centric weather graphics , bonus storm updates and more! Or not, we just appreciate your readership!
Spread the word, share BoulderCAST predictions!