The dispersal of rain/snow showers will go to any snow showers later in the night.
Winds will be strong with gusts of 20 to 30 mph and wind chills down from 16 to 22.
Some flakes could last until tomorrow morning with lows of 28 to 32.
Some areas of very minor local grass accumulation are possible.
For tomorrow too, lots of clouds and some sun with windy weather will occur.
Some snow pellet spitting and watering are possible with highs of just 39 to 46 and wind chills near 30 to around 40.
Northwest winds will blow at 25-35 mph.
With lots of cloud, we're going down to 29-32 tomorrow night.
The rather cloudy to cloudy sky on Saturday gives way to the potential for rain / snow / ice (especially in the north) in the middle of the morning or at the end of the morning. Any accumulation would be brief and very minor.
1-4″ is possible in northern Illinois Saturday morning, though!
This changes to periods of rain for the afternoon with a southeasterly wind becoming south-southwesterly and strong at 25-35 mph.
Highs of 42 to 49 are likely with wind chills near 32 to near 41.
Rainfall of 0.20 to 0.30″ is expected.
Lows of 33-36 are expected Saturday night with lots of cloud.
On Sunday there will be clouds/sun with some isolated showers and highs of 46 to 54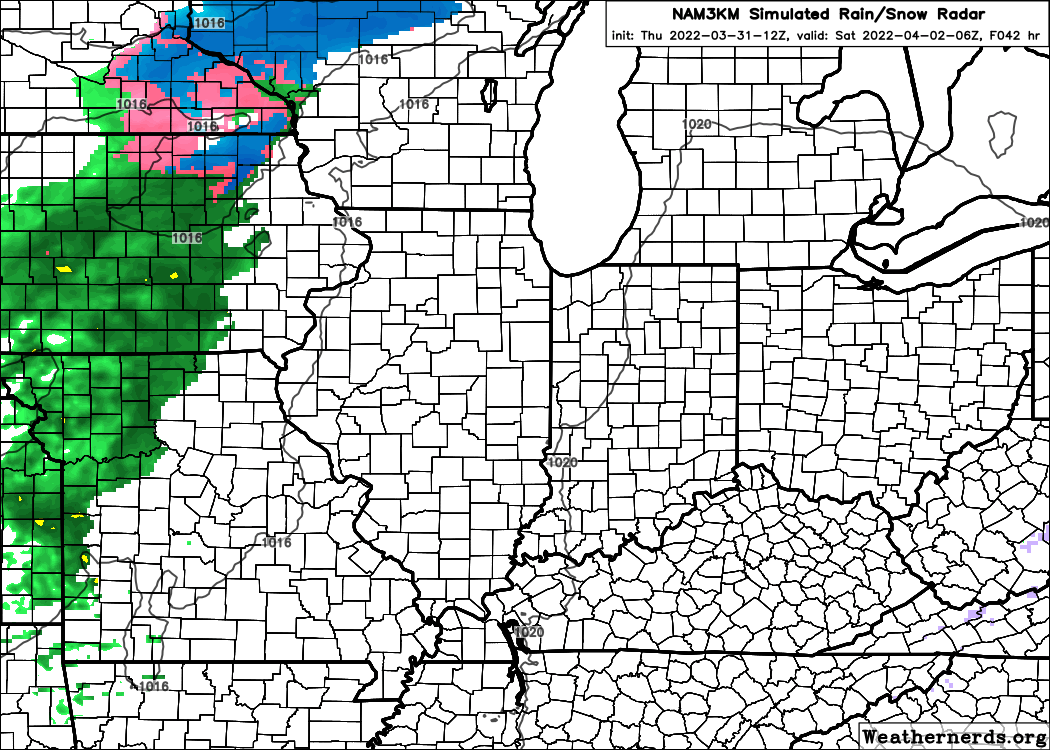 After 34-39 Sunday evening, scattered showers will arrive Monday noon at PM with skies turning cloudy.
With south-southeast winds of 10-20 mph, highs of 53-57 are expected.
Several episodes of rain are expected from Tuesday to Wednesday evening.
A round passes Tuesday with 55-60.
Another round passes Wednesday with 58-65 with some thunderstorms embedded in the rain.
A few showers could persist until Thursday morning, otherwise Thursday promises to be windy and colder with a few rain showers and snow showers.
Highs will be 38-44 with northwesterly winds at 40 mph and lots of cloud.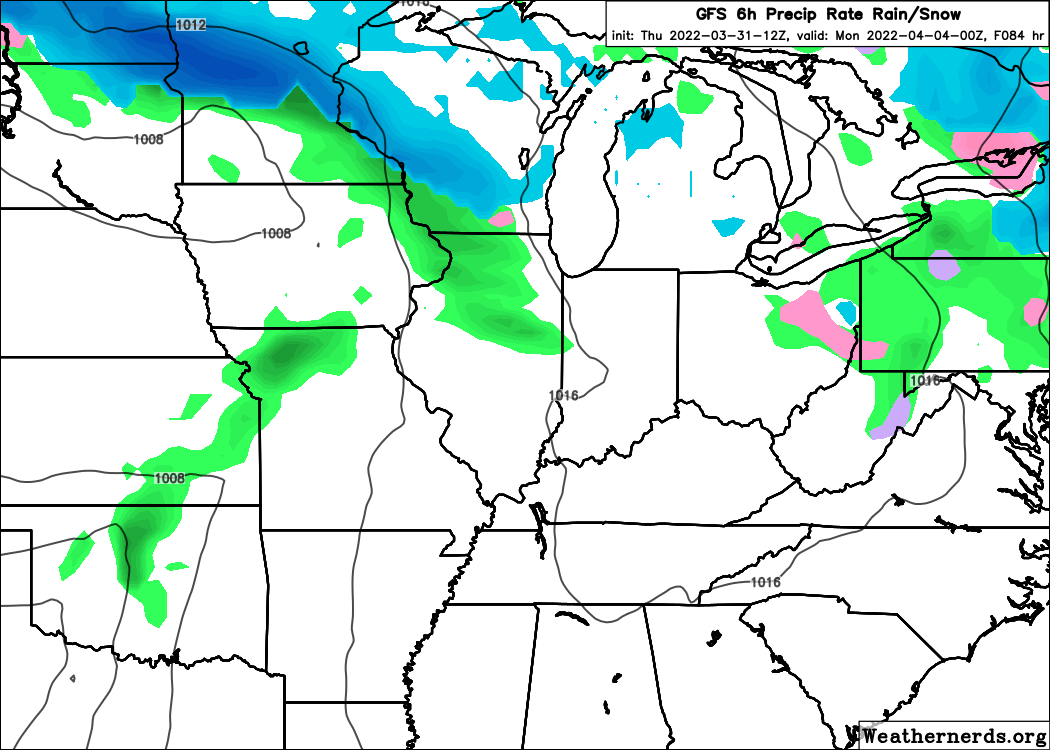 After lows of 26 to 30 next Thursday evening, next Friday (April 8) is expected to be a few showers with mostly cloudy skies.
Highs of 35 to 41 are expected with a west-northwest wind of 10 to 20 mph.
Right now it looks COLD for The Challenge on the morning of Saturday April 9th. Skies can be clear with temperatures around 25 in Greater Lafayette and 22-27 for the entire region. At least the winds seem light!
The afternoon looks mostly sunny, however, with highs around 55 in Greater Lafayette and 52-57 (with a developing 10 mph southerly wind) for the viewing area as a whole.
After that, it looks like another Alberta Clipper & cold front will pass, pushing out a blast of cooler air.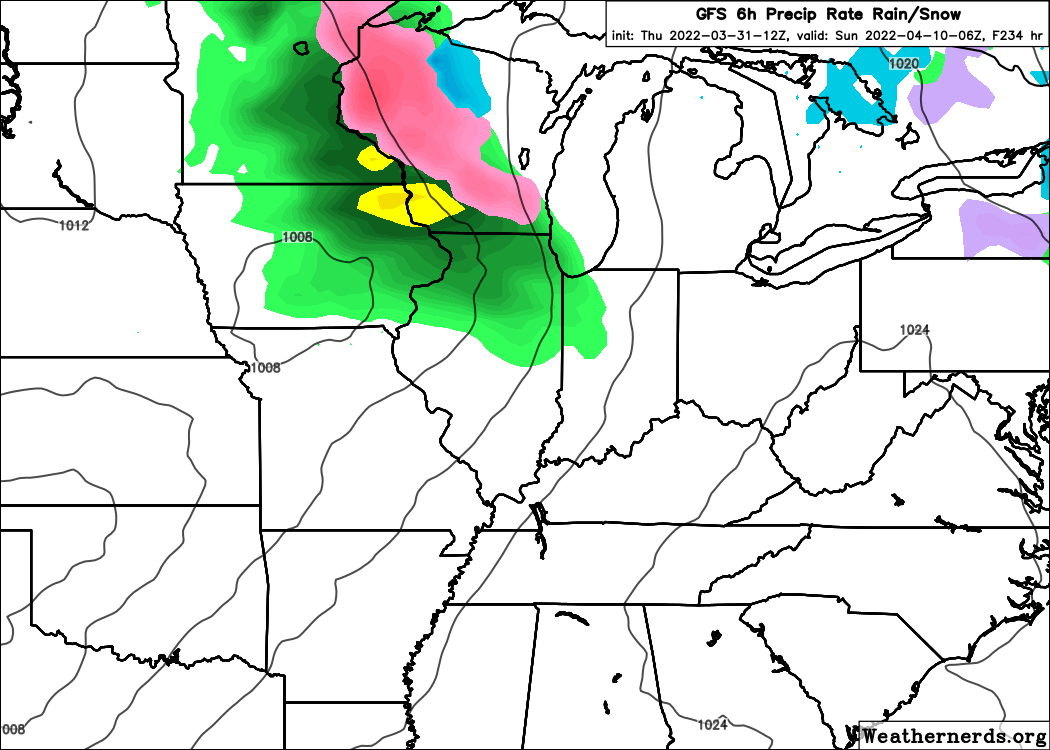 It still looks like we will be undergoing a major change in mid-April. This is a good match with the spring outlook.
Much, much warmer weather will set in overall with a hot trend for the April 16-29 period in a nutshell.
Several days into the 80s are possible.
However, it also appears to be active in terms of severe weather with multiple events and outbreaks in our area.
The CIPS analog shows that this sharply increasing severe weather risk extends into the Midwest around mid-April.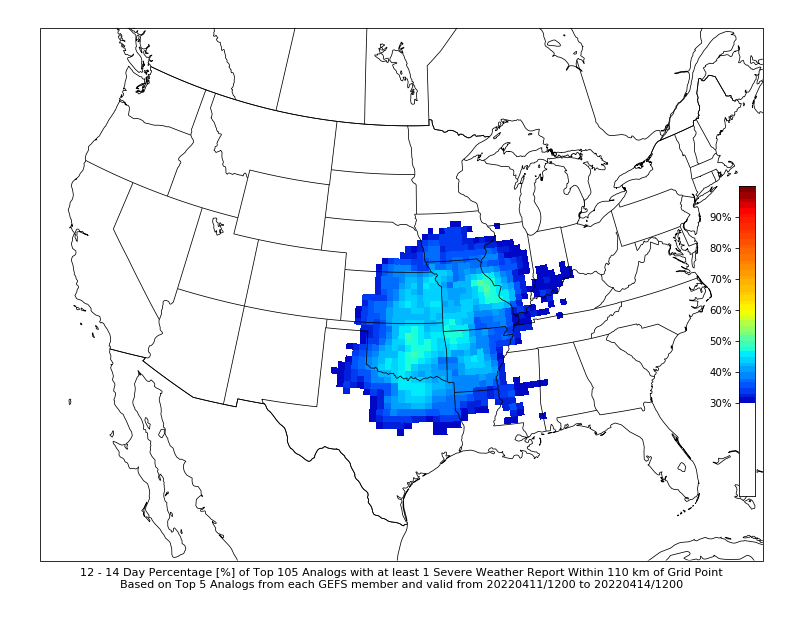 You may also see an increase and spread of tornado risk in our area at this time.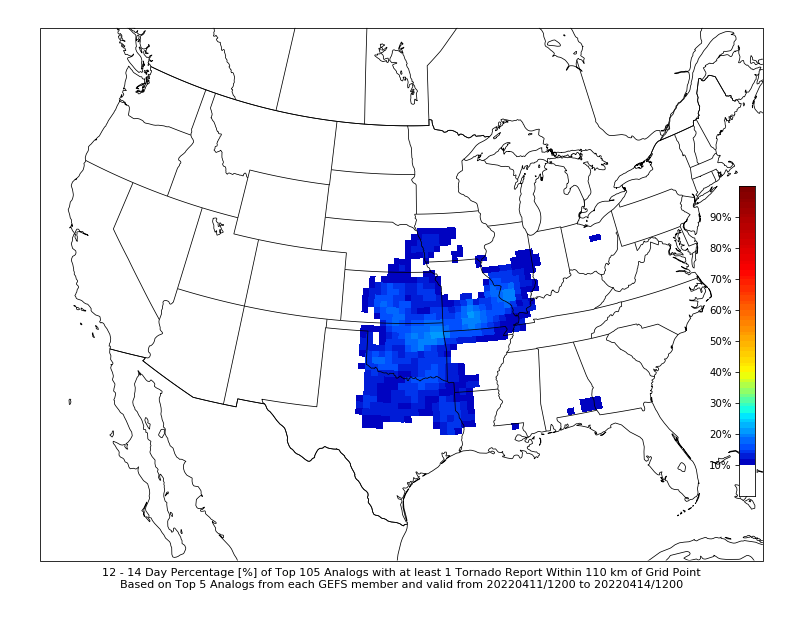 After periods of heat, severe weather and above normal rainfall, I still like the idea of ​​a spurt of cooler weather in early May with scattered frost.
Again, this corresponds to 1982, 1994, 1996, which are good analogue years for early and mid-spring.
2011 and 2012 are also excellent analogues.
In 2011, we were down to 36 on May 4 at Purdue Airport and 34 on May 5. Parts of the area were as low as 31.
In 2012 we hit the 30's on May 10-11 with some frost.
Frost & 30s performed on May 8, 1982.
Three 30-second nights (with much of the zone at 32 or lower) occurred from April 30 to May 2, 1994.
May 6, 1996 saw frost with zero lows in the region.
We should skyrocket after that. There are signs of 87-92 in mid-May and a build-up in severe weather risk May 14-25 after the April 16-30 surge.