With scattered fog, this morning's lows fell to 46-52.
It was a beautiful day with low humidity and highs of 73-77.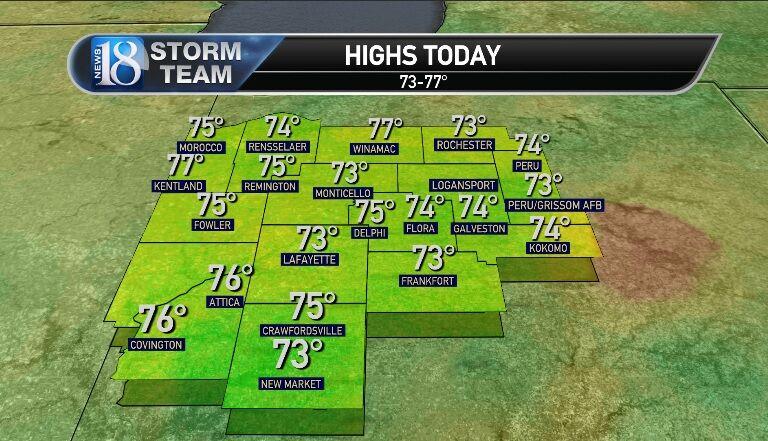 45
Looks partly cloudy tonight with southerly winds 9-14 mph and lows 55-62, followed by 84-88 tomorrow (with mostly sunny skies). The humidity will be quite low tomorrow). Winds will be strong from the south-southwest at 20-35 mph.
After 65-70 tomorrow night with south-southwest winds 20-30 mph all night, Memorial Day will be another windy day with south-southwest winds 20-35 mph.
It will be wetter with warmer highs of 86-92. Heat indices of 88-96 are expected.
After 66-71 Monday night, Tuesday looks to be the hottest day of the week with south-southwest winds of 20-35 mph, mostly sunny skies and highs of 90-95. Heat indices of 93-100 are expected.
Tuesday evening will be windy and warm with lows only 70-74.
We are darkening with a very broken line of possible thunderstorms Wednesday afternoon-evening. Coverage should be 35%, so some of you won't see any rain from these. An isolated severe storm is possible after highs of 88-93 with heat indices of 93-100.
Winds will be from the south at 15-30 mph.
A series of showers and scattered thunderstorms will then pass from Wednesday evening to Thursday morning with a shift in the wind to the northwest. Lows of 58-64 are expected.
45
45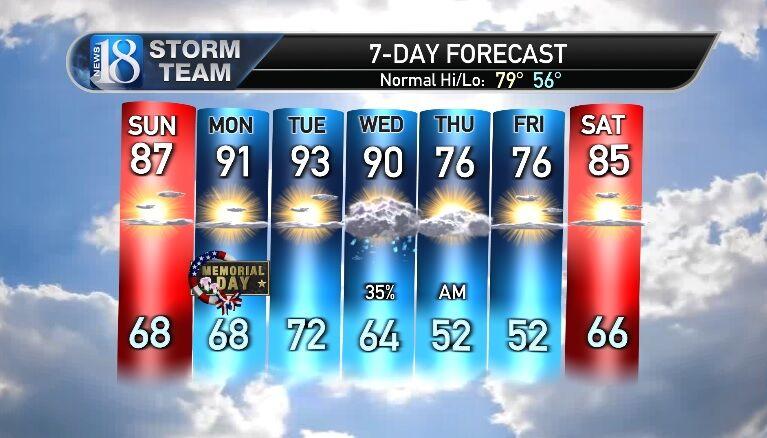 45
45
45
45