This morning's lows were 68-73.
Today's highs reached 87-93 with Heat Indexes peaking at 90-98. Winds blew into the viewing area up to 40 mph.
A few showers and scattered thunderstorms that are weakening pass late this evening-Wednesday morning, followed by a gradual clearing.
After a warm humid night with lows of 68-75, tomorrow's high will be 74-81 with less moist air and a wind shift to the northwest at 10-20 mph.
Looks like the risk of severe weather will tend to occur over Illinois (until MILD HAZARD) and not here. We will continue to monitor, however, to ensure that any severe storms attempt to sneak into our northwestern counties.
Rainfall totals will not exceed anything up to 0.35″.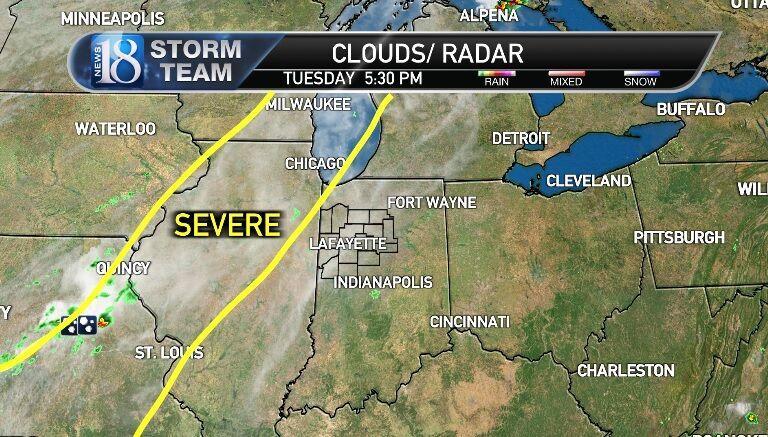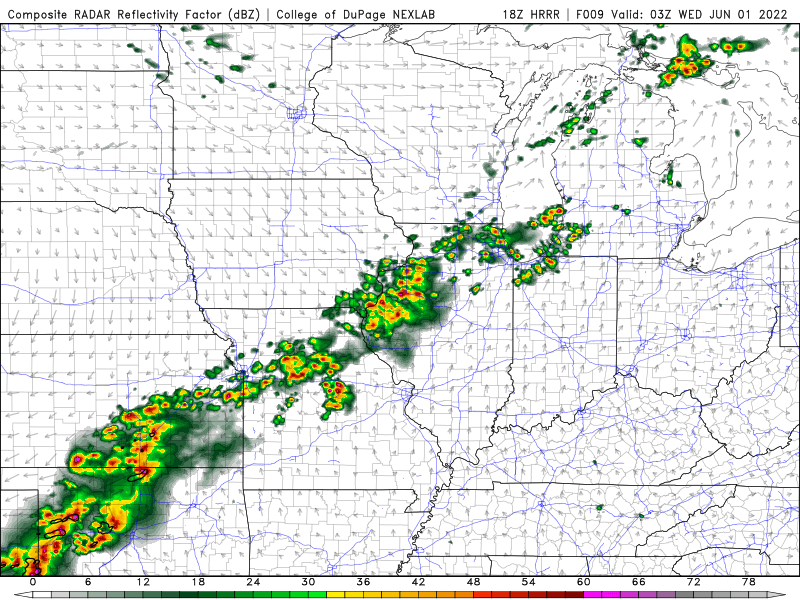 The front will be south of our zone tomorrow, so storms and severe weather risks will break out in the heat and humidity closer to the I-70 corridor with MARGINAL to LIGHT HAZARD settings there.
Here we always look good right now.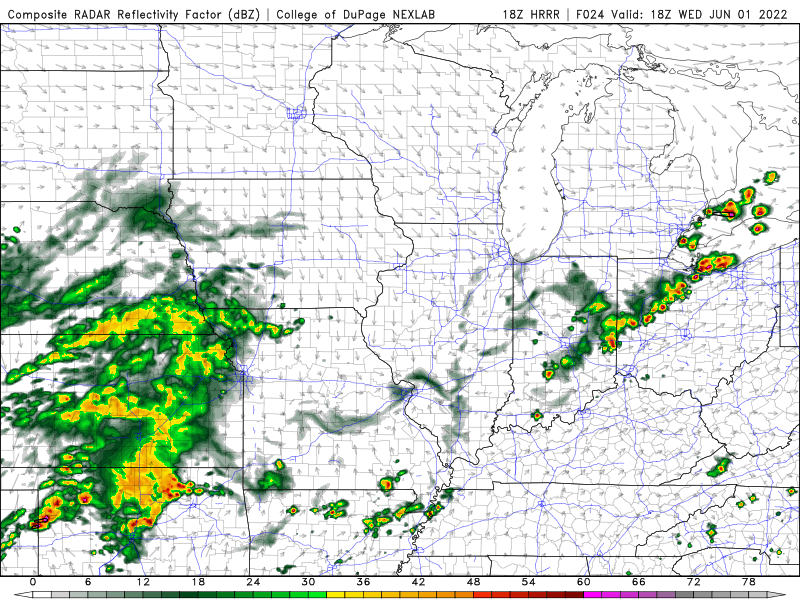 We're looking good for Airmen Opening Night!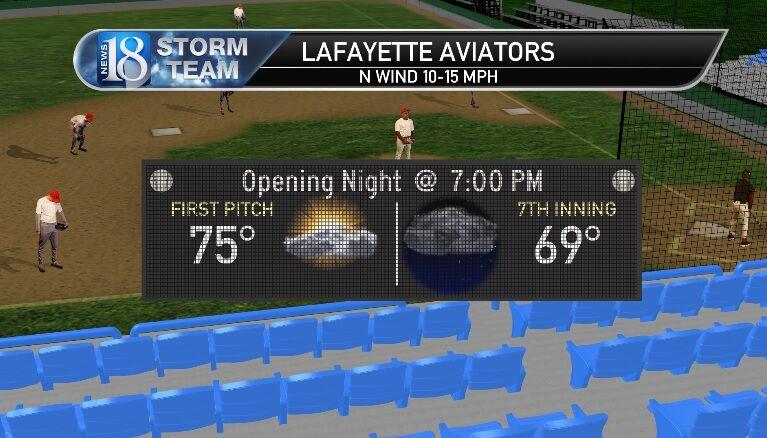 We will become cloudy again over time tomorrow evening with a flurry of showers and perhaps isolated thunderstorms late Wednesday evening-early Thursday morning.
Rainfall totals of 0.02-0.30″ are expected.
A slow clearing, a nice north to northwest wind of 10 to 20 mph and highs of 71 to 76 are expected otherwise.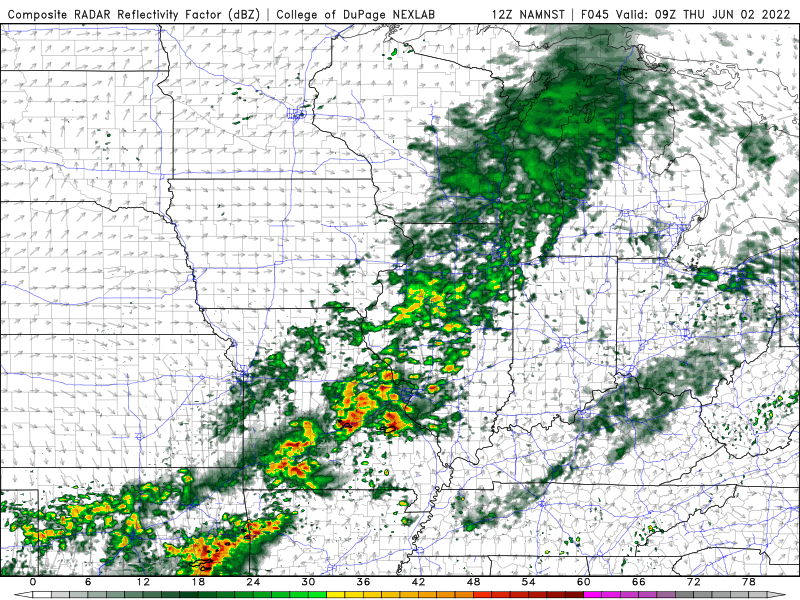 Friday and Saturday promise to be beautiful days with lots of sunshine!
However, a tropical storm will likely hit Florida on Saturday.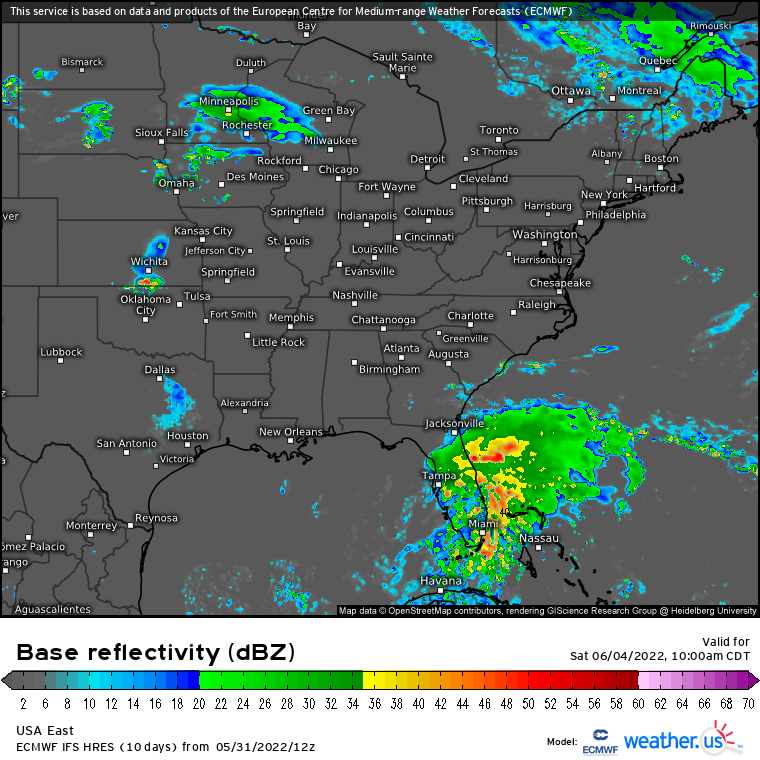 Even Sunday looks pretty good. We may have a few isolated showers/thunderstorms late in the day as the warm front moves north.
A wave of low pressure will continue along the front Monday with scattered showers and storms (45% coverage), mostly in the afternoon-evening as we become very warm to warm and humid with highs of 85 to 90 with dew points of 68 to 72.
These thunderstorms appear scattered and pulsating. They may try to half organize, but the lack of shear fields and stronger winds precludes emphasizing any severe weather risk at this time.
That could change. We will monitor.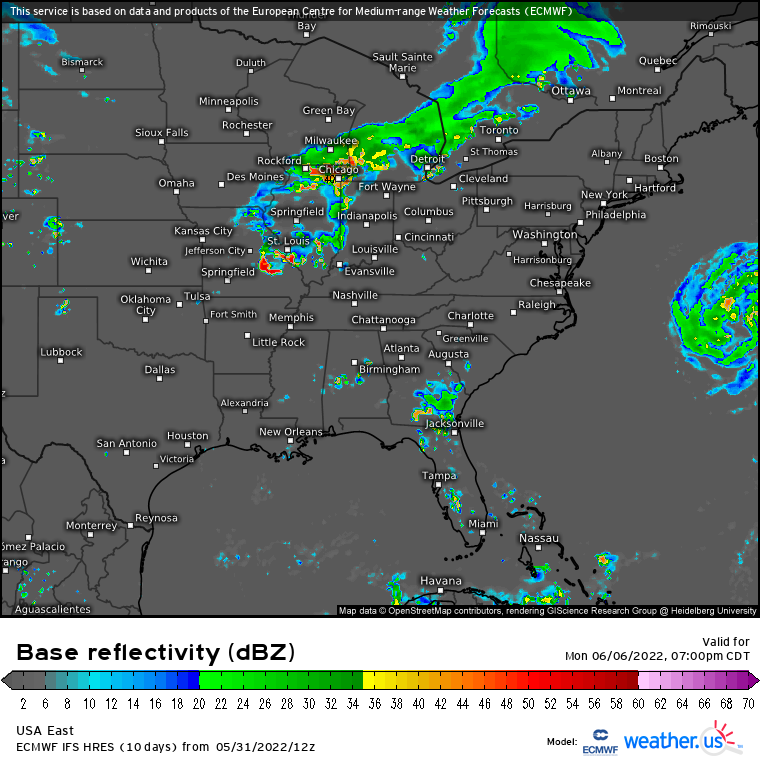 The tropical storm has the potential to become a Category 1 hurricane off North Carolina on Sunday before racing out to sea.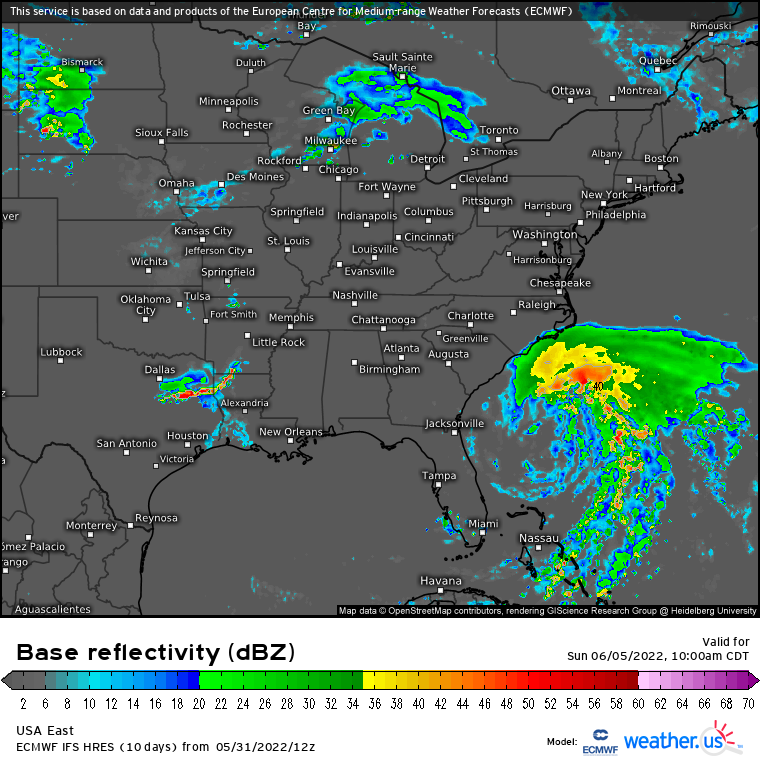 Our front should move south of the observation area on Tuesday, cutting off any warming for the time being.
Looks good with partly cloudy to sunny skies and highs of 77 to 81 with low humidity. The lows are expected to be in the 50s on Tuesday evening.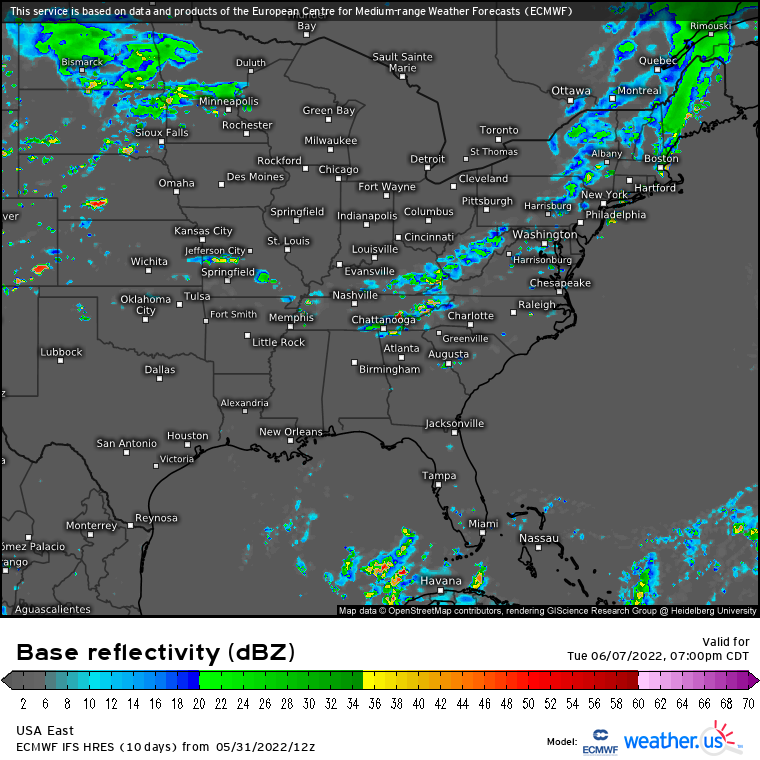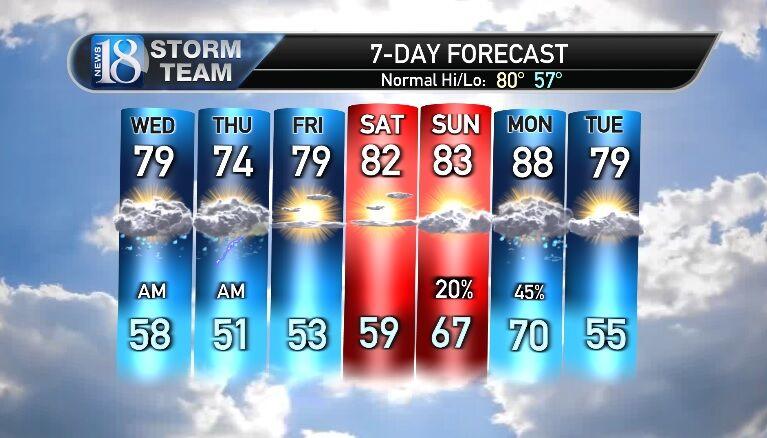 The front will then move north as a warm front and we will warm up late next week.
However, around June 10, it appears that the surface low and cold front should then pivot in the region.
It seems the time is the morning of June 10. At this point, nothing screams widespread severity, but MARGINAL RISK parameters tend to appear (level 1 out of 5 or isolated severe storm or two possible).
Coverage seems to be around 45%.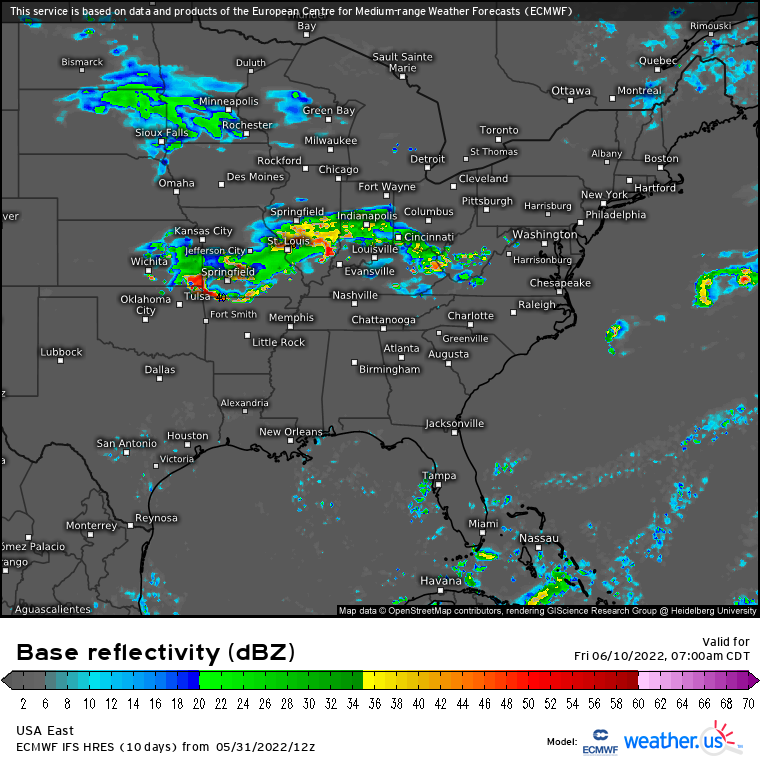 After a brief cool down, we warmed up considerably in two rounds in mid to late June and early July.
You can see the heat extending around noon on June 14th.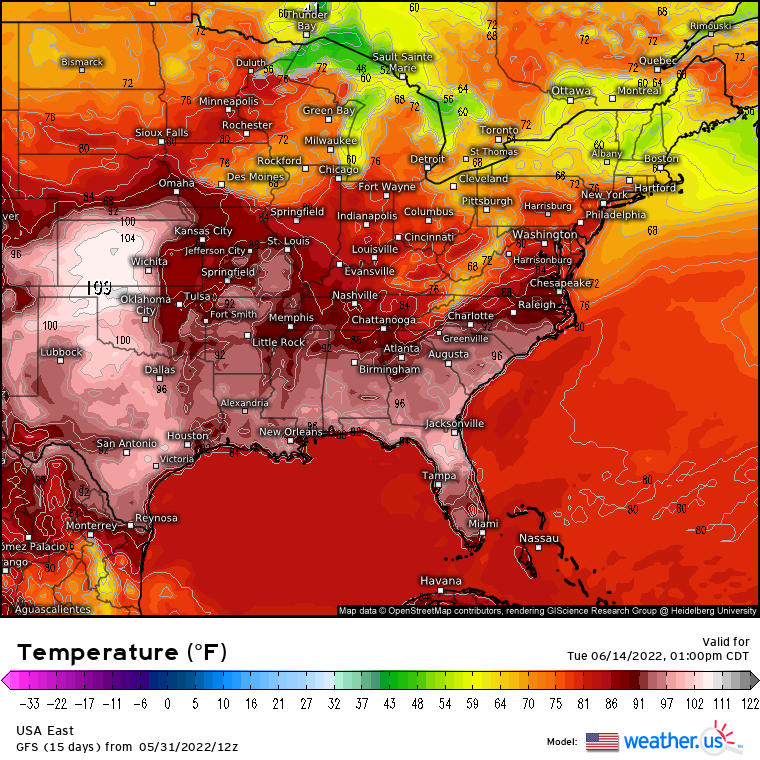 Note the likely severe storm complex on the outskirts of intense heat in northern Illinois moving southeast. This could be a "Ring of Fire" "Ridge Rider" bringing extreme weather to our area as the hot ridge stretches northeast.
During this time, the southern Gulf will likely be active with a potential tropical system making landfall in Mexico.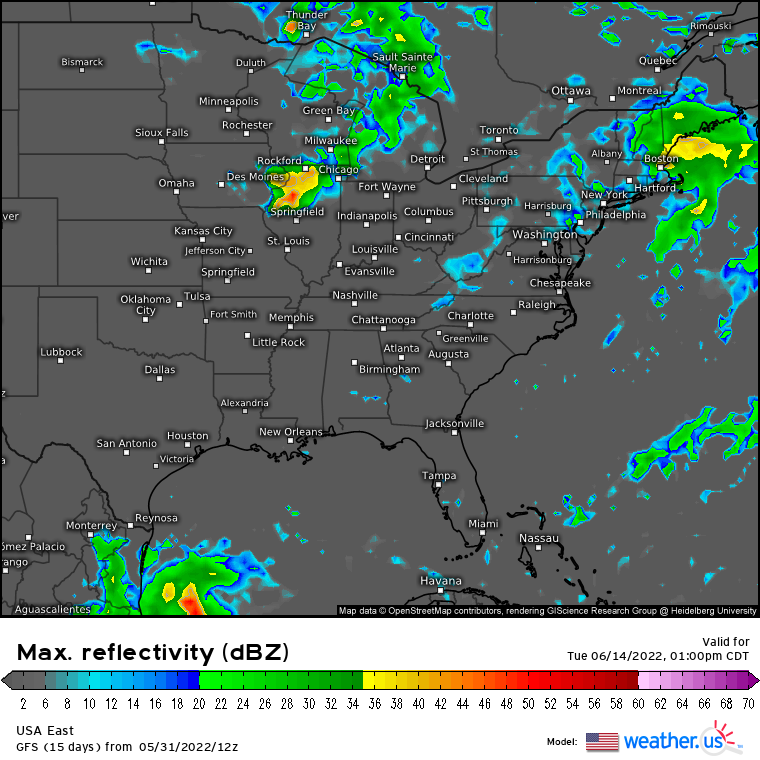 You can see in this IR satellite projection this "Ridge Rider" exploding with cold cloud tops. Again it would move southeast into our area on the outskirts of this warm upper ridge.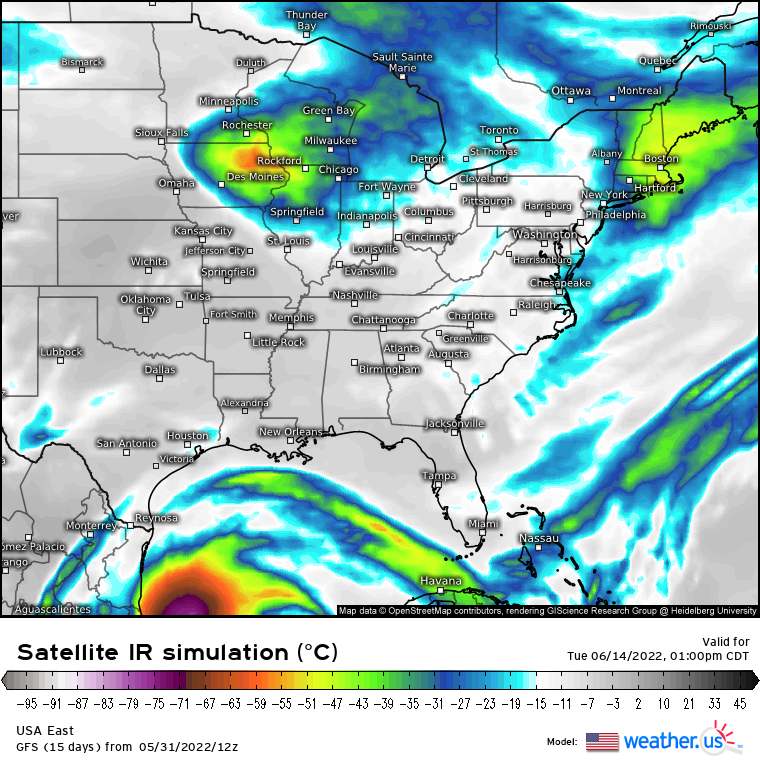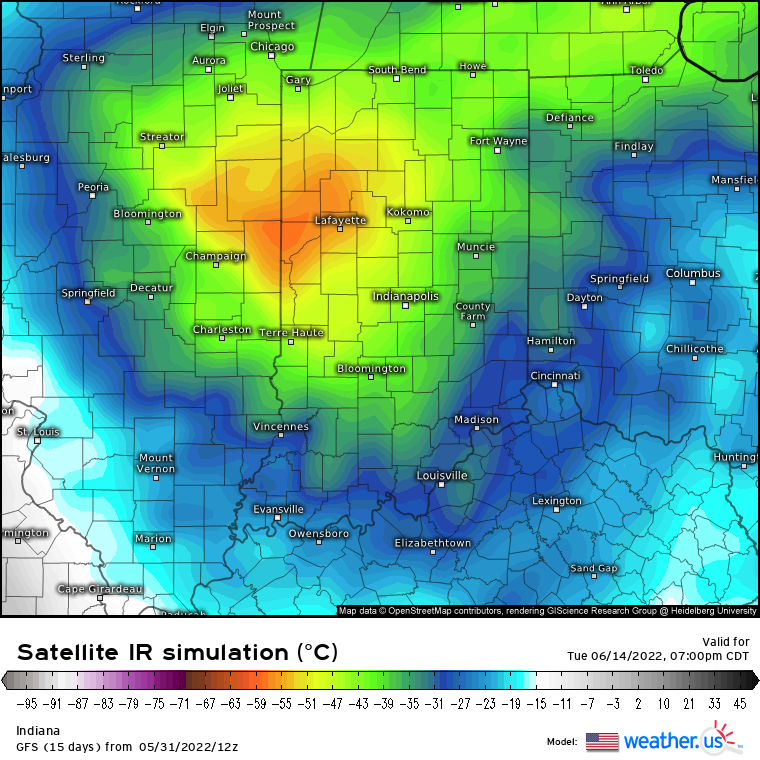 It could be particularly vivacious. You can see the projection of it moving all the way to West Virginia and then Virginia.
We will have to watch for progressive derechos in such a pattern.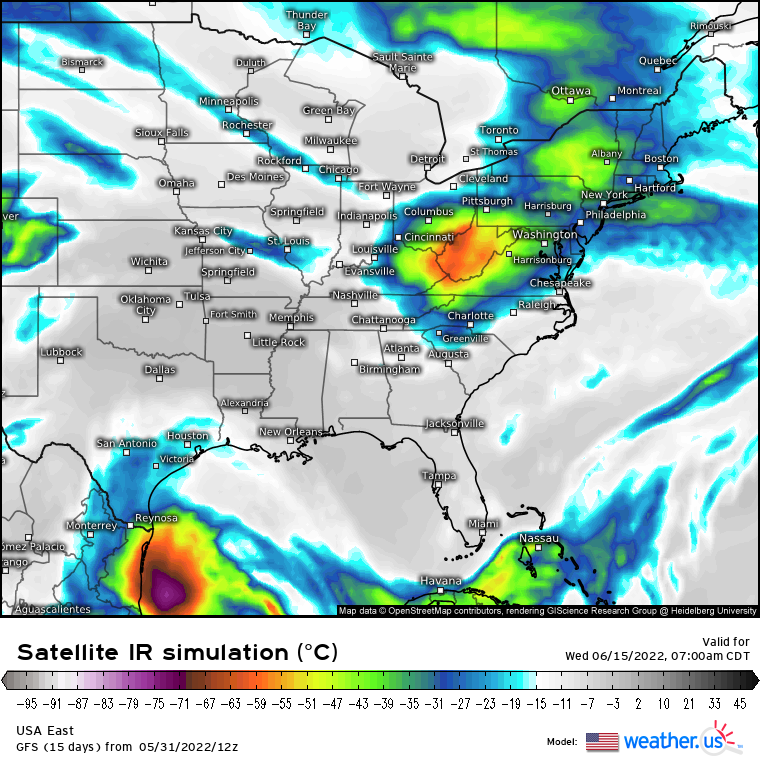 It's a good setup for that.
It might be 111 in Kansas, 98 in St. Louis, but more like about 90 here, but only about 81 in Fort Wayne.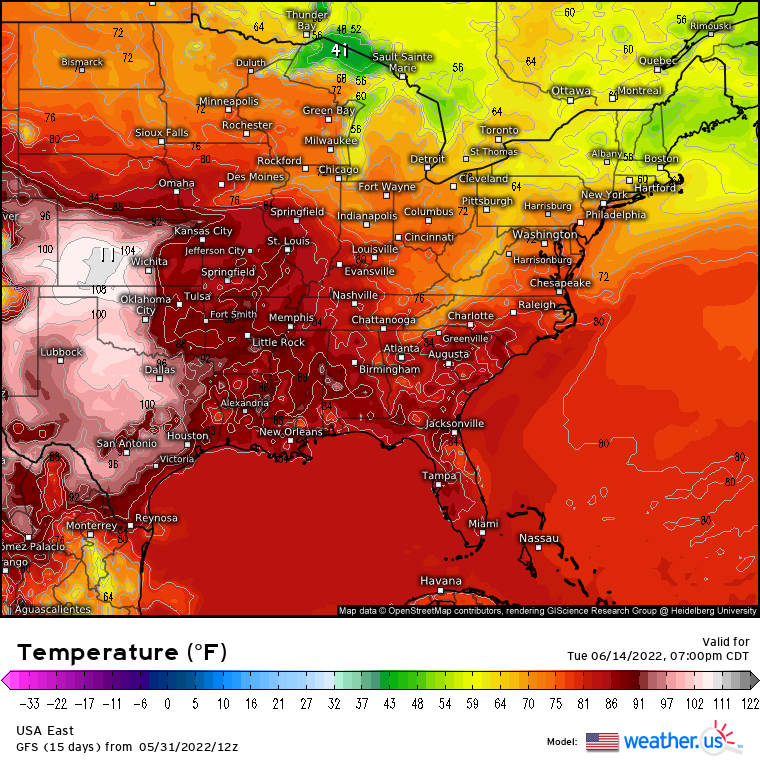 Meanwhile, there is expected to be a sequence of +150 mph upper jets on the outskirts of the upper ridge for an organized complex of severe storms.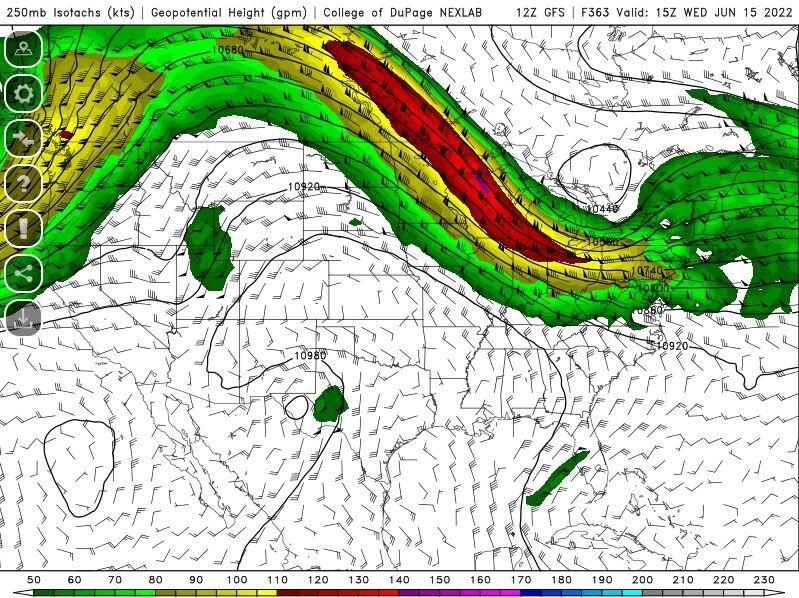 Also, they like to ridge these geopotential height gradients as seen here: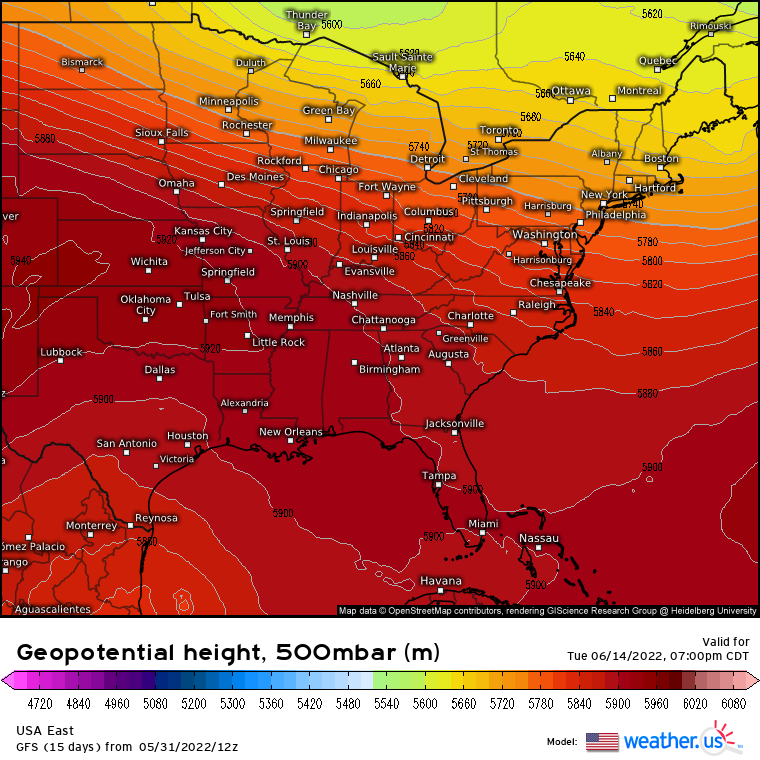 After that bring a flirtation of heat with a chance of severe weather, we may cool briefly as the MCS/derecho's own evolving low pressure tends to push the crest of a hair's breadth.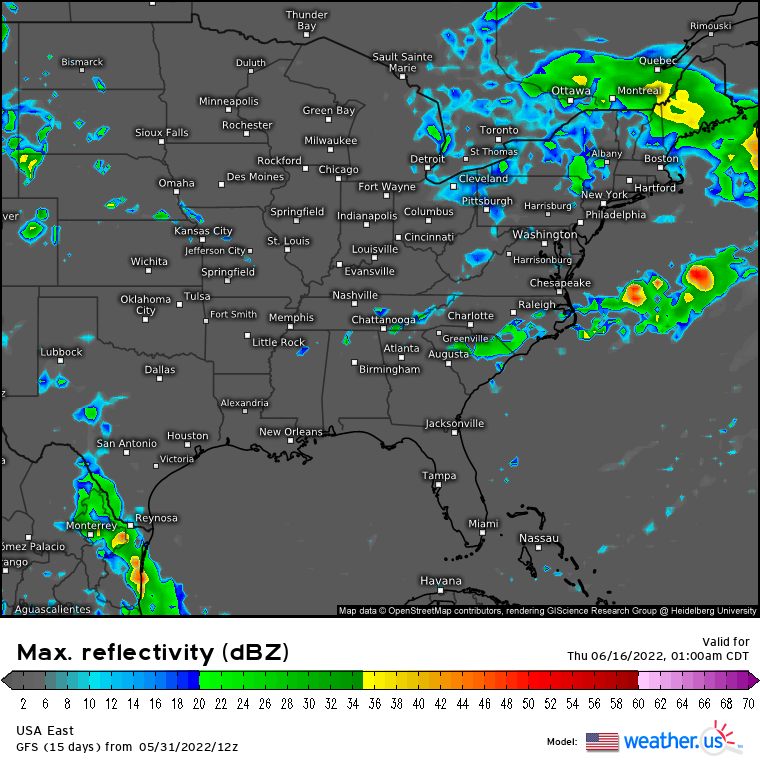 This shouldn't last as the warm upper ridges become more and more dominant.
Temperature anomalies in the general period from June 17 to July 4 look like this: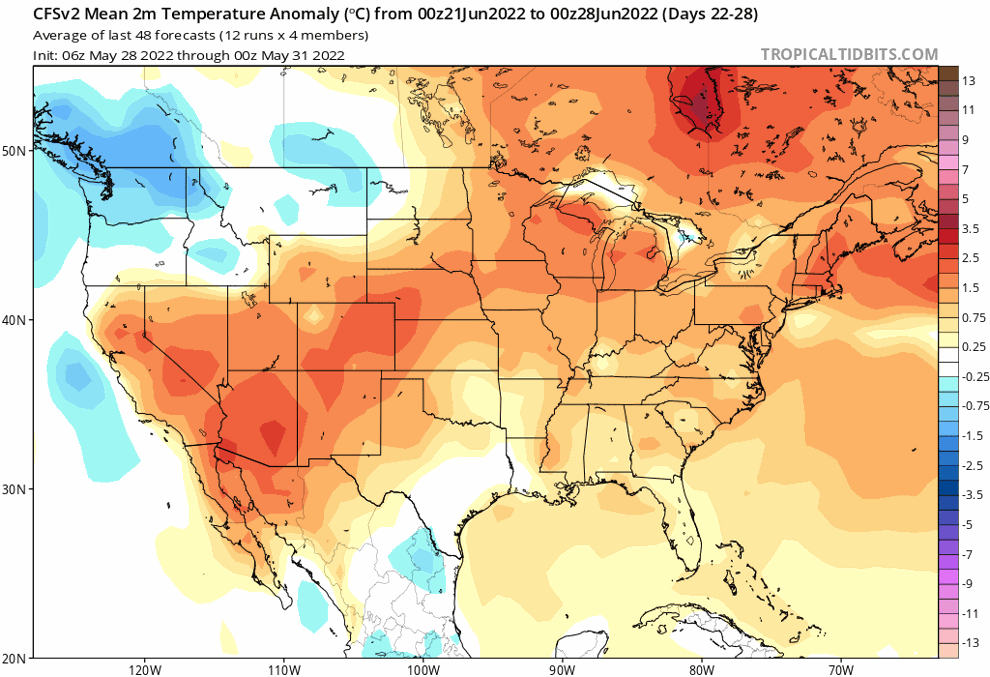 The precipitation pattern is much like this (below normal with the major severe "Ring of Fire" thunderstorms moving well north of our region).
During this time, the Gulf to the Caribbean will likely be active with tropical activity with heavy rainfall along the Gulf Coast and over southern Texas.