What there is to know
Tuesday afternoon's storms brought heavy downpours and strong winds to parts of the tri-state area; any lingering weather should clear by Wednesday morning
While welcome, the rain won't be enough to stem the drought plaguing the tri-state area this month. The latest weekly update revealed parts of New York City were experiencing the worst drought conditions in two decades.
Right now, the build-up to the Labor Day holiday long weekend — and the weekend itself — seems sublime. Thursday kicks off a new month and a mostly sunny and comfortable spell in the 80s which looks to take us into next week except for the possibility of showers Sunday evening and Monday
We'll start with the good news. The weather promises to be sublime from Thursday. But first…
Storms battered parts of the tri-state on Tuesday evening, with torrential rains and high winds creating potentially treacherous road conditions in some areas, particularly north of the city. Heavy downpours triggered a few flood advisories in the evening, and flooding will continue to be a risk north and west of the city.
Damaging wind gusts from straight-line winds will also be possible throughout the night. However, the storm system weakened as it approached New York as the night progressed, and by the time it reached all five boroughs, most of the region saw only a few quick showers or splashes.
The storms remained fairly strong north of the city, but all should die down overnight.
Stay with Storm Team 4 for the latest weather developments. And check the latest National Weather Service alerts for your neighborhood here anytime.
While welcome, the rain still won't be enough to stop the drought plaguing the tri-state area this month. The latest weekly update revealed that parts of New York City were experiencing the worst drought conditions in two decades. This placed all of central and northeastern New Jersey in moderate to severe drought, and the northwestern part of the state in the "abnormally dry" category for the first time. Learn more here ahead of the next Thursday morning release.
Any lingering weather should clear by Wednesday morning. The humidity drops quickly during the day, although it is still warm with highs in the 80s and sunny skies.
From now on, the preparation for the Labor Day holiday long weekend and the weekend itself are beautiful. Thursday marks the start of a new month and a mostly sunny and comfortable low to mid 80s period that looks to carry us through to early next week barring a potential brief thunderstorm on Sunday evening . It won't be a washout, though.
While still pleasant overall, Labor Day weekend will be a transitional time for the weather. The humidity will increase on Saturday and the sky will become more cloudy on Sunday. The chance of showers increases that evening and will last until Monday.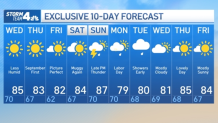 Expected temperatures are expected to be near or slightly above average in the first week of September.
---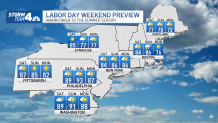 Track any approaching storms using our interactive radar below.
---
---