(WLFI) – Good Monday morning! Our normal high temperatures for today are generally in the lower 60s. That's where we are this morning for the lows of the day. We will have more and more clouds throughout the afternoon with windy conditions. Winds will be from the south at 10-20 mph gusting up to 30-40 at times. Today's highs will reach the mid-upper 70s.
This morning's surface map shows a large low pressure system in the northern part of the United States that will hit us with rain Tuesday through Wednesday.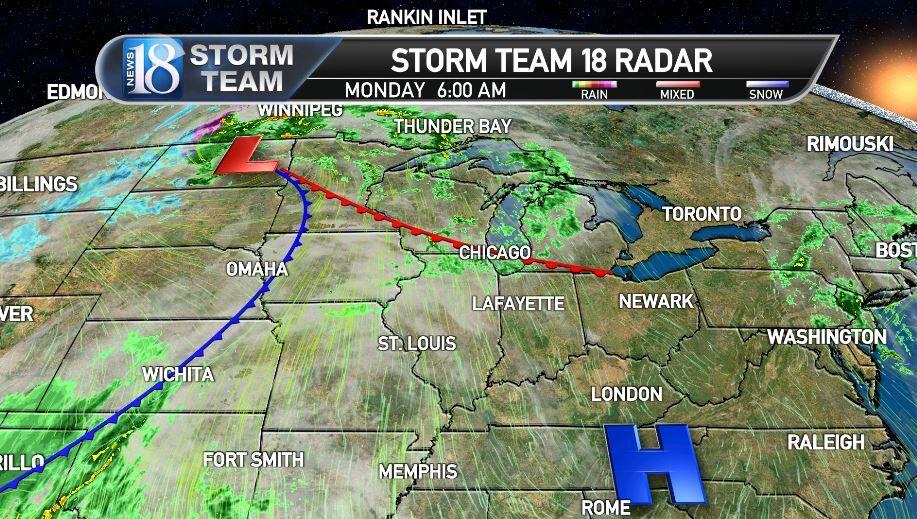 The radar time for the surface map above is 6:00 am Monday morning.
Tonight clouds will hold throughout the evening giving way to mostly cloudy skies. Winds will continue to be strong, 10-20 mph. The overnight lows will again dip into the low 60s.
Tuesday
An interesting forecast will occur in the future. The cold front extending from the aforementioned upper level low will begin to work north into Canada, but another low, which is the remnants of a tropical system that made landfall in Mexico, will develop further to the south, which will eventually enter our viewing area on Wednesday morning and afternoon. Ultimately, a decent chance of rain will likely be Tuesday afternoon through Wednesday morning.
Tuesday morning will be cloudy. Chances of rain will be low throughout the morning as scattered chances are likely.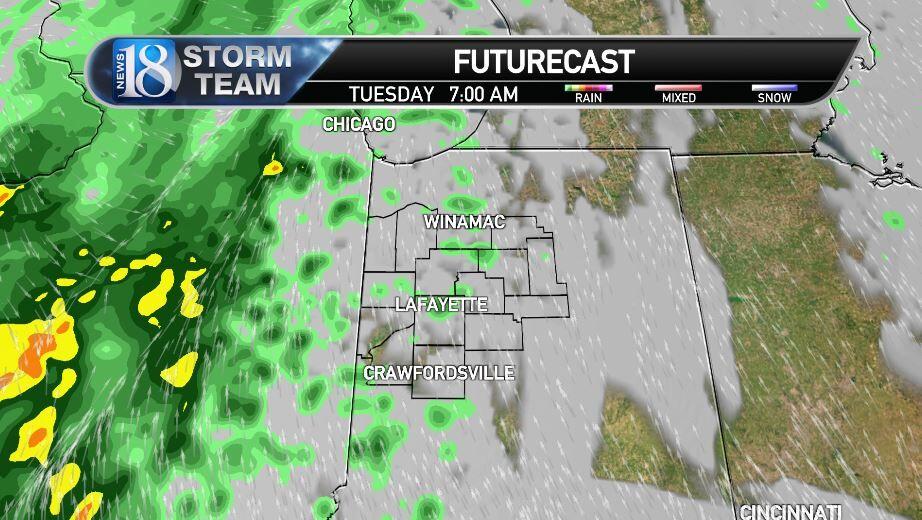 In the afternoon, more significant waves of rain and possible storms will begin to make themselves felt and will last throughout the night and into Wednesday morning. Highs will be in the upper 60s and lower 70s.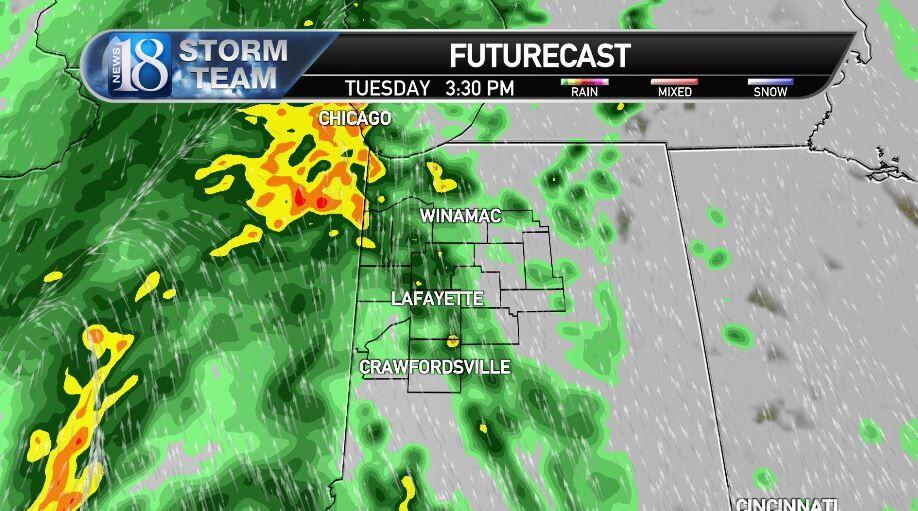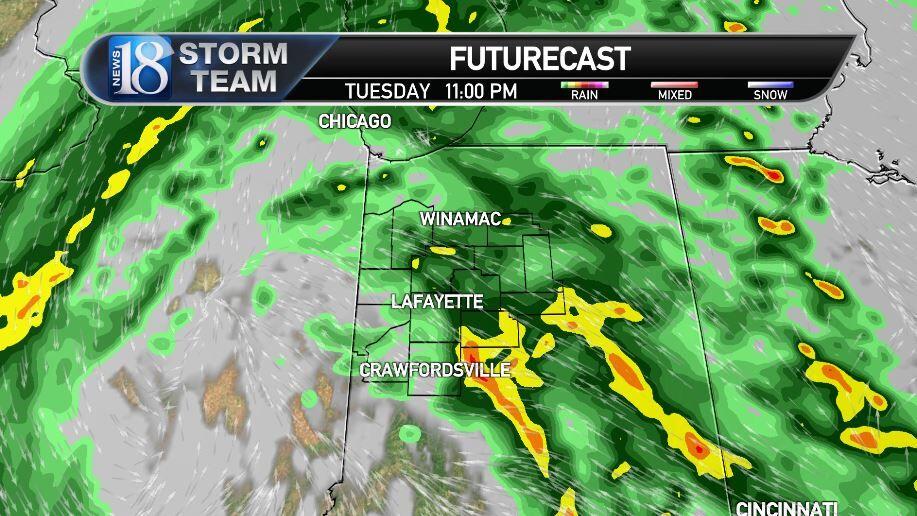 Overall, look for a cloudy, warm, windy and soggy afternoon/evening for Tuesday.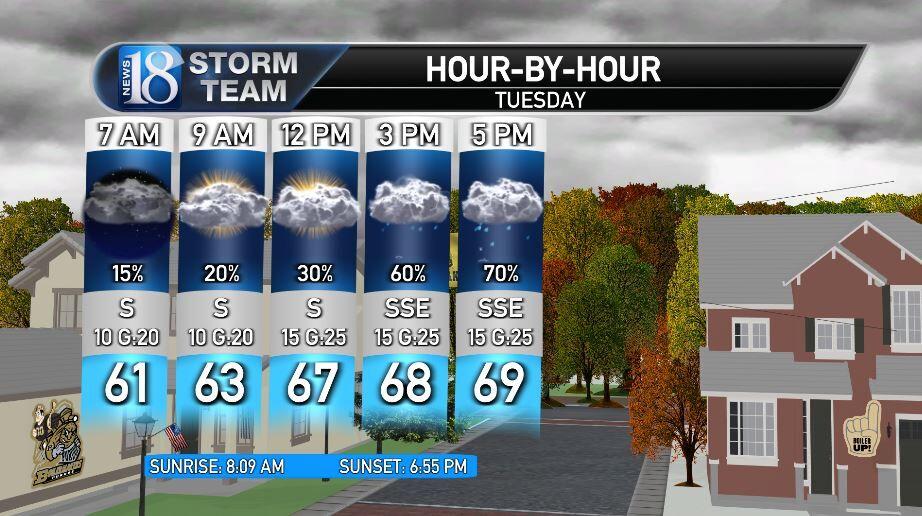 Tuesday evening
As the depression works from the southwest of our region, some storms will be possible with gusty winds. Severe weather looks low as the best "ingredients" will be south of Indiana. Still, lightning and high winds in some of the overnight storms cannot be ruled out.
Wednesday
Morning temperatures will begin to drop as cool air begins to creep in Wednesday morning. Lows should be in the upper 40s and lower 50s with showers around.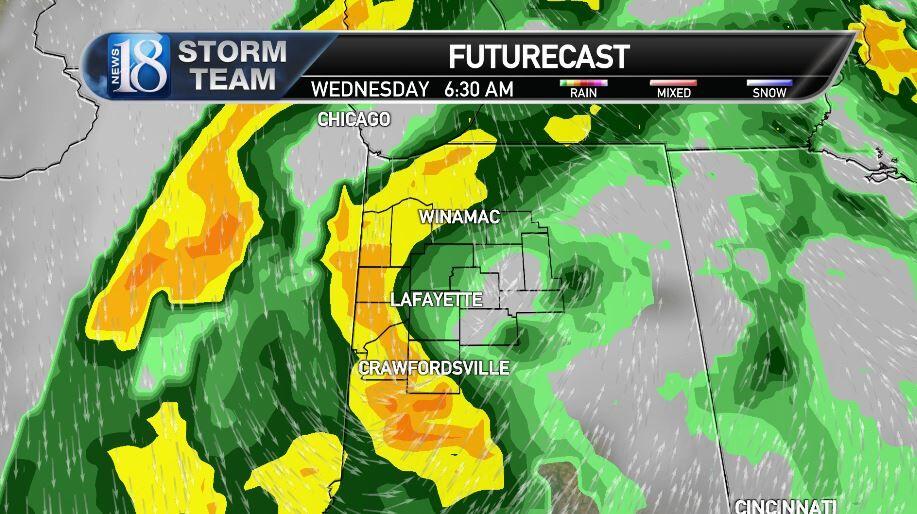 As the low moves out of the area the rain will end in the late morning and early afternoon and we may even get the sun out by Wednesday afternoon. Highs for the day will be in the upper 50s near 60s.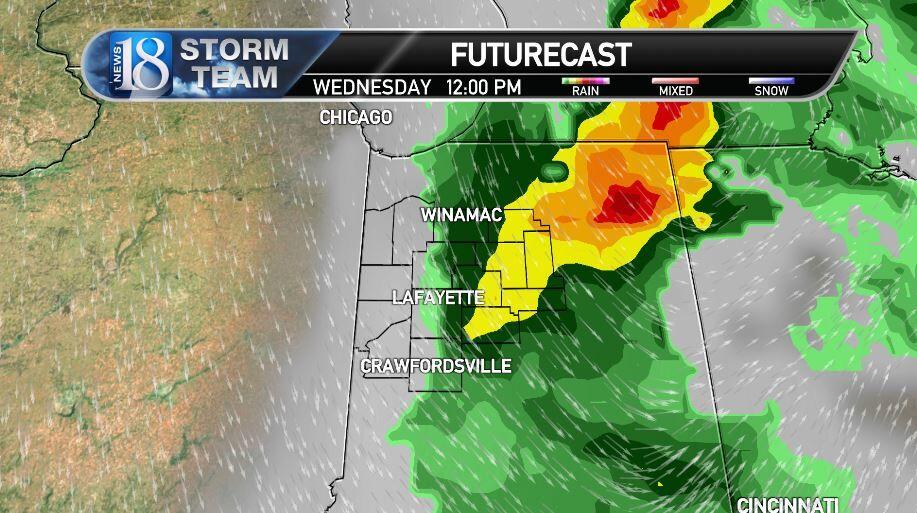 Accumulation until Wednesday afternoon
A decent chance of rain will give way to a good amount of precipitation across the region. Rainfall totals could reach up to 0.75″ to 1.25″ in some places, especially where we have storms.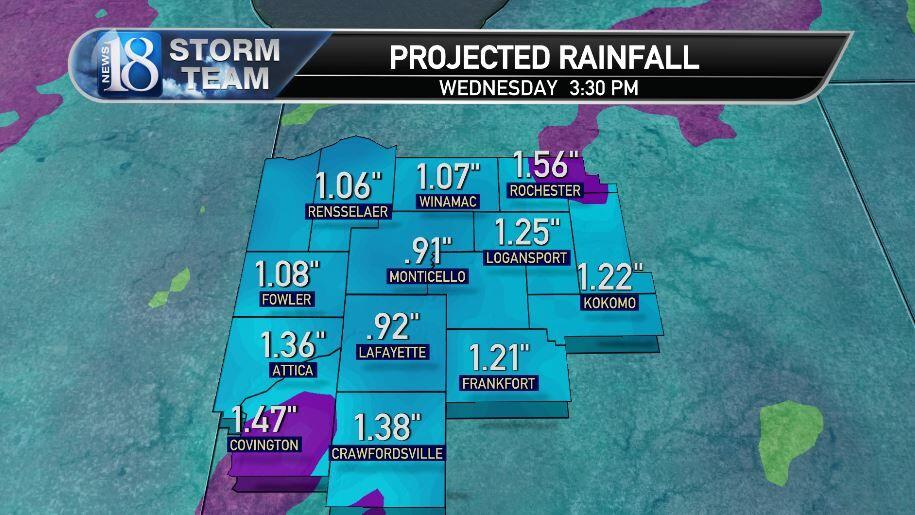 7 day forecast
High pressure arrives Thursday through Saturday with cooler air. Areas of fog could be likely for Thursday morning due to cooler temperatures and saturated ground. Morning lows will be in the mid 30s. Highs on Thursday and Friday appear to be in the mid to high 50s to under 60s with partly sunny skies.
Saturday will be slightly warmer with high temperatures in the low to mid 60s with mostly to partly sunny skies. Our next system will begin operating on Sunday and Monday as a warm front begins to rise in the observing area.