Work on it….
More soon!
This morning's lows bottomed out at 36-43.
Highs reached 77-77 today with some rising high and medium clouds with a southwesterly wind.
Clouds are thickening this evening with lows in the 50s and a few isolated showers late this evening through Thursday morning.
Winds will be light from the southwest.
After that we will see mostly sunny to partly cloudy skies tomorrow with a lighter southwesterly wind turning westerly and picking up. Gusts of 20-25 mph are possible in the evening, then gusts of 30-40 mph possible for some time Thursday evening.
That blustery weather on Thursday evening will come as much colder air enters with lows of 35 to 42 by Friday morning with wind chills of 28 to 36.
With the passage of this surface cold front, a few isolated to sporadic showers/showers are possible in the evening-early at night.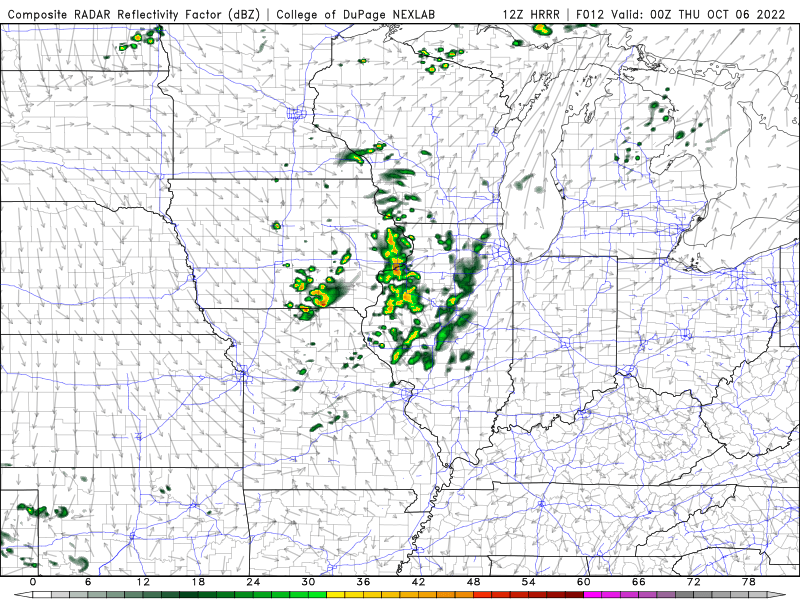 After 50 Friday with clouds/sun and a few lake effect showers, northwest and north winds 17-35 mph, lows of 29-35 are likely Friday evening.
Some lake effect cloudiness in the north and east may keep some areas near 35, while areas that are clear and see the wind becoming completely calm will see 29-31.
Saturday and Sunday look great with a wind returning to the southwest on Sunday with sunshine and warmer temperatures.
Monday looks partly cloudy and warm with a southeasterly wind, while Tuesday is also warm with a southeasterly wind.
The air will be very dry, however with dew points of 30s to 40s.
The warm front passes Wednesday morning with a wave of showers and scattered thunderstorms. Behind this warm front, dew points date back to the 1960s.
By Wednesday afternoon, south-southwesterly winds at 32 mph, temperatures near 80 and dew points 64-68 mean it will be humid to muggy.
Wednesday evening or Thursday morning it seems that a wave of thunderstorms with the cold front is possible. It looks like a potential squall line in a weakening mode.
LOW RISK settings in place in Illinois and west to Iowa and Missouri. Here we are more at MARGINAL RISK with settings with SLIGHT being up to the status line.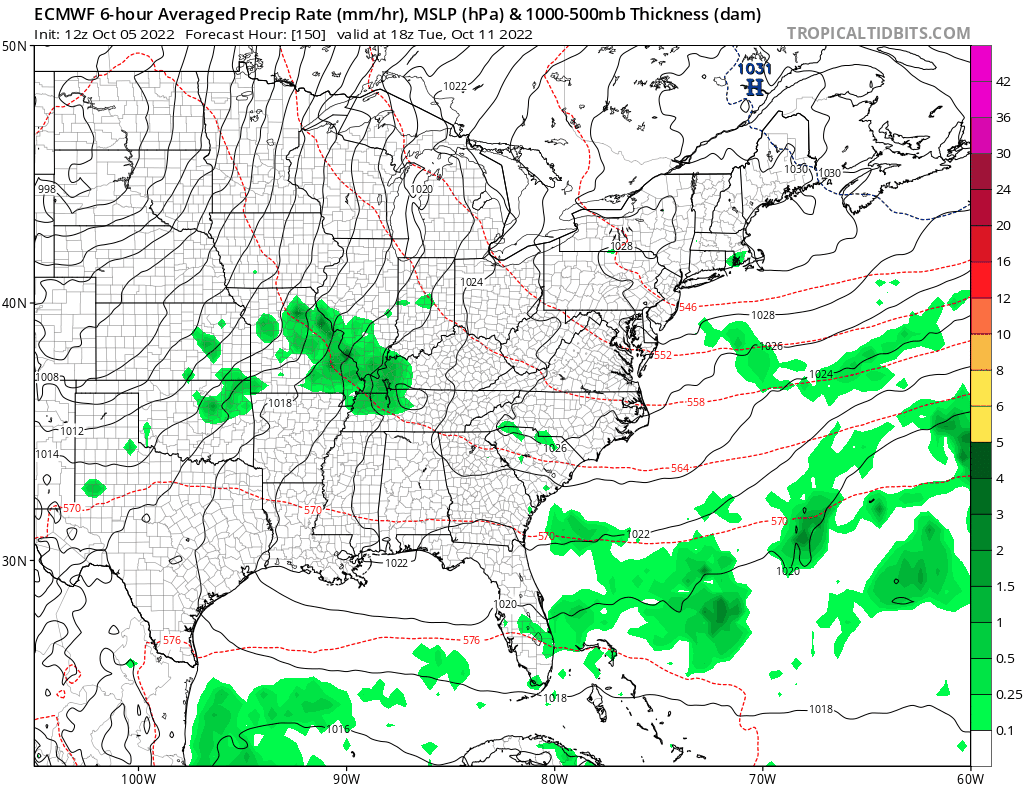 The IR satellite shows the brighter and higher cloud tops of the wave of scattered showers and thunderstorms in the morning of Wednesday, then some of the showers and thunderstorms from Wednesday evening to Thursday morning.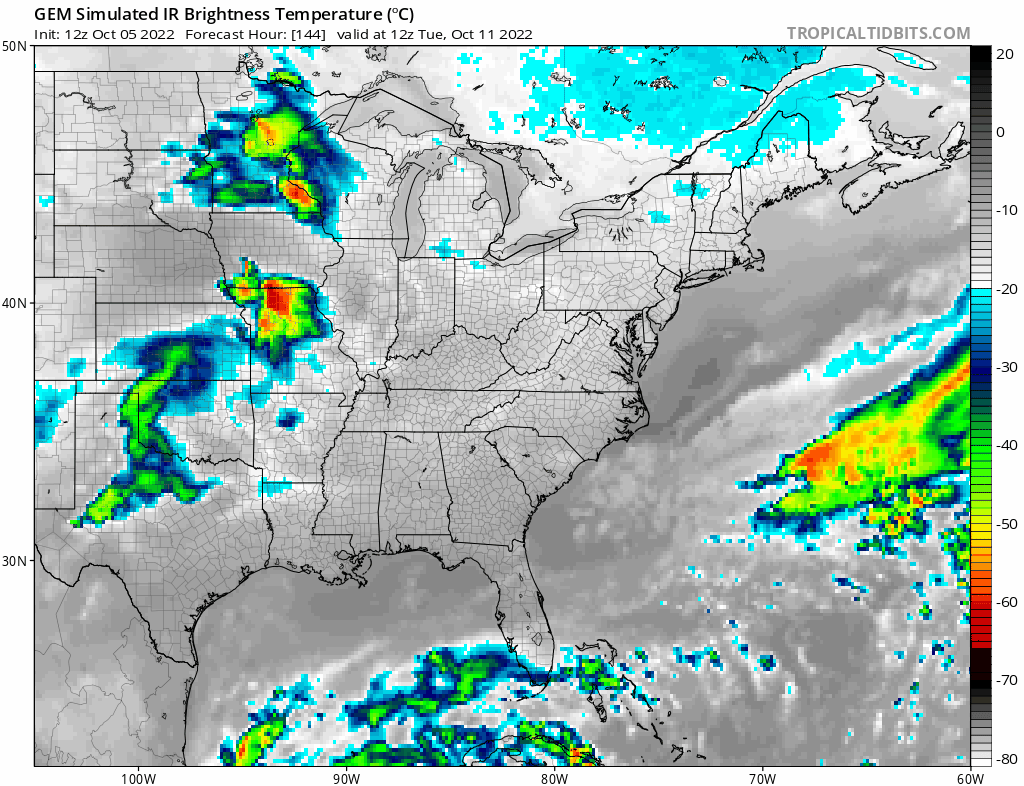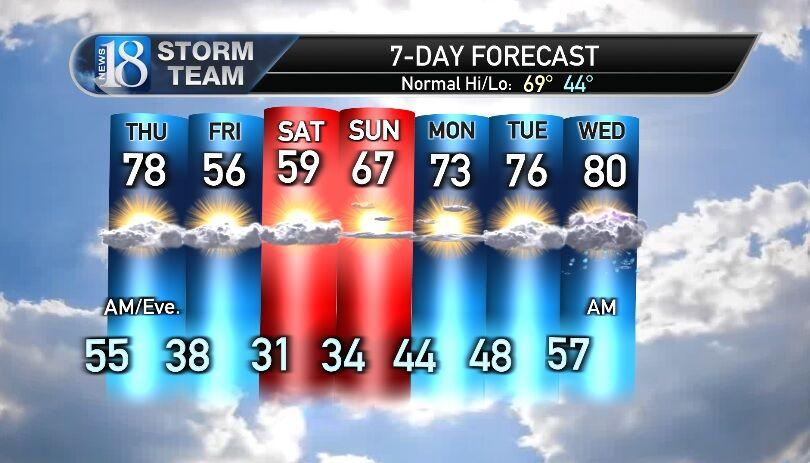 As quickly as we cool to highs in the 50s and 60s with lows in the 30s and 40s, the warm front is taking shape to our west with some showers and thunderstorms that can be seen on the IR satellite data projected below -below. This warm front should bring again much warmer weather with 70s to 80s: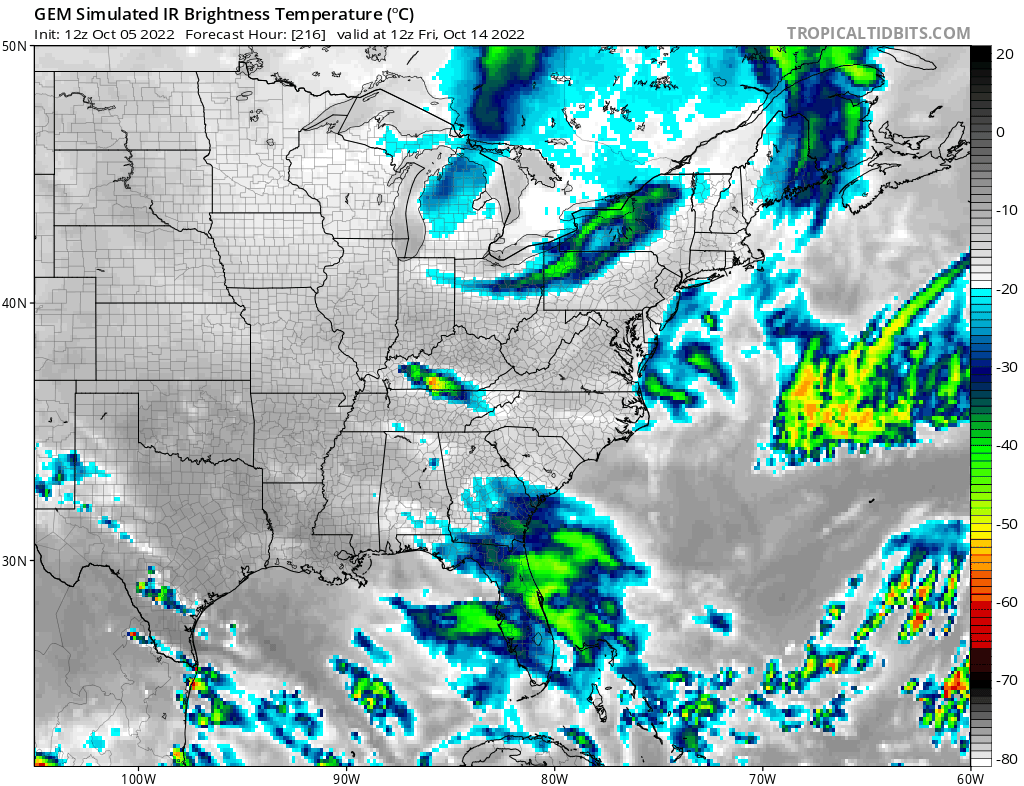 So we get warm and wet.
You can see the heat surge ahead of the cold front around October 21st.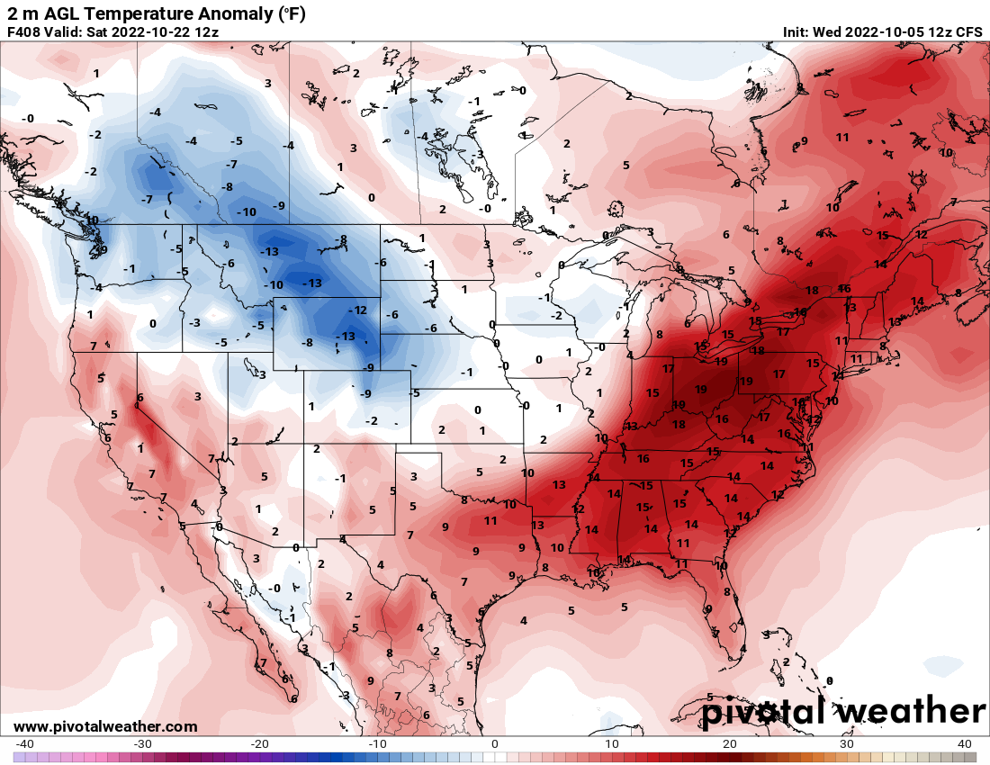 The upper trough will here be in rapid deepening mode with a strong surface cold front.
This could be a severe weather scenario for us with MILD or perhaps ENHANCED HAZARD settings. I rely on long range and analog settings in this kind of situation at the end of October.
This lines up nicely with the big re-emergence of the MJO with a strong and punchy 6 phase before quickly receding to 7 and then a more neutral phase or octant in late October.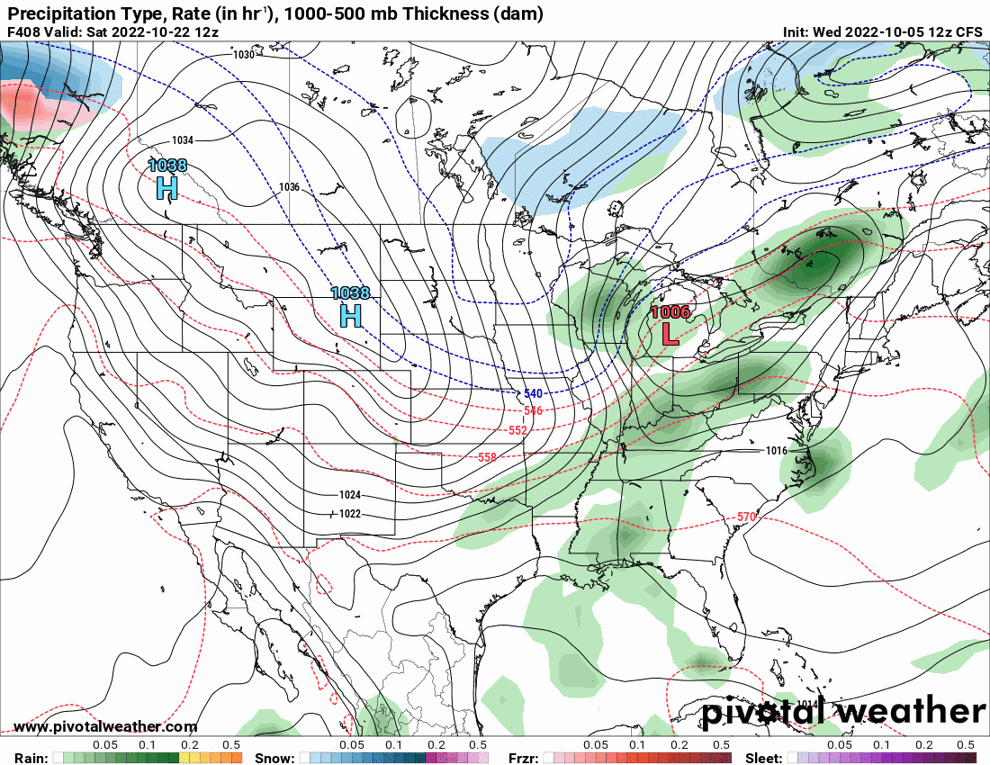 A round of much colder weather follows.
We could go from near/record heat to within 5 degrees of a record low with hard freeze in two days (going from near 85 to near 25).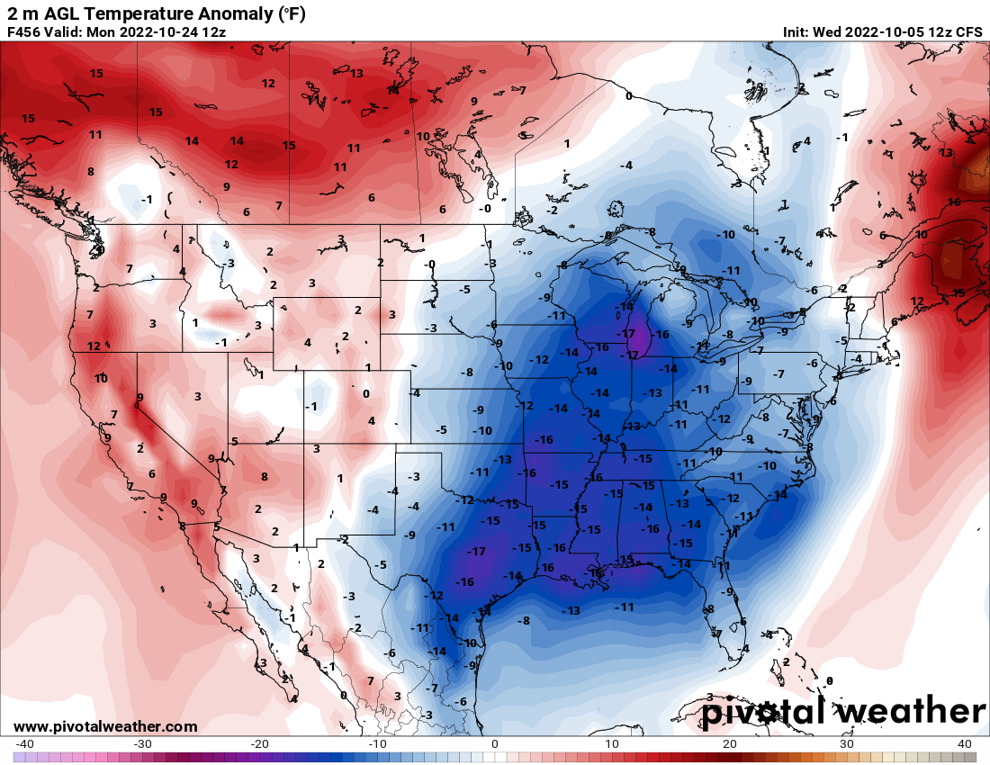 The cold is moving to the east and southeast and we see great heat invading the region at the very end of October and the beginning of November.
The first half of November definitely favors above-normal temperatures!
There will also be a risk of possible severe weather, namely around November 5 and then again around November 14.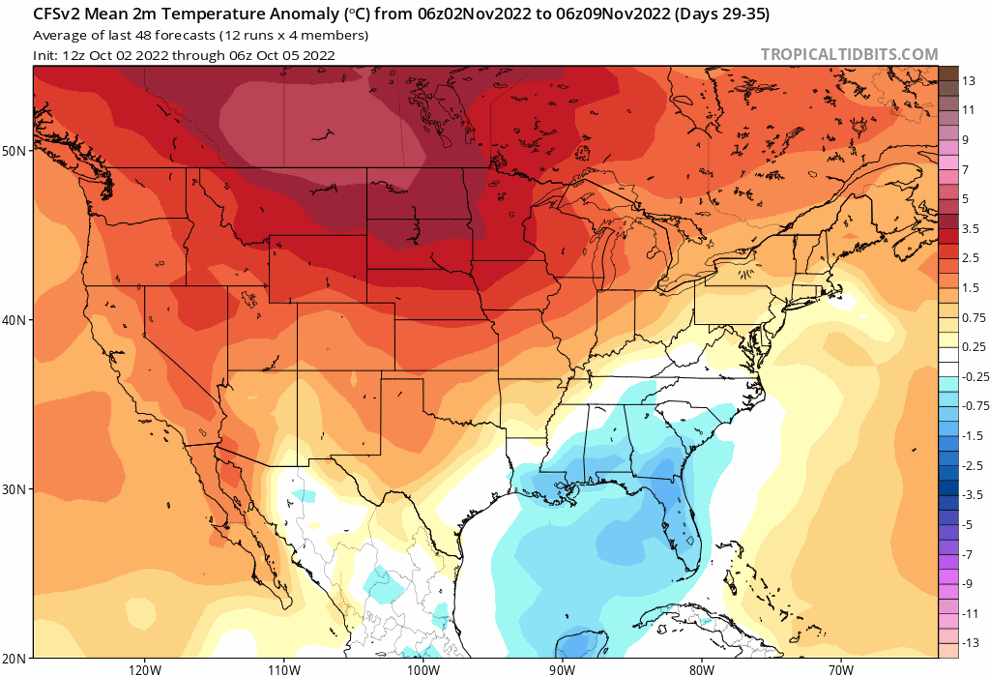 Below normal temperatures are expected to follow in late November, with even a few very light snowfalls and bouts of hard frost.
Originally, I found there was a high probability that peak fall color would be 2-3 weeks later than normal, like last year.
However, given the colder nights recently, Friday night freezing and frost, and potentially hard freeze in late October, we could see the peak now only 1-2 weeks later than normal (like 2020).
Why even later? There are some good heat spurts ahead, including near/record heat.
We'll be watching that and watching the wind as that plays a big part in how long the peak lasts.