A cool start for most of New England on Thursday morning – in the 20s and 30s – was unmatched in the higher ground. Worcester Regional Airport, located 1000 feet above sea level, started at just under 50 degrees and Mount Washington started at 37 degrees, each 10 to 20 degrees warmer than the towns around them!
This phenomenon occurs when warmer air circulates aloft above the cooler air which descends and often indicates that the air is about to warm quickly, as long as a light breeze can develop and that the cloud cover is not too thick. We meet both criteria on Thursday with lots of sunshine and a light breeze.
Temperatures rapidly climbing into the mid-60s will be below Wednesday's highs, but will still be nearly 10 degrees warmer than normal for this time of year. Overnight Thursday evening, a mild southwest wind continues and begins to slowly move the rising humidity in the New England air.
Stream over the ocean then into overnight temperatures in the 40s, there is a good chance some patches of cloud and fog will develop south of the Massachusetts Turnpike by dawn on Friday and may take a few hours to burn Friday morning, but afternoon sunshine and a steady breeze from the southwest will push temperatures to around 70 degrees.
Pockets of fog and cloud may again develop in far southern New England before dawn on Saturday, but are expected to burn again for a bumper day with highs in the mid-70s! A slow moving cold front pushing into New England from the north and west on Monday will increase the chance of showers for northern and western New England on Sunday afternoon and a light downpour or splash could spread in the Boston area by the end of the day. Either way, Sunday will definitely bring a lot more cloud than Saturday, but still hit the lower to mid-70s, challenging or breaking the record of 73 degrees set in 2015.
The cold front is weakening as it crosses New England on Sunday evening, so cool air really isn't arriving until a surge of new air from Canada on Tuesday, which means Monday we are still sneaking in in the 70s with a decent amount of sunshine. Temperatures on Tuesday drop nearly 20 degrees with highs only in the mid-50s – seasonal for November – and this air lasts for a few days until there is a chance of building up showers late Friday or Saturday , at the end of our exclusive 10-day First Alert forecast. .
It should be noted that although we are warm and rather calm here at home, there is a lot of storm elsewhere! In the western United States, a widespread accumulation of snow will fall late this week into the weekend from the Pacific Northwest to the Desert Southwest as a parade of cold storms dip from the Pacific.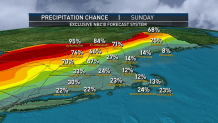 In Mexico, Tropical Storm Lisa weakens to a depression as it leaves Belize and lands in the southwestern Gulf of Mexico this weekend, but causes life-threatening flash flooding along the way. In the North Atlantic, Hurricane Martin tracks northeast towards Greenland this week, then slows down and reverses direction, hitting the UK late this weekend with gusty winds and rain and seas of 30 to 40 feet beating the west coast of Ireland.
So there's a lot of action in the weather world, it's just happening – for now – away from our corner of the hemisphere.