Hello. Temperatures dropped into the upper 40 degrees for inland areas, with most of the metro area seeing low temperatures of 50 degrees this morning. Highs this afternoon will reach the upper 70s with sunny skies and light winds. To me, that's the kind of near-perfect weather we sometimes see in the spring and fall in Houston. The only real concern today is tree pollen, but all the wind and rain on Wednesday should have wiped out a lot of that. In short, if you can spend time outside today or tonight, you should!
Thursday
Today started brilliantly. If you woke up early this morning, it was Venus shining in the eastern sky, near the horizon before sunrise. With a weak high pressure in place, winds will be light today, generally from the north at around 5 mph. This will provide a nice contrast to the past few days where we were first buffeted by a strong southerly flow and then the winds quickly shifted to come in from the northwest on Wednesday with a cold front. Now things will calm down for a while. With sunny skies, high temperatures will warm into the upper 70s, and tonight's lows are expected to fall within a degree or two of Wednesday night's lows. With dew points in the 40s, the air will be pleasantly dry. I mean come on. On a day like this you could almost forgive Houston summer.
Friday
Another day no different from Thursday, but as the light to moderate winds come in from the east we will start to see atmospheric humidity levels increase which will generate some clouds. Highs will likely be in the upper 70s again, but overnight lows are unlikely to fall below 60 degrees in Houston.
Saturday
We will see a warming trend this weekend as the flow stays south, but winds are expected to remain fairly moderate in the 5-10 mph range. Saturday's highs are likely to reach between 80 and 85 degrees for most areas, with partly to mostly sunny skies and slightly sticky dew points in the 60s. Saturday evening lows are expected to drop to around 60 degrees.
Sunday
Another hot day, like Saturday, with highs in the 80s, and partly sunny skies. At some point clouds will start to form in response to increased atmospheric humidity, but at this point I don't think that will happen until Sunday afternoon or, more likely, Sunday evening . Chances of rain this weekend are low, likely 10% or less.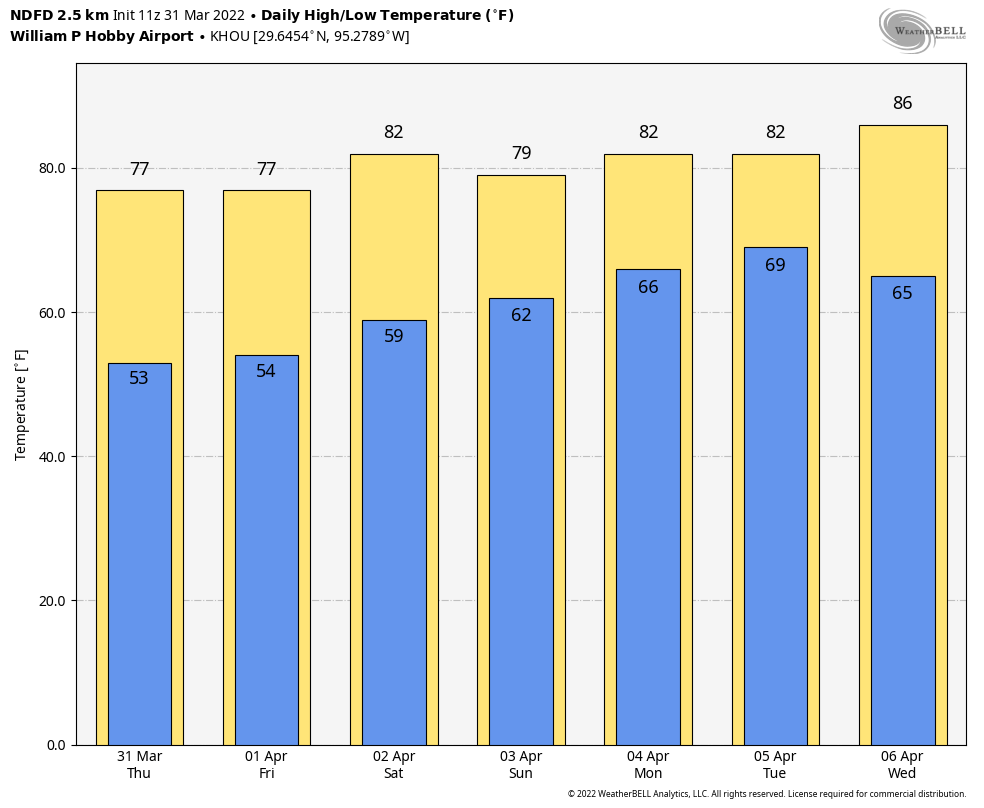 Next week
We will continue to see warm weather, with temperatures in the mid to maybe even high 80s early next week before a cold front arrives later on Tuesday or Wednesday. There's some decent chance of rain Monday night through Tuesday, but at the moment the forecast models aren't too excited about the accumulations. We'll see. At this distant vantage point, the end of next week looks quite pleasant, with highs in the upper 70s or 80s and drier air. Hopefully the spectacular weather lines up with the weekend!