While everyone can hope for a spooky and spooky Halloween, it can get more soggy and soggy instead.
The good news, however, is that it doesn't seem as wet as it did earlier in the week. Rain is still expected on Monday, but models now point to a drier day than expected. Showers will come, but they won't last all day, so there's still hope for parents who will be taking their costumed children from house to house and store to store in a few days.
The New York area is expected to see between a half inch and an inch of rain during the day. So yes, an umbrella or raincoat will probably be needed, but it won't be so miserable that you'll be afraid to go outside. And temps in the mid-60s mean it won't be cold either.
Before the holidays, the weather will actually be very pleasant and seasonal, with lots of sunshine throughout the weekend. While Friday will certainly be cooler than some days earlier this week, with highs capping around 57, it should still feel fairly balmy for this time of year.
Both weekend mornings will be chilly, but both days also promise plenty of sunshine and highs in the 60s. leaves.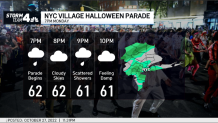 Foliage in the New York area is about to be at its peak this weekend, so get out there and enjoy some of the gorgeous color before the leaves disappear!