Chilly starts on Tuesday as we return to work and school. However, this is NOT the theme playing out this week in the forecast. Once again this is an unusually warm wave of air and wind with thunder / showers.
Table that for a second and enjoy the stellar days ahead. On Tuesday the highs will hit the mid-60s, but on Wednesday we'll see them jump into the 70s on the heels of a steady southwesterly breeze. A charged front will end the calm weather on Thursday as it moves in from the west.
This front will be loaded with water and wind. The gusts will wait until late Thursday night, but rain will arrive earlier in the day with the possibility of a few showers from time to time. The wind picks up Thursday night and the showers turn into a few thunderstorms as the front crosses just before dawn on Friday. This should provide us with solid rains and put a serious blow to the drought. The winds seem to be strong – sometimes gusting to 30-40 mph, which has us concerned that some branches may be falling in places.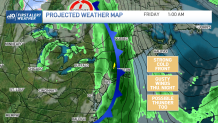 We'll be keeping an eye on things throughout the week. Enjoy the next two quiet days!